Diana Containerships (NASDAQ:DCIX) along with many other troubled bulk and container-ship lines skyrocketed from $2.60 per share to $26 per share over the past few days. Reasoning given by other people include a combination of improved BDI prices (note Diana is a container-ship line not dry bulk), Korea Line buying Hanjin, and possible some sort of Trump getting elected reasoning. Frankly none of these appear to have much validity to me. I'll leave that judgement to others, maybe they see something I've missed.
Here is what I do know. This is a representation of Diana Containerships' fleet at the end of Q2: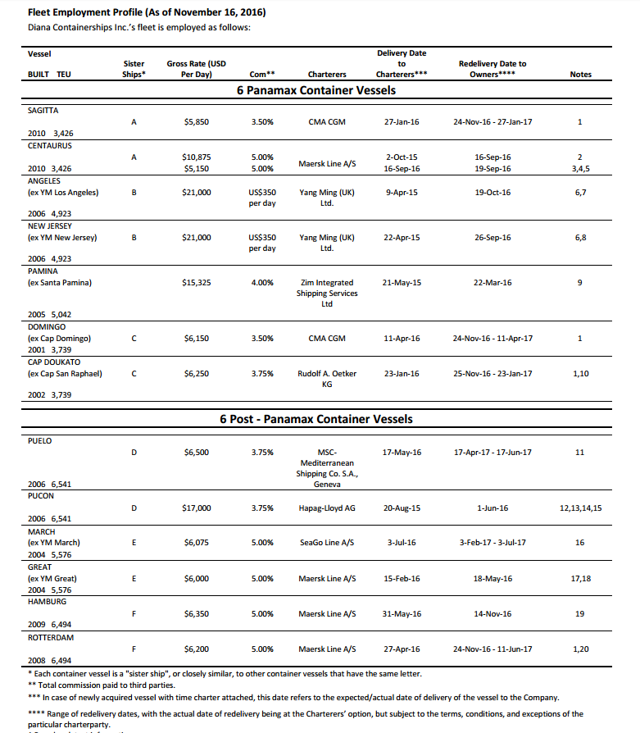 Click to enlarge
DCIX scrap candidates include: Angeles (2006, 4,900 TEU, Panamax on its way to the yards as we speak for $6.7 million scrap value), New Jersey (2006, 4,900 TEU, Panamax), Pamina (2005 Panamax), Domingo (2001 Panamax), Doukato (2002 Panamax), March (2004 Post Panamax light, e.g. 5,576 TEU coming off lease in Feb'17), Great (2004 Post Panamax light). That's 6 ships out of 13 likely headed for the scrap yards in the next few months.
DCIX's operating costs last quarter averaged $6,700 per ship. This is also roughly what they are leasing for currently (AFTER having come off existing lease contracts and including recent increases in BDI). So based on current spot rates, the remaining ships look like they will be running at about break-even. One could make a case that the 2006 build 6,541 TEU Puelo and Pucon could also get scrapped at their special survey due to high capex costs to keep them running (special survey, ballast water and sulfur fuel regs).
However, I'm guessing DCIX bites the bullet and rolls the dice with those two as they don't really have any good choices left to them anymore. In my opinion, in order for DCIX to survive long term it needs to see some combination a tripling of container-ship rates, a bail out from the parent, or more likely heavy dilution of existing shareholders. I mean that literally, even if rates doubled on Panamax and Post-Panamax (<6,500 TEU) ships over the next year (very unlikely), I don't see DCIX making it long term without a major restructuring and dilution.
That's not to say they are going BK any time soon. Due to all the scrapping and the Bank of Scotland pushing out their debts, I estimate DCIX should be able to pay off debt as it comes due all the way up through 2020. The Bank of Scotland took it on the chin, pushing out the due dates on debt because well, they were also choosing between bad and worse choices. Without the pushout, Bank of Scotland would have had to recognize significant losses on their debt almost immediately.
This way, they at least have some time to build up reserves prior to taking the actual write-off. So DCIX was able to successfully negotiate some time. However, at the point significant amounts of their debt come due again, 2020, the bank has likely been able to build up reserves and DCIX likely goes BK.
As I indicated, the only alternate solution I see is a major dilution/restructuring combined with help from their also hurting DSX parent sometime between now and then. However, that doesn't do existing shareholders any good. Between now and then, existing debt covenants expressly forbid any money leaving the company including via dividends, so there will be no dividends. Also there is a chance other covenants get broken accelerating the issues.
Diana announced yesterday they are moving up their earnings. I suspect this is for one of two reasons. First, like DryShips (NASDAQ:DRYS) just announced they may wish to try to take advantage of their current ridiculously high price to sell a bunch of shares diluting existing shareholders. They have to get the earnings announcement over however as they would currently be in blackout and unable to do so. Second, they may wish to unload as many of their person shares as possible into this rise, but once again, they are limited until after the earnings announcement by blackout rules.
The simple fact here is DCIX is sitting on a lot of older Panamax and smaller Post-Panamax ships in the 3,500-6,500 TEU range. These ships have become much less economical now that the Panama canal has been expanded to fit up to 13,000 TEU vessels. The 3,500-6,500 TEU ships are currently commanding lease rates roughly equivalent to operating costs.
Given the expansion of the canal, and oversupply of such ships currently sitting in irons, it is very unlikely those lease rates ever improve much above that OPEX cost on these sizes. It's not like you are scrapping a still viable ship due to age. These once stalwart of the sea's ship sizes are effectively become technologically obsolete on many routes.
Most of DCIX's ships are coming up for significant retrofit/refurbishment capex costs with their next special survey (the survey itself, ballast water regs, etc.) and a little more down the road will also have to deal with new sulfur fuel requirements. With an expectation of essentially no net cash flow being generated in the future, it is not going to make much sense to spend significant capex costs now. So instead, they are likely to run most of those ships right up until the day they are due for special survey and then send them to the scrapyards.
DCIX is made up of a bunch of floating corpses; some people just don't fully realize it yet. Unfortunately, I got burned by my brokerage E-trade calling in my DCIX short position against my expressed wishes. I'm writing this in the hope I can help one or two others not get similarly burned.
Breaking Update: DCIX in a surprise move released their earnings this morning. As suspected all the ships which came off lease are now operating below Opex cost, and they are operating cash flow negative.

Here's the new fleet list (sorry that it is small, I had to copy it from the press release):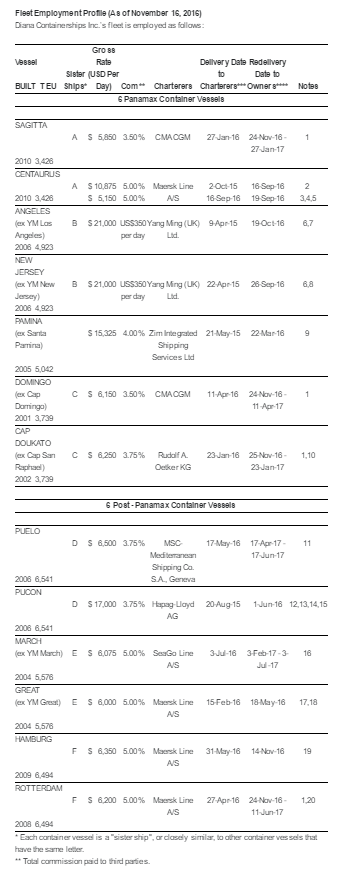 By comparing the Q2 fleet list to the Q3 fleet list and paying special note of the footnotes, you can see what is happening for yourself:
Angeles - sold for scrap
New Jersey, Pamina, Pucon, Great - Laid up in Malaysia (details hidden in footnotes of press release). I suspect this is pending negotiation of a scrap sales.
Centaurus, Sagitta, Domingo, Doukato, Puelo, March, Hamburg, Rotterdam - leased at less than the $6,620 average operating cost. In other words, every day they operate, they lose more money.
Let me make it clear, they are operating cash flow negative: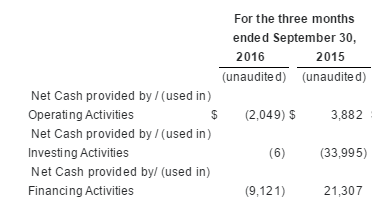 Indeed, there does not seem to be even one ship on a going- forward basis where they are making any operating margin on much less paying G&A costs, interest, or debt.
Pending a huge dilution event, which I suspect is why they pulled the earnings release in early, this company is the floating dead.
Disclosure: I/we have no positions in any stocks mentioned, but may initiate a short position in DCIX over the next 72 hours.
I wrote this article myself, and it expresses my own opinions. I am not receiving compensation for it (other than from Seeking Alpha). I have no business relationship with any company whose stock is mentioned in this article.
Additional disclosure: I had a short position in DCIX but my brokerage bought in that position yesterday. This article is designed to be educational and informative, not specific investment advise. I don't know your particular situation therefore I cannot recommend this nor for that matter any investment to you. DCIX is a highly speculative investment that appears may be being manipulated, please be careful and do your own due diligence.
Editor's Note: This article covers one or more stocks trading at less than $1 per share and/or with less than a $100 million market cap. Please be aware of the risks associated with these stocks.