Ever wonder how to come out with solid estimates of book value for a mortgage REIT between their quarterly reports? For AGNC Investment Corp. (NASDAQ:AGNC), I run the numbers frequently. My estimates are usually close, but don't take my word for it. On 10/24/2016 at 2:33 AM my estimates were published for AGNC. I predicted book value would come in between $22.90 and $22.95. The company reported very shortly thereafter. They reported book value at $22.91.
How about the second quarter? I didn't publish any public estimates for the second quarter. My internal estimates missed, though. I came in off by a little less than 3%. Being off by any more than 2% constitutes a miss in my book. What screwed up my estimates in the second quarter? I undervalued the prepayment protection in AGNC's specified pools.
Book Value Estimates
The following chart shows my estimates for AGNC's book value change since the start of the fourth quarter running through 11/10/2016: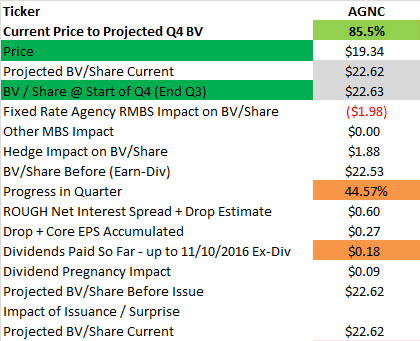 It is not perfect, of course. I am in the process of rebuilding my models from using the second-quarter allocations to using the third-quarter allocations.
Since AGNC's pools include some prepayment protection and the value of prepayment protection falls when rates are increasing, the result should be AGNC's book value declining a little more than I estimated here. Consequently, a current book value estimate as much as $.40 below this estimate could still be quite reasonable. That would put the lower end at $22.22 with the higher end at my projected value of $22.62.
Does This Technique Really Work?
Take a look at my latest piece on Annaly Capital Management. I spend more time explaining the chart, and you'll see how I was able to land only $.06, $.05 and $.04 away on book value over the last 3 quarters.
Rating
AGNC just closed at $19.16. At that price, AGNC is a moderate buy. I don't like AGNC there as much as I like Annaly Capital Management at $10.04, but it certainly isn't bad. My chart was built when shares had closed at $19.34. Drop another $.16 off the price and the price to book value runs over 85% if BV is running around $22.62 and 86.2% if it runs around $22.22.
By my estimates, the discount on Annaly Capital Management is running at a larger level than the discount on AGNC. I'm firmly in the bull camp from their last price of $10.04 as opposed to having a moderate buy for AGNC.
Conclusion
AGNC's book value should be doing just fine. Net interest accrued throughout the quarter is still ahead of dividend payments and helps to offset a decline in agency RMBS that was, as of last week, estimated to be slightly larger than the gains on the hedges.
I'll finish rebuilding my model shortly to deal with the changes for Q3 positions. I'm not expecting a major change in my estimates, but a movement of a dime or so wouldn't be a surprise. I posted those estimates about once a week for subscribers in The Mortgage REIT Forum. The annual subscriptions are $240, which comes out to $20 per month. If the investor wants to buy a single month at a time, the rate is $30 per month. Of course, I do more than predict the book values. I also provide my opinion. For instance, I made the call to catch the falling knife of Resource Capital Corporation (NYSE:RSO) in real time and acquired the shares at $7.88. Those shares closed on 11/17/2016 at $9.35.
Positions
Long AGNCB, NLY, NLY-D, RSO, RSO-B
Disclosure: I am/we are long AGNCB, NLY, NLY-D, RSO, RSO-B.
I wrote this article myself, and it expresses my own opinions. I am not receiving compensation for it (other than from Seeking Alpha). I have no business relationship with any company whose stock is mentioned in this article.
Additional disclosure: Information in this article represents the opinion of the analyst. All statements are represented as opinions, rather than facts, and should not be construed as advice to buy or sell a security. This article is prepared solely for publication on Seeking Alpha and any reproduction of it on other sites is unauthorized. Ratings of "outperform" and "underperform" reflect the analyst's estimation of a divergence between the market value for a security and the price that would be appropriate given the potential for risks and returns relative to other securities. The analyst does not know your particular objectives for returns or constraints upon investing. All investors are encouraged to do their own research before making any investment decision. Information is regularly obtained from Yahoo Finance, Google Finance, and SEC Database. If Yahoo, Google, or the SEC database contained faulty or old information it could be incorporated into my analysis. Tipranks: Assign buy rating to AGNC and NLY.