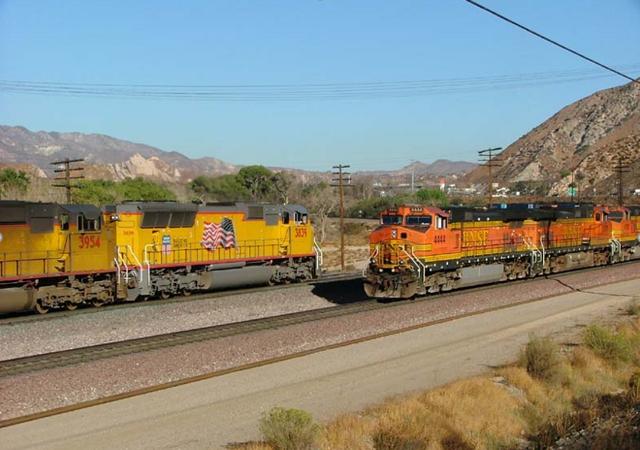 Click to enlarge
BNSF versus Union Pacific
Source: Google Images
Investors have witnessed strong momentum for broader stock markets in the U.S. since the Trump presidency results. This has translated to robust performance for railroad stocks as well as for transports in general.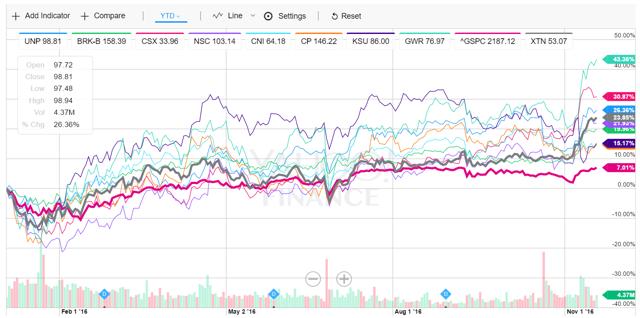 Click to enlarge
Source: Yahoo! Finance
All railroad stocks have strongly outperformed the S&P 500 index. The worst performers for the year so far have included Canadian National (NYSE:CNI), Canadian Pacific (NYSE:CP) and Kansas City Southern (NYSE:KSU). These laggards were only up a paltry 15 percent; not too shabby.
Kansas City Southern witnessed a strong reversal after Trump won the election, due to exposure to Mexico and associated perceptions of risk. Both Canadian Class I rails were also weaker, but not to the same degree.
The SPDR S&P Transportation index is up nearly 3.5 times that of the S&P 500 to date. Berkshire Hathaway (NYSE:BRK.A) (NYSE:BRK.B) and the Canadian rails and Kansas City Southern all have underperformed this transports index so far.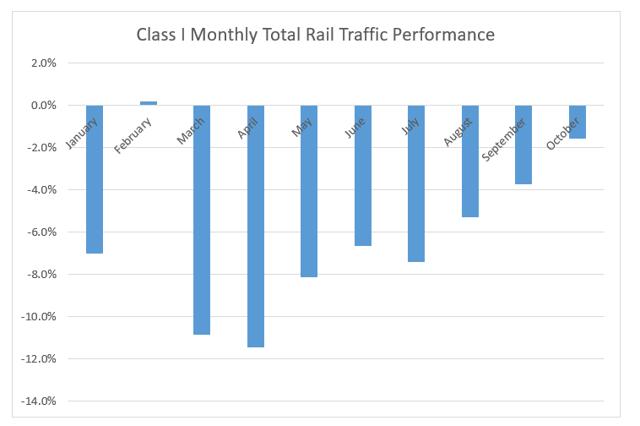 Click to enlarge
Source: Aggregated Class I weekly carloads carried and personal database
Some investors may be baffled by the fact that railroad stocks have performed so well this year, despite negative total rail traffic performance for the year. Railroad stocks witnessed substantial declines during 2015 versus 2014, some greater than -30 percent.
During 2016, the months of March and April appear to have been the bottom for both carload and intermodal units carried. Three Class I's including Canadian National, Norfolk Southern (NYSE:NSC) and Kansas City Southern all have maintained positive total traffic carried during the fourth quarter.
Next year, the comparable baselines will be much lower for all railroad stocks. This should contribute to marginal to moderate increased traffic. If inflation begins to pick up, improved pricing should follow suit and rail stocks could be looking at mid- to high-digit revenue growth.
For these reasons among others, railroad stocks have rallied as the trend towards positive rail traffic has continued. If momentum is sustained through 2017 and into 2018, railroad stocks will have a higher ceiling for both revenue and diluted earnings per share, justifying higher investor returns.
BNSF V. Union Pacific
Before breaking down some stats between the two largest Class I's in North America by freight revenue, it is worth noting some of the core distinctions between these two rail operators. BNSF has a substantially larger intermodal, grain, coal and petroleum business than Union Pacific. Union Pacific on the other hand, has a substantially larger chemicals, motor vehicles and equipment and crushed stone, sand and gravel business than BNSF.
In addition to core commodity differences, Union Pacific has much stronger exposure to Mexico with access to five border crossings, as well as a 25 percent equity stake in Ferromex. BNSF has recently partnered on a joint intermodal service with Kansas City Southern.
Kansas City Southern is the primary competitor of Ferromex for both intermodal and motor vehicles and equipment commodities. Energy reform in Mexico as well as chemicals exports are other strategic areas for Kansas City Southern's growth. Over time, BNSF may look to expand the initial intermodal partnership.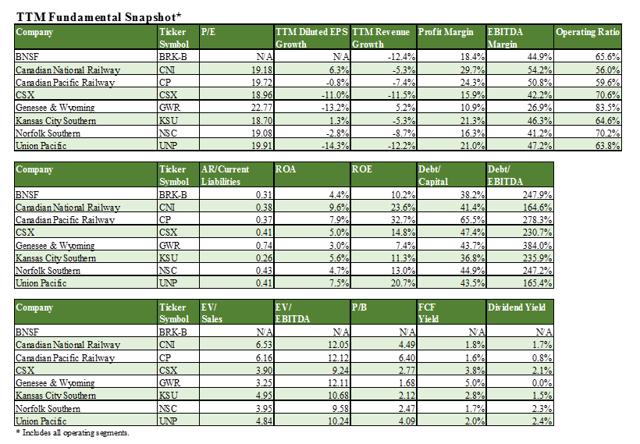 Click to enlarge
Source: Company financials and personal database
BNSF does not directly compare to Union Pacific for fundamental measures which necessitate a stock price. This is because Berkshire Hathaway owns BNSF. It does not make sense to directly compare P/E ratios, diluted EPS and other valuation measures when Berkshire holds multiple companies creating a more diverse driver for its performance.
But investors can focus on top and bottom line performance, capital structure and leverage coverage. Revenue growth during the trailing twelve-month, TTM period has been consistent between the two. Union Pacific has outperformed BNSF during 2016 as freight revenue was at -11.4 percent through September to $13.8 billion, while BNSF was at -12.7 percent to $13.8 billion. Including other revenues, Union Pacific was at $14.8 billion through September and BNSF was at $14.5 billion.
From a profitability standpoint, Union Pacific has clearly outperformed BNSF for profit and EBITDA margin, operating ratio, OR and return on assets and equity. This has been most extreme for ROA and ROE as BNSF has lagged all Class I peers. BNSF's capital structure has been in-line with peers and the company's gross leverage ratio has also been consistent.
If Union Pacific were to finish the year at today's stock price near $99 per share, the company would have averaged an annual return excluding dividends of 13.4 percent since 2010, the year BNSF was acquired by Berkshire Hathaway.
Prior to the deal, BNSF through share buybacks averaged reducing the company's diluted shares by around three percent per year. Taking Warren Buffett's $100 purchase price from 2010 and assigning BNSF a P/E ratio of 19 times earnings would have yielded an average annual return excluding dividends of 16.5 percent. These assumptions seem reasonable based on Union Pacific's valuation today.
Another interesting tidbit is that BNSF since 2010 has paid out $21.5 billion in dividends to Berkshire Hathaway. During this same period, Union Pacific paid out $9.1 billion. Adding that type of dividend easily would place BNSF at a total average annual return at nearly 20 percent.
But obviously buying back three percent of stock per year would have eaten into the dividend payout. Combining share buybacks, Union Pacific spent $23.7 billion during the period. By taking BNSF private, Buffett simply transferred the share buybacks into dividends to line Berkshire Hathaway's pockets.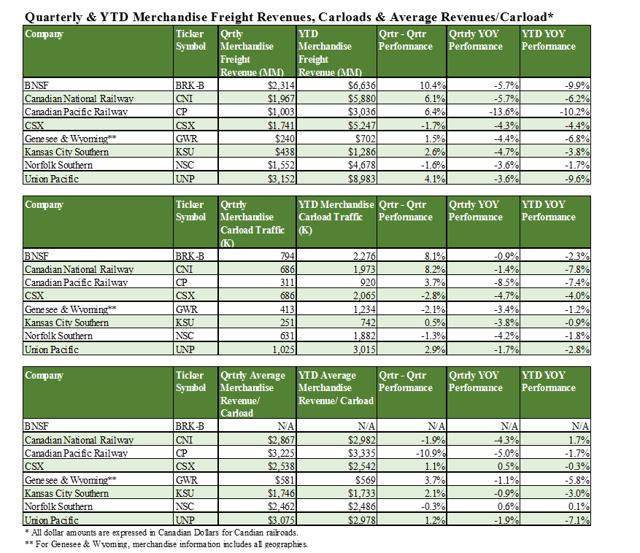 Click to enlarge
Source: Company financials and personal database
Some Class I's structure their freight operating segments by merchandise, coal and intermodal; the following tables follow this format. For merchandise revenue, all commodity classes are included, with the exceptions obviously being coal and intermodal.
Merchandise revenue has clearly been impacted from fuel surcharges and weaker pricing as volumes have been moderately lower through September. The biggest weight on merchandise revenue has been industrials. For both BNSF and Union Pacific, the worst performers have been minerals and metals.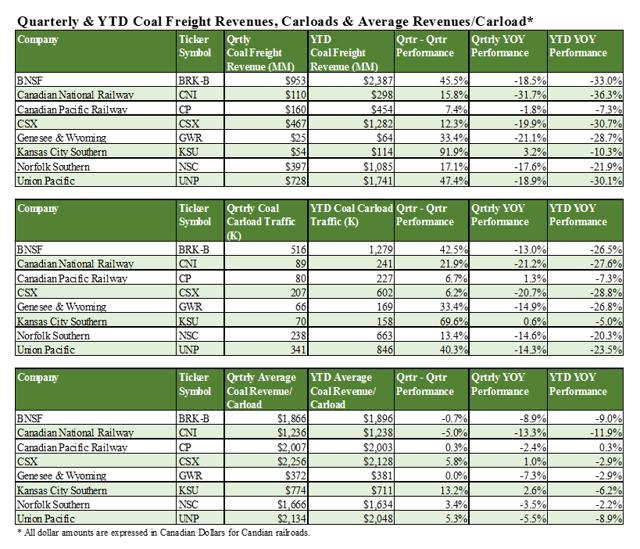 Click to enlarge
Source: Company financials and personal database
Coal has weighed on most railroads regardless of exposure. BNSF and Union Pacific have some of the worst performers. The combination of extreme volume declines and weaker pricing has led to significant declines in revenue.
Through week 45, BNSF's weekly coal carloads carried reflected 37 percent of total carloads carried. For Union Pacific, this same amount stood at 23 percent. This proportional difference in traffic clearly weighed heavily on BNSF and is the primary driver leading the company's underperformance of freight revenues versus Union Pacific.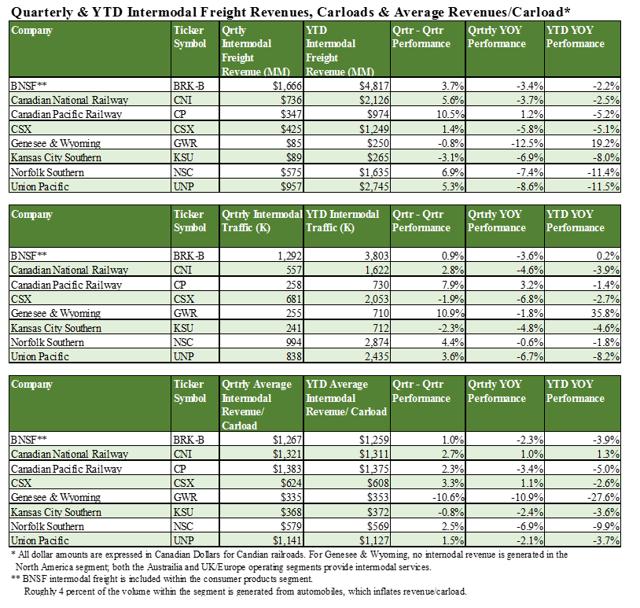 Click to enlarge
Source: Company financials and personal database
For intermodal services including both international and domestic, BNSF's performance has been much stronger than Union Pacific's. Union Pacific's weakness has been most prevalent for international and trailer services. BNSF's trailer service has performed much better, but like all Class I peers, was still negative for the year.
What is not as clear is the relative performance of international and domestic containers. Based upon JB Hunt's performance through September, BNSF is likely outperforming Union Pacific for both container services. JB Hunt's loads were up around nine percent so far for 2016. Also, West Coast twenty-foot equivalent container unit, TEU traffic has performed much better than Union Pacific's international segment.
Intermodal is a very important business market for all Class I's as the prospects for coal in the U.S. are not that optimistic. Coal will likely continue to be phased out over the long term. President-elect Donald Trump's international trade policies and domestic regulatory stance will also impact railroads. Increasing manufacturing in the U.S. and/or improving trade relationships with Canada and Mexico will benefit railroads.
Based upon the high-level peer review for BNSF and Union Pacific, BNSF looks to be positioned well for these possible variables, which could drive higher volumes. But the company's exposure to coal is the highest amongst peers.
For investors owning Berkshire Hathaway, they should feel comfortable with BNSF as a core holding for Buffett. Dividend payments will continue to enhance profits. For investors seeking exposure to rail stocks, Union Pacific offers a better direct investment. Diversification through Berkshire Hathaway is an added hedge against BNSF's higher coal exposure. Depending on risk tolerances and diversification preferences, both options should suit investors well over the long term.
Disclosure: I am/we are long KSU.
I wrote this article myself, and it expresses my own opinions. I am not receiving compensation for it (other than from Seeking Alpha). I have no business relationship with any company whose stock is mentioned in this article.