Helmerich & Payne (NYSE:HP)
The company operates as a contract drilling company worldwide. It provides drilling rigs, equipment, personnel and camps on a contract basis to explore for and develop oil and gas from onshore areas and fixed platforms, tension-leg platforms and spars in offshore areas.
Source: HP Flex4.
Fleet Analysis: M. Juan Pablo Tardio, CFO, in the Q4'16 fiscal conference call:
As of today [November 17], our 348 available rigs in the U.S. Land segment include approximately 105 rigs generating revenue and 243 idle rigs. Included in the 105 rigs generating revenue, are 72 rigs under term contracts, 69 of which are generating revenue days. In addition, 33 rigs are currently active in the spot market for a total of 102 rigs generating revenue days in this segment, as compared to 86 rigs during our last earnings call in late July.

Approximately 4% of the 102 rigs are now idle and on standby-type day rates, which protect daily cash margins under long-term contracts. Separately, the three rigs that are not generating revenue days include new build rigs with deliveries that have been delayed in exchange for compensation from customers.
Details about the different segments:
HP backlog level as of September 30, 2016, was approximately $1.8 billion.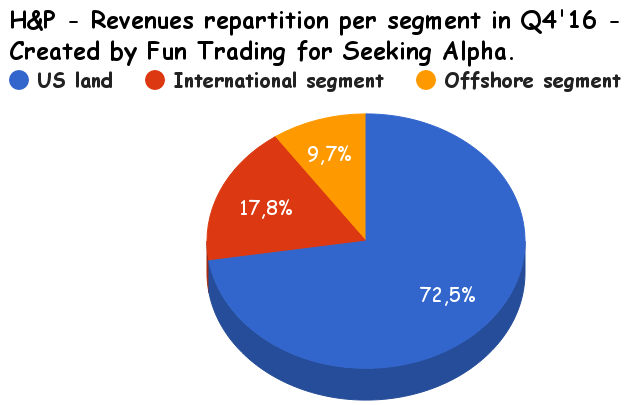 1 - U.S. Land Rigs
Financial Snapshot:
Q4 2016
Q3 2016
Q2 2016
Q1 2016
Q4 2015
Q3 2015
Q2 2015

Revenue

$ million

238.35
285.03

349.28

420.39
494.62
718.46
890.05

Operating Income

$ million

(69.74)
25.80
62.52
33.65
121.73
224.87
318.12

Rig margin

per day $

11,899
21,694

20,079

13,490
14,219
20,802
27,355
Rig Utilization
25%
24%

31%

43%
47%
68%
89%
2 - International Rigs
Financial Snapshot:
Q4 2016
Q3 2016
Q2 2016
Q1 2016
Q4 2015
Q3 2015
Q2 2015

Revenue

$ million

58.37
47.98

51.35

78.07
106.20
98.22
92.89

Operating Income

$ million

(0.16)
(4.99)

(2.27)

69.78
16.67
6.39
12.21
Revenue days $
1,372
1,274

1,307

1,608
1,887
1,842
2,080
Rig Utilization
39%
37%

38%

45%
51%
52%
63%
3 - Offshore Rigs (Platform Rigs)
Financial Snapshot:
Q4 2016
Q3 2016
Q2 2016
Q1 2016
Q4 2015
Q3 2015
Q2 2015

Revenue

$ million

31.90
30.49

34.33

52.28
55.67
62.63
69.47
Operating Income $ million
2.55
2.08

3.30

12.62
14.72
19.07
21.48
Revenue days $
644
637

691

736
728
794
809
Rig Utilization
78%
78%

84%

89%
89%
98%
98%
H&P - Fiscal Q4 2016 - Financial Results Snapshot (7 quarters)
Q4 2016
Q2 2016
Q1 2016
Q4 2015
Q3 2015
Q2 2015

Total Revenues

in $ million

331.71
366.49

438.19

566.11
659.69
883.05
1,056.59

Total Revenues from drilling

in $ million

328.62
363.50
434.96
563.05
656.49
879.38
1,052.79

Operating cost

in $ million

424.71
379.74

396.57

582.13
526.91
469.33
554.24

Operating income from operation

in $ million

(93.00)
(13.26)

41.62

(16.02)
132.78
227.17
331.82

Net Income

$ million

(72.84)
(21.20)

21.21

(27.60)
90.86
149.54
203.04

Cash and Cash equivalent

(+ short term invest.)

$ million

905.56

949.71

956.60
848.23
717.98

729.38

774.93

719.13
251.64

EPS

$

(0.68)
(0.20)

0.19

(0.25)
0.84
1.37
1.85

Dividend declared

per share $

0.70
0.70
0.6875
0.6875
0.6875
0.6875
0.6875
Long-term note payable $ million
491.85
493.15
492.67
492.44
532.39
532.91
-
Note from the release: Effective October 1, 2015, the Company eliminated a legacy one-month lag period between its U.S. fiscal year and its foreign subsidiaries' fiscal years. As required, the elimination of the one-month lag has been applied retrospectively to all periods presented herein. M. Tardio said in the conference call:
Our backlog also remained strong at $1.8 billion as of September 30. Fiscal 2017 CapEx is estimated to be around $200 million, about 30% of which is expected to be related to maintenance CapEx and tubulars and the remainder mostly to upgrade of our existing fleet.
Capital Expenditures and Other Estimates for Fiscal 2017
The company's capital expenditures for fiscal 2017 are expected to be roughly $200 million. Depreciation expense is expected to decrease to approximately $525 million, and general and administrative expenses are expected to decrease to approximately $140 million for fiscal 2017.
Commentary
Helmerich & Payne's operating revenues were $331.71 million, down 9.5% quarter over quarter. Earnings per share were (0.68), and net loss $72.84 million compared to a loss of $21.20 million the previous quarter.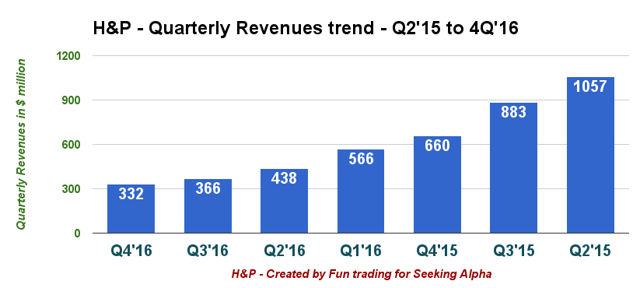 Click to enlarge
The main theme this quarter is about the improving US Land market. However, after examining the recent results, I do not share completely the optimism exhibited by the CEO, yet. I was quite surprised with the size of the loss this quarter at almost $73 million, with the bulk of the operating loss concentrated to the US Land at $69.7 million.
M. Tardio said in the conference call:
As reported this morning, the company had a net loss of approximately $73 million during the fourth quarter of fiscal 2016, resulting in an annual net loss of approximately $57 million during fiscal 2016. Nevertheless, operational results were better than expected during the fourth quarter and market improvement signs are encouraging. We are now expecting our second consecutive quarter-to-quarter improvement in overall activity during the first quarter of fiscal 2017
Nonetheless, there have been signs of a slight bottoming out these past few months, helped by solid oil prices. The company has been able to reactivate 32 FlexRigs since May with the lion's share in the Permian and the rest in Oklahoma, Woodford, Eagle Ford, Haynesville and the Bakken. Let's look at the US Land in numbers.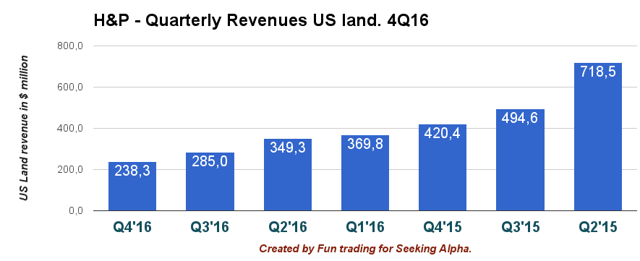 Click to enlarge
In addition to this nascent recovery, the company is showing some solid efficiency and delivered again impressive drilling performance. Furthermore, the company was able to fulfill the staffing needs by rehiring previous field employees for the reactivated rigs which is quite impressive. A few voiced their doubt in could be achieved last quarter.
The Permian has been the main driver of this drilling recovery so far. Rystad Energy believes the Permian basin "will serve as the primary catalyst in restoring US onshore oil production growth by November."
Oil Production in the US lower 48 is showing clearly that the Permian basin is the main driver.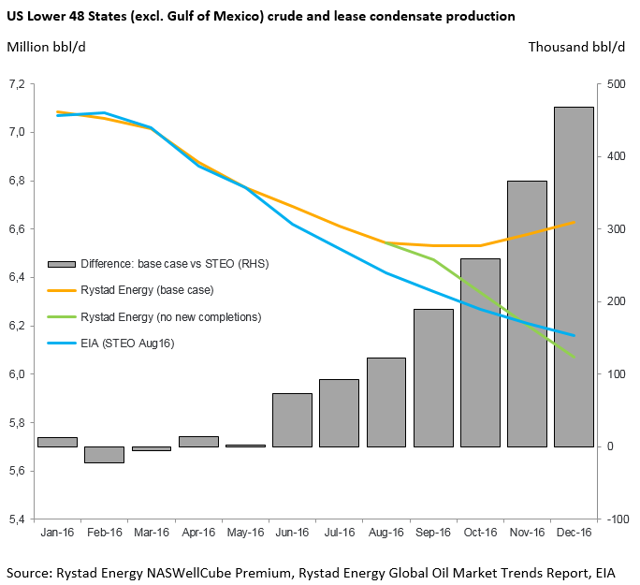 Click to enlarge
Rystad notes the Permian's current horizontal drilling activity is comparable to levels observed during the final three quarters of 2015. Additional completion work on drilled but uncompleted ("DUC") wells also has been initiated.
H&P rig fleet is specifically adapted to the horizontal drilling required in the Permian. M. John Lindsay, CEO, said in the conference call:
From a rig requirement perspective, extended laterals require more hydraulic horsepower, drill strength torque, and greater capability from technology solutions that 1,500 horsepower AC rigs provide, and therefore, they are the rig of choice. We estimate that H&P has approximately 55% of the available 1,500 horse power AC rigs in U.S. land today. So we're positioned with more capacity than any of our competitors in the market.
The company has 104 rigs [1,500 horsepower AC Drive FlexRigs] actually under contract, and 220 rigs idle available to work in the US land segment. HP gets the Lion's share of the U.S Land market with 19% will ahead of its nearest competitor at 11%.
The company is now expecting for the first-quarter 2017 in this important segment, an increase in activity of roughly 20% in terms of revenues, showing clearly that the 4Q'16 may be the rock bottom. In addition, the company indicated that it has experienced spot pricing improvement.
On a side note, HP owns 4 million shares of Atwood Oceanics (NYSE:ATW) and it was determined in the 4Q'16 that the loss related to this holding was other than a temporary loss, and the company recognized a $26 million impairment charge equivalent to an after-tax loss of approximately $0.15 per share. The company doesn't intend to sell its holding.
Conclusion: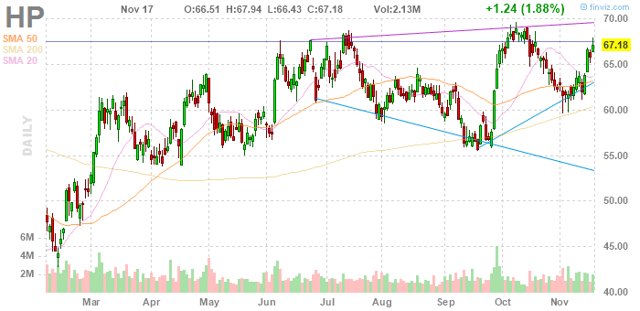 Click to enlarge
I have been an HP long-term shareholder and I believe the company is a "keeper". The question is to know if the stock is whether or not fairly priced?
On the one hand, we seem to enter a recovery period, that should push the stock to $70+, but, on the other hand the company is nowhere near generating free cash flow at this depressed level and dwindling revenues.
Consequently, I find the stock a little too rich for my comfort now, and I recommend to take some profit off the table at between $65-$68, and eventually buy back at a lower support around $58-$55 on any serious weakness.
Important note: Do not forget to follow me on HP and other oil drillers. Thank you for your support.
Disclosure: I am/we are long HP.
I wrote this article myself, and it expresses my own opinions. I am not receiving compensation for it (other than from Seeking Alpha). I have no business relationship with any company whose stock is mentioned in this article.
Additional disclosure: I trade the stock on occasions.