If the Trump administration eliminates renewable identification numbers [RINs] or shifts the obligation of their use away from refiners, Valero (NYSE:VLO) and the other refiners such as Phillips 66 (NYSE:PSX), Marathon Petroleum (NYSE:MPC), and Tesoro (NYSE:TSO) will benefit from reduced costs. This could be a possibility as President-elect, Donald Trump, has spoken about eliminating costly regulations.
The use of RINs are required by the EPA as part of the Energy Policy Act of 2005. The numbers are assigned to a batch of biofuel to track production, use, and trading. Each RIN represents a quantity of biofuel that was mixed with fossil fuels. The refiners are required to meet quotas based on the volume that they bring into the market. This process costs the refiners money. Valero estimated the cost to be $850 million in 2016. That represents 38% of Valero's trailing twelve month net income of $2.2 billion.
Valero looks good even without the benefit of having the RIN costs taken away. Current consensus estimates are calling for 13% revenue growth and 12% EPS growth in 2017. This is not pricing in the boost that would result from an elimination or reduction in regulatory costs.
Valued below Peers
Valero is currently trading below its peers in the refining industry. Here is how the large cap refiners compare:
| | | | | |
| --- | --- | --- | --- | --- |
| | Valero | Phillips 66 | Marathon | Tesoro |
| Forward PE | 12.4 | 16.3 | 12.9 | 13.7 |
| EV/EBITDA | 5.7 | 16 | 7.5 | 6.3 |
Date source: 4-traders.com, Yahoo finance
Valero is valued lower than its peers because it has the lowest expected revenue growth. The other three are expected to grow revenue at 20% or higher in 2017 as compared to Valero's 13% growth. I see Valero as a good combination of valuation and growth. I also see the others as attractive investments. They would all benefit from an elimination or shift of responsibility of the RINs. Valero has more room for PE expansion due to its lower valuation.
Refinery Margins to Expand
Analysis from Stratus Advisors shows that North America refinery margins are expected to increase from about mid-2017 through 2025. This is based on lower input costs and favorable regional refinery configurations. Of course, the oil input costs for the refiners depends on whether OPEC will ever cut production. The refiners will benefit if OPEC doesn't cut production as this will keep the price of oil suppressed and thus the refining input costs down. Although OPEC occasionally hints that they will cut production, we have yet to see any significant cuts. OPEC seems to like bluffing more than making actual production cuts.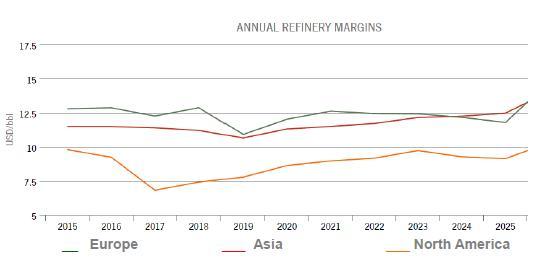 Source: Stratus Advisors
Another positive development for keeping input costs down is the recent discovery from the U.S. Geological Survey [USGS]. The USGS just announced the largest estimate of continuous oil ever assessed in the United States. The Wolfcamp Shale in Texas is estimated to have 20 billion barrels of oil. That will help to keep the supply of oil up over time and help to keep a lid on refining input costs.
Risks to the Investment Thesis
If OPEC decides to cut production of oil significantly, it is likely to have a large impact on the price of oil. Another unexpected event could occur that would reduce the total supply of oil is likely to have a negative impact on refining margins. This would increase the refiners input costs, which could have a negative impact on refining margins.
Global economic recessions could reduce demand, which could suppress revenue growth for the refiners.
Conclusion
With refining margins likely to climb steadily from 2017 through 2025, Valero and the refiners look attractive. Global growth will help on the demand side of the equation for refined products. If global GDP can average about 3% annual growth through 2025, then refiners should see steady demand for gasoline and other refined products.
The refiners look attractive as an investment through 2025. This is based on current conditions. The elimination or shifting of responsibility of RINs, would be an extra boost for Valero and the industry. I like Valero as an undervalued growth play. I project that the stock will increase by 15% to 20% by the end of 2017. This is based on earnings growth of 12% plus PE expansion due to the undervaluation. If the refiners lose the RIN requirement, the results are likely to be higher.
Disclosure: I/we have no positions in any stocks mentioned, and no plans to initiate any positions within the next 72 hours.
I wrote this article myself, and it expresses my own opinions. I am not receiving compensation for it (other than from Seeking Alpha). I have no business relationship with any company whose stock is mentioned in this article.
Additional disclosure: If you like my analysis, click on FOLLOW at the top of the article near my name. That will allow my articles to display on your homepage as they are published. The article is for informational purposes only (not a solicitation to buy or sell stocks). I am not a registered investment advisor. Investors should do their own research or consult a financial advisor to determine what investments are appropriate for their individual situation. This article expresses my opinions and I cannot guarantee that the information/results will be accurate.