Vuzix (NASDAQ:VUZI) filed an 8-K late Wednesday indicating that Intel (NASDAQ:INTC) and Vuzix were unable to reach a strategic relationship. The strategic relationship was anticipated to be consummated within 45-days following the closing date of the original stock purchase agreement dated January 2, 2015.
8-K Image (Source Vuzix)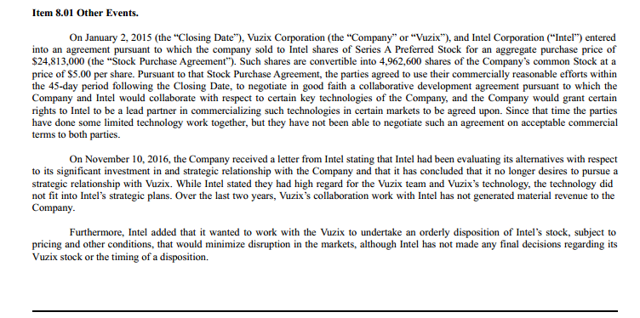 Click to enlarge
The news that Intel and Vuzix failed to form a strategic relationship was surprising, yet not totally unexpected. The most surprising component of the news was Intel's decision to make an orderly disposition of Intel's 4,962,800 shares of Vuzix stock. The orderly disposition decision comes with the caveat that Intel has not made any decisions regarding its Vuzix stock or the timing of the disposition.
Shares of Vuzix fell nearly 39% during after-hours trading on Wednesday and were down 29% from Wednesday close in the pre-market on Thursday. Shares closed down 18% on the day Thursday with 1.2 million shares traded representing the most hands changing hands on a daily basis since August 31st.
Intel's $24.8m investment in Vuzix in January 2015 was critical and potentially saved the company from doing a very dilutive round of financing featuring warrants and stock to replenish its cash balance. Vuzix's ending cash balance on December 31, 2014 was $84,967 with current liabilities of $3,386,588 as well as a net working capital position of negative $1,981,232.
10-K image (Source Vuzix)

Click to enlarge
Intel Corporate's $24.8m investment according to filings was framed around forming a collaborative agreement with Vuzix centered on Vuzix's waveguide display engines for fashion smart glasses. However, over the course of the last two years neither company came to an agreement on a collaboration agreement (supply agreement for waveguides display engines).
The stipulation that the companies would put in commercially reasonable efforts within the 45-day period after closing to reach a collaboration agreement means the agreement was not based on specific milestones and technological advancements. The fact it took Intel nearly two years to finally walk away from reaching a collaboration agreement begs into question Intel's investment intent from the beginning.
Intel has established a recent history of investing and acquiring companies within the augmented reality and virtual reality space over the past few years. Intel's investment in Vuzix, which currently stands at 22% appears to be a try before you buy scenario. The fact that the companies are no longer negotiating a collaboration agreement and Vuzix has yet to make a decisions regarding Vuzix stock still leaves the door open for a potential takeover bid by Intel. I am certainly not suggesting that a deal is likely nor holding my breath, but Intel's investment in Vuzix under the original terms to come to terms on a collaboration agreement is interesting, strange was never going to happen within the original 45-day window.
The agreement signed in January 2015 gave Intel insight into non-public knowledge surrounding Vuzix's IP, which I assume was concentrated on Vuzix's waveguide displays and engines. On the business update call Vuzix held on Thursday November 16th, CEO Paul Travers provided some more color behind the negotiations with Intel as well as Intel's going forward plans.
Vuzix couldn't come to an agreement with Intel because it felt it was necessary to protect the company's intellectual property
Intel will no longer pursue the 2 board seats on Vuzix board and will exercise its non-dilutive rights to participate in future financing.
Vuzix and Intel will continue to maintain a supplier relationship (purchase order) for Vuzix's products (M300 and M3000) are expected to don Intel's chips.
Intel is and continues to be a customer of Vuzix's M300 smart glasses
The collaboration efforts between Vuzix and Intel have not yielded material revenue for the company and the lack of an agreement has no impact on Vuzix's business outlook
Intel's $24.8m investment in Vuzix provided financial flexibility for the company to advance its waveguide optics and manufacturing facilities as well as develop and design the next wave of augmented reality smart glasses for enterprise, prosumers and consumers for years to come. Vuzix completed and moved into a new 30,000 square foot manufacturing facility that houses the company's waveguide manufacturing operations. On the product development side Vuzix has designed and developed three very exciting and competitive products (M300, M3000 and Blade 3000) to address pent up demand within the enterprise and consumer smart glasses sectors.
Vuzix M300 (Source Vuzix)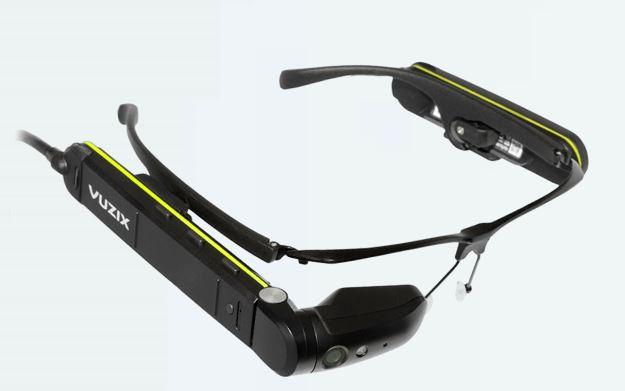 Vuzix Blade 3000 (Source Vuzix)

Click to enlarge
Vuzix M3000 (Source Vuzix)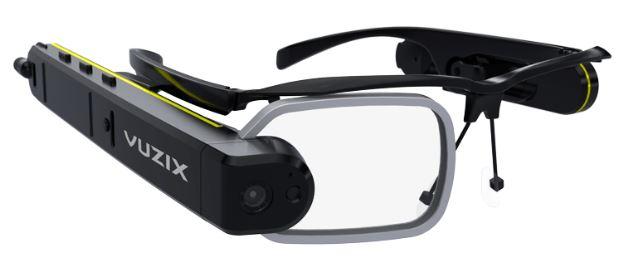 Vuzix with the help of Intel's investment has designed, developed and is expected to begin shipping the company's next generation M300 smart glasses to enterprise customers in volume in the coming weeks. The near-term hurdle remains between production unit shipments to customers is regulatory approval in the EU and US, which is expected before the end of November.
The demand for Vuzix's soon to be released M300, which is built upon Vuzix's IP remains extremely robust and is expected to address demand in several core industrial sectors including supply chain and warehousing, manufacturing, insurance and inspection as well as field service.
The Blade 3000 (Winner of 4 2017 CES Awards) will feature Vuzix's newest Cobra engines and waveguide display technology. Vuzix is expected to demonstrate a fully functional Blade 3000 at CES in early 2017. The Blade 3000 will be one of if not the first fashion based smart glasses on the market for consumers, prosumers and enterprise customers.
On the waveguide product side of the house Vuzix has completed the development of the company's M3000 (monocular waveguide) smart glasses for the enterprise and expects tooling to begin in the coming weeks. Vuzix's waveguide designs for the M3000 and Blade 3000 products are complete and ready to be produced in volume and with an anticipated release date for both products of mid-summer 2017.
Although, Vuzix was unable to come to terms with Intel on a collaborative OEM agreement company's pipeline of existing projects and potential OEM partners remains incredibly exciting. According to the Q3 conference call Vuzix has several OEM partners that are working on projects with the company and the completion of the company's Cobra waveguide display engines have opened the door to rekindle and explore additional potential relationships. These relationships may include the development of specific prototypes, private labeling product already being developed by Vuzix and supply relationships with Vuzix within the enterprise and consumer market place.
I want to be very up front with everyone. Intel's $24.8m investment in Vuzix locked in my interest into the company, the smart glasses industry and my initial investment in Vuzix. However, as I stand here today and look at what Vuzix has accomplished over the past few years post Intel investments I am a proud and confident shareholder. The Vuzix investment story in terms of the impending business inflection and momentum surrounding the company's pipeline of augmented reality products has never been stronger.
Last week, prior to the Q3 conference call I provided an update on Vuzix, which included my revenue forecast for 2017 of between $25m and $35m with M300 sales accounting for between $22m and $33m.
The remaining $2-3m of revenue was expected to come from iWear video headphone sales and waveguide related product sales. My estimates for 2017 remain unchanged in lieu of Intel's decision not to pursue a strategic collaboration agreement with Vuzix. In fact, Intel's decision to take a step back may actually open the door for additional OEM/waveguide opportunities for Vuzix.
The recent pullback driven by Vuzix recent 8-K filing may prove to be an incredible buying opportunity for shareholders. The Intel/Vuzix strategic chapter might have come to an end, but the book and future of Vuzix remains bright and unwritten. I will remain a loyal holder of my Vuzix investments and will continue to buy into weakness as opportunities present themselves.
Disclosure: I am/we are long VUZI.
I wrote this article myself, and it expresses my own opinions. I am not receiving compensation for it (other than from Seeking Alpha). I have no business relationship with any company whose stock is mentioned in this article.