Every month, I write about several Federal reserve districts. Federal reserve districts publish important information about the manufacturing sector in each district. I use this data to get a better overview of the US economy and to predict economic activities. Note that single reports are very volatile. The information is useful, but the best use comes at the end of each month, when I update my average indicators of every important topic.
The economic indicators are:
Composite Manufacturing Index
New Orders
Shipments
Employment
Capital Expenditures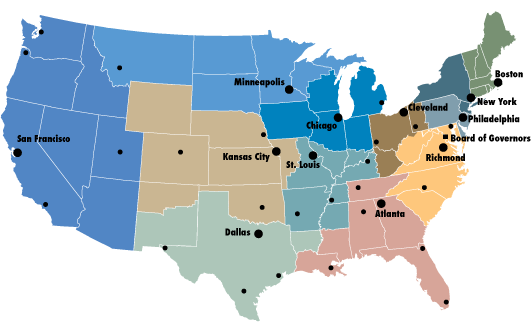 Source: Federal Reserve Education
The economic indicators above couldn't be more useful. At the end of each month, we have a very reliable and valid set of indicators. In addition to that, we see that average indicators erase all unnecessary volatility. The averages are about the following districts:
Empire State (New York)
Philadelphia
Kansas City
Richmond
Dallas
This article discusses the November results of the Kansas City district.
Let's start by looking at the manufacturing index. The composite index declined 5 points after hitting a new post-slow down high in October. High volatility is very common among single regional reports, but a 5 point decline is a bad sign. Especially since the economy is desperately in need of a strong recovery.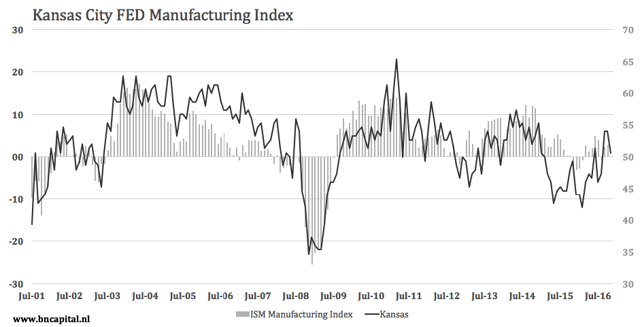 Click to enlarge
New orders declined 8 points from 14 in October to 6 in November. Although this decline is not what I was looking for, I can say that Kansas has three solid months of orders growth. Numbers like these are very common in periods of higher growth.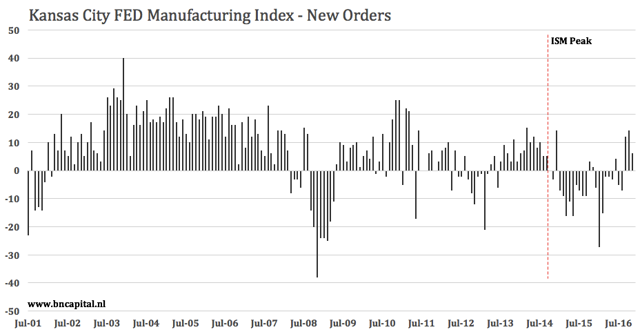 Click to enlarge
Shipments show a very similar pattern. Three months of solid growth after a period of heavy declines. It also pleases me that growth stays at these levels.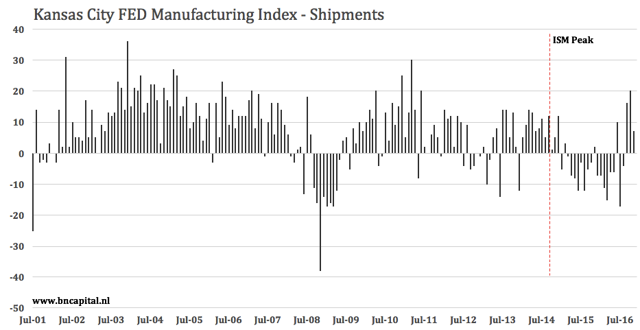 Click to enlarge
Employment has one of the best months since the slowdown in October. The current number is 6 points lower and too weak to support employment growth. Unfortunately, this is common among regional indices. Even though the economy is growing, we see a very slow jobs market.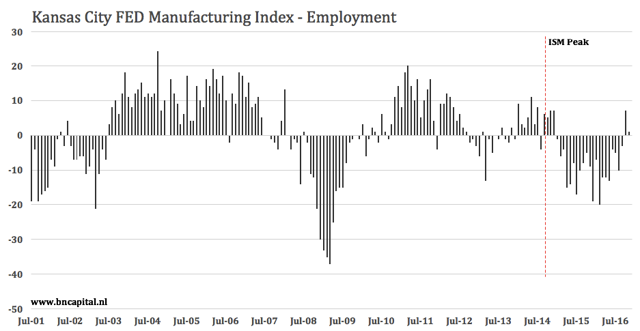 Click to enlarge
Today's numbers showed that growth is at relatively high levels even after this month's decline. After the next Richmond and Dallas number, I can publish average indices that either support or deny this trend.
Many thanks for reading my article. Please leave a comment below if you have questions or remarks.
Disclosure: I/we have no positions in any stocks mentioned, and no plans to initiate any positions within the next 72 hours.
I wrote this article myself, and it expresses my own opinions. I am not receiving compensation for it (other than from Seeking Alpha). I have no business relationship with any company whose stock is mentioned in this article.