ChannelAdvisor (NYSE:ECOM) is a company that's not on many investors' radar, but it should be. The company is often overlooked because it's a small tech stock that's not following the typical small-tech-stock blueprint of chasing revenue growth. ChannelAdvisor has been there, done that, and certainly has the scars to prove it. After watching its stock price plummet nearly 80% over the course of 2014-2015, ChannelAdvisor's management did something that few small tech companies do: shifted its business model to stop chasing revenue growth and instead move towards sustainable profitability.
Where are we and how did we get here?
The past couple years for ChannelAdvisor have been interesting, to say the least. The company IPO'd in mid-2013 at $14 and saw its stock price soar to nearly $50 over the next eight months. Then, just as quickly as it rose, the stock slid back to its IPO level in 2014 before crashing down into single-digits to start 2015. Currently, the stock is hovering in the low-teens, almost exactly where it started three years ago.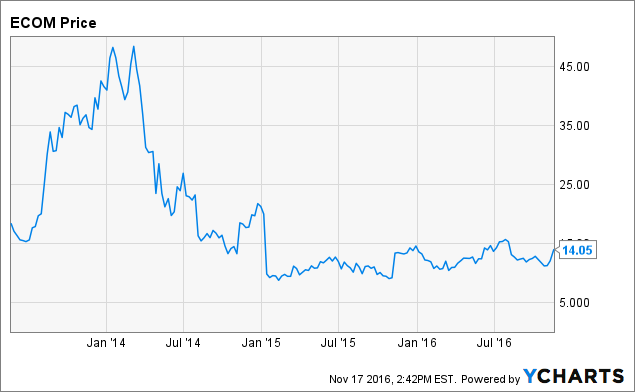 For the first part of this story, ChannelAdvisor fit the mold of your standard small-cap, high-growth tech company. Following its IPO, the company was posting quarterly revenue growth in the 25-30% range. There are few things that Wall Street loves more than sky-high revenue growth from a tech company, and this was a game that ChannelAdvisor played well.
However, as it often happens, these growth expectations get carried away - I was guilty of this myself, at one point assuming 30% growth would continue through at least 2017. As valuations get pushed higher and higher, the soaring stock price comes to resemble a house of cards, where one minor misstep can bring the whole thing crashing down. Revenue growth creates excitement, the stock skyrockets, and everything is great… until it isn't. Often the downfall results from an oddly-contradictory Wall Street mindset, where analysts "expect" revenue growth to beat expectations, with dire consequences for coming up short.
That's what happened to ChannelAdvisor in 2014-2015, as its new customer counts began to come up short of inflated expectations and revenue growth tapered off to a good-but-not-great level.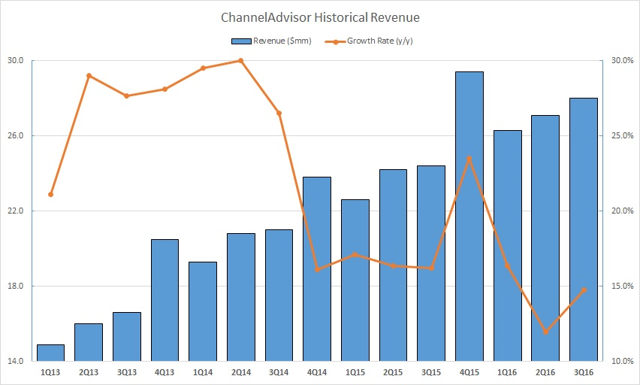 Click to enlarge
(Source: Company Filings)
Changing Course - Shifting from Growth to Profitability
Rather than doubling down, as many companies seem to do in this situation, ChannelAdvisor's management went a different route: it re-evaluated its approach. In 2015, it replaced founder Scot Wingo as CEO with David Spitz, previously the CFO. They also made a shift to abandon their growth strategy, and instead focus more on profitability, sustainability, and ultimately scalability.
Previously, ChannelAdvisor had been the epitome of a "growth-at-any-cost" strategy, spending a massive amount of money on sales & marketing. At its peak in the first quarter of 2014, ChannelAdvisor spent over 70% of revenue on sales & marketing expenses. While this strategy certainly generated growth, it also burned through cash at an alarming rate, leading the company to make a secondary stock offering and raising concerns that further dilution may be on the horizon.
With the new focus on profitability, management has explained that not all customers are equal. ChannelAdvisor's platform is designed as a "scaling solution," not a starter kit, and thus provides the most value to businesses that have already achieved at least $15k in annual e-commerce sales. Not surprisingly, these larger customers are much more profitable for ChannelAdvisor, leading management to focus more on this group while phasing out its lower-value customers.
In short, ChannelAdvisor has stopped trying to add new customers for the sake of adding new customers, and is instead focused on gaining and retaining high-quality (and high-profitability) customers.
ChannelAdvisor: A Cloud-Based E-commerce Enabler
So what does ChannelAdvisor actually do? As its stock ticker suggests, ChannelAdvisor provides a cloud-based e-commerce platform to businesses, allowing product retailers and manufacturers to drastically expand the reach of their e-commerce operations, while at the same time reducing the operational complexity of doing so. The e-commerce industry is far more fragmented and complex than most consumers realize, and ChannelAdvisor makes it easy for businesses to manage it all from one easy platform.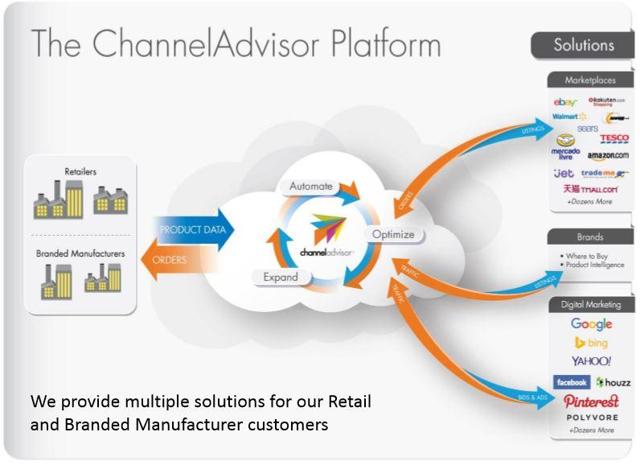 Click to enlarge
(Source: Company Presentation)
In short, ChannelAdvisor enables businesses to easily list their products and manage inventory and pricing across numerous e-commerce marketplaces (Amazon (NASDAQ:AMZN), eBay (NASDAQ:EBAY), Jet (Private:JET), various international sites, etc.), as well as manage their digital advertising efforts across numerous channels (Google (NASDAQ:GOOGL) (NASDAQ:GOOG), Facebook (NASDAQ:FB), Pinterest (Private:PINIT), etc.), all from one central platform.
This is an attractive business model, as consumers increasingly embrace the power of online shopping. Global e-commerce sales are currently projected to top $4 trillion by 2020, as it quickly becomes standard for major retailers and manufacturers to have a robust and widespread online presence. If e-commerce is the gold rush, ChannelAdvisor is selling the shovels.
Outlook & Conclusion
ChannelAdvisor has shifted its focus, implemented a plan, and thus far has done a remarkable job of following through on it. The company has generated positive free cash flow for the past five quarters, and is steadily marching towards profitability. Revenue growth, despite no longer being the primary focus, has remained steady in the 10-20% range, and CEO David Spitz has stated in earnings calls that the company anticipates an inflection in the growth rate in 2017 as this transition becomes more complete.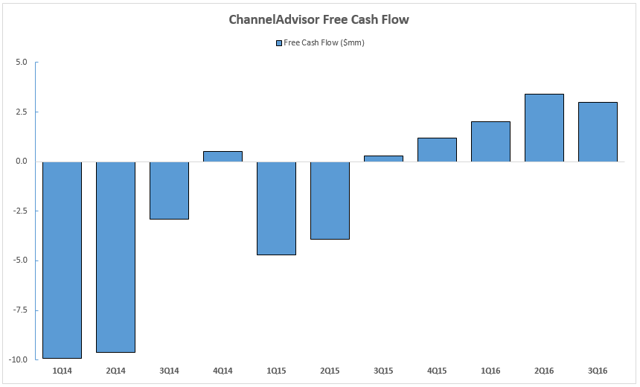 Click to enlarge
(Source: Company Filings)
While a lot remains to be seen, ChannelAdvisor's stock is at the very least worth keeping an eye on. The stock may never generate the same excitement as other high-flying tech companies, but the shifting business strategy certainly presents an attractive opportunity for long-term, buy-and-hold investors.
Disclosure: I am/we are long ECOM.
I wrote this article myself, and it expresses my own opinions. I am not receiving compensation for it (other than from Seeking Alpha). I have no business relationship with any company whose stock is mentioned in this article.