Quick Take
Aortic medical device maker Endologix (NASDAQ:ELGX) recently announced that it has received notice from the U.S. FDA that it wants two years of patient follow-up data pertaining to ELGX's Nellix AAA (Abdominal Aortic Aneurysm) EVAS system, which is being reviewed by the FDA for market approval.
Ruptured AAAs are a leading cause of death in the U.S., with an overall patient mortality rate of nearly 80%. Shareholders impatiently sold off the stock in response, sending it down by more than 20% in a single day of trading earlier this week.
My opinion is to BUY the stock. The company is actually expanding the indications for use for its Nellix device, and the FDA data request is related to the expanded IFU and concomitant larger market opportunity.
The stock has been oversold and will likely retrace its recent drop as the company's financial results continue to impress while management works its way through a delayed regulatory approval process for an expanded IFU device opportunity.
Company
Irvine, California-based Endologix is developing the Nellix minimally-invasive endovascular aneurysm sealing system, EVAS, as part of its portfolio of AAA devices.
The company already sells the Ovation Abdominal Stent System, an "EVAR", or endovascular aneurysm repair device. The ovation device was added with the acquisition of TriVascular Technologies in October 2015.
Endologix also sells its own EVAR device - the AFX2 Endovascular AAA System.
The company sells all three devices in Europe and the Ovation and AFX2 in the U.S. and other regions.
Nellix EVAS Technology
ELGX acquired the Nellix EVAS device in 2010 as Nellix was in early trials for marketing approval in Europe. In 2013, the company received its CE Mark approval in Europe. It is a common regulatory pathway to first obtain CE Mark and then utilize the trials and patient follow-on history for application to the stricter US FDA approval process.
An important aspect of the Nellix device is its versatility in dealing with a variety of anatomies related to aortic aneurysms in the abdomen. These conditions can have a wide range of features that other AAA devices cannot effectively treat. Problems that arise include the device "migrating" over time or failing in some way to fix the problem, causing the patient to have a reoccurrence of the aneurysm in ways that may be even more difficult to treat in a minimally-invasive manner.
The Nellix device was originally submitted to the FDA for PMA based on a limited set of indications. More recently, the company expanded the PMA to include a larger set of indications for use, or IFU.
It is with this larger set of indications that the FDA has requested additional data.
According to the company, for the additional data, it expects:
These data to be available and submitted to the FDA in the second quarter of 2017, followed by a possible FDA advisory panel meeting by the end of 2017, and potential FDA PMA approval of Nellix in the second quarter of 2018.
Financials
Endologix's recent financial results can be summarized as follows:
Dramatic revenue growth
High gross margins
Cash flow use due to interest expense and change in fair value of derivative liabilities in connection with its merger with TriVascular
Below are the company's operational results for the three and nine months ended September 30, 2016 (Unaudited GAAP):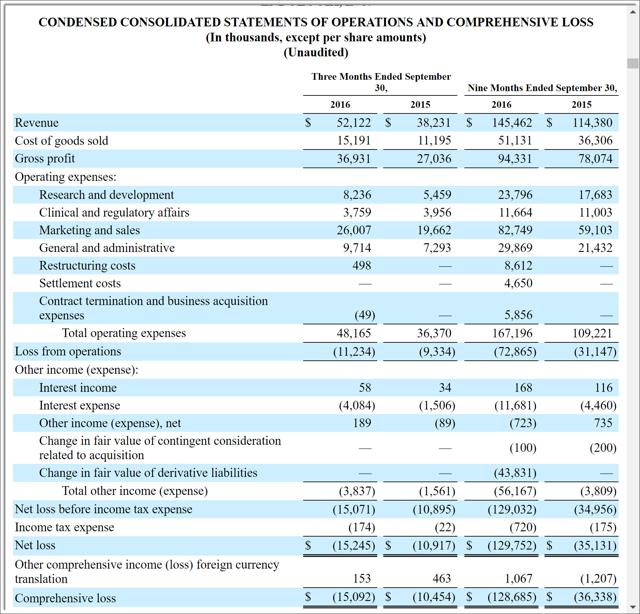 Click to enlarge
(Source: Endologix 10-Q)
Revenue
To Q3 2016: $145.5 million, 27% increase vs. prior
Gross Margin
To Q3 2016: 65%
Cash Flow from Operations
To Q3 2016: $60 million cash used in operations
The company is growing revenues at 27% over the prior nine-month period on the strength of its products in market now. Q3 2016 revenues grew by 36% over prior, so its revenue growth appears to be accelerating.
ELGX launched its AFX2 device in the U.S. Q2 2016, so sales are only beginning to ramp from sales of that second-generation device.
As of September 30, 2016, the company had $22 million in cash on hand and current liabilities (less contingently issuable common stock) of $45.3 million.
Commentary
ELGX CEO John McDermott has stated that the company expected US FDA approval for the Nellix EVAS device by the end of 2016, even with the expanded set of indications.
However, the company's most recent 10-Q disclosed:
In April 2016, we announced achievement of CE Mark approval of the next-generation Nellix EVAS System. The new Nellix EVAS system will be gradually introduced in Europe and other markets. In March 2016, we submitted our final premarket approval ("PMA") modules to the U.S. Food and Drug Administration (the "FDA") and completed our 100-day PMA meeting with the FDA. The FDA has requested additional information and indicated that we may need to go to an Advisory Committee Panel. If we do have to go to an Advisory Committee Panel, we anticipate that the timeline for PMA approval for the Nellix EVAS System may extend into the third quarter of 2017. We are working collaboratively and in a timely manner with the FDA to provide the required information, and we remain confident that we will receive PMA approval for Nellix EVAS System based upon the IDE clinical results, data from other international studies and our worldwide experience, which now includes over 7,000 patients.
So, the FDA additional data request, while a disappointing delay, is not an unexpected surprise.
In management's Q3 financial results call, CEO McDermott indicated that it has "achieved the clinical endpoints in the IDE share dilated clinical data with FDA."
The issue with the Nellix device is a low-single-digit percentage of patients that experience a "migration" of the implanted device over a two-year period after the procedure.
The company believes it has been proactive in reporting and conservative in its approach on the issue.
It is likely the FDA is focused on this low incidence "migration" issue in its additional data request, and that the request is a result of the new, larger IFU that ELGX amended its PMA.
The company has a much larger market opportunity with the expanded IFU for the device, assuming the low incidence of migration does not result in the FDA panel rejection of the device or reduction in approved indications. Additionally, if a patient is untreatable with the Nellix device, they can frequently be treated by the company's other systems, Ovation or AFX2, or potentially the forthcoming Ovation Alto.
As for the stock, we've seen this same regulatory risk issue before in 2016: the company's stock dropped from above $14 to below $12 in August 2016 on fears that the FDA would ask for more data, yet the stock retraced nearly 50% of its drop in the following three months.
Today, ELGX announced the presentation of two years' clinical data for its post-market study at Auckland City Hospital in New Zealand.
The study data revealed:
37% of the patients had complex anatomies
98% freedom from any persistent endoleaks at the latest follow-up
No secondary interventions for Type II endoleaks
97% freedom from aneurysm-related mortality
99% freedom from cardiovascular mortality
These positive outcomes are all the more notable in that they were achieved with patients with no screening or anatomical restrictions and included a broad range of aortic anatomies which can present difficulties with other solutions.
Of course, with the sudden stock drop, lawyers are now circling, with two firms publicly seeking disgruntled or litigious shareholders.
On Thursday, November 17, 2016, the company held an investor conference and provided management's views on the Nellix device, related FDA request and other devices. Below are some notable highlights:
- Nellix's all-cause mortality two years after implantation is 1% vs. 14% otherwise

- Nellix's ChEVAS (Chimney EVAS) indications represent a 20-25% additional market opportunity

- Nellix is an exciting aneurysm sealing solution in process of gathering more follow-up data beyond two years.

- Ovation Alto: First-in-man trials have begun in New Zealand and the small diameter of the device enabled use of the device in patients that would have been excluded otherwise, especially women. 0% device migration with the Ovation platform was another notable trial result.

- Tremendous amount of growth opportunities in multi-billion dollar markets, with only a fraction of those markets currently covered

- The TriVascular merger provided a significant thoracic platform as another potential market expansion opportunity beyond the abdominal aortic focus of the company to-date.

- Lowest MAE (material adverse event) rate is the lowest of any similar treatment, so the treatment is actually better AND safer for patients.

- EVAS platform is showing a 99% survival for cardiovascular after implantation

- Management will gather up all data with two year results and will submit to FDA in Q2 2017; in Q3 will submit an IDE for the ChEVAS procedure.

- CEO McDermott estimated Nellix PMA approval in Q2 2018, or about a one-year delay

- For patients with off-label needs, physicians will be able to use Ovation Alto or Nellix ChEVAS to treat them

- Forward guidance changed with the expanded IFU, Q4 2017 growth will be 7-10% vs. previous 10% as physicians transition into the new IFU.

- Management says they have plenty of clinical evidence to gain consensus with the FDA.

- The CFO said they will end the year at $50 - $55 million cash in bank range and also has a $50 million untapped revolver (4.5% rate), so they have more than enough cash to be cash flow positive in H2 2018.

- The company just received FDA approval for its Ovation Alto IDE application, so it is now free to begin trials on that device
I am confident in Endologix management's ability to work through the Nellix regulatory issue to a favorable conclusion in one form or another. The company has significant regulatory expertise in this area of AAA specialization.
A worst-case outcome is that the device is approved for a narrower IFU or with additional implant procedures while the company continues development on its next-generation Nellix EVAS device.
Investors may have been rash to sell the stock off so sharply, as the additional data requested likely has only a potentially marginal effect on the potential value of the gen 1 device, and in any event, pertains to a wider set of indications for use than originally applied for.
Due to surprisingly good clinical results to date, management has been aggressively expanding the potential market coverage for the Nellix device with an expanded IFU (indications for use), which is what investors should want it to do.
My opinion is to BUY the stock on this drop under $8.00 as it is oversold and will likely retrace its drop over time. The next potential catalyst will be management's forward guidance during the JPMorgan Healthcare conference in January 2017.
I will provide an update at that time.
I write about IPOs, M&A, and billion-dollar privately-held tech companies. If you want to receive future articles automatically, click the +Follow link next to my name at the top of this article.
Disclosure: I am/we are long ELGX.
I wrote this article myself, and it expresses my own opinions. I am not receiving compensation for it (other than from Seeking Alpha). I have no business relationship with any company whose stock is mentioned in this article.