About a month ago I came across a stock which in my eyes seemed to have an absurd low valuation at the time. The stock price moved slightly above $3 per share which was identical to its book value per share. Usually when looking at stocks with similar metrics, you'll see problems like a large amount of debt or a low amount of cash with a significant cash burn. The company has no debt plus a cash position that accounted for about two thirds of its market cap. When looking at stock performance of the previous years, a lot of investors wouldn't even bother to check this one out. Since reaching a high of almost $20 per share in 2012, the stock tanked and reached a low of $2 at the start of this year although it has been gaining momentum, especially in the past few weeks. The clearly negative sentiment around this stock along with what seemed to be an absurdly strong balance sheet got me interested. What I found during my analysis definitely didn't disappoint.
The company that I'm writing about is NL Industries (NYSE:NL), a Holding company with a market cap of $295 million. It has equity stakes in two publicly traded companies:
· CompX International (NYSEMKT:CIX)
· Kronos Worldwide (NYSE:KRO)
CompX International
CompX International produces and sells a variety of security products and recreational marine components and currently has a market cap of $145 million. 87% percent of the outstanding stock is owned by NL Industries. The financial results of CompX the past few years haven't been that exciting. Both revenue and EBITDA have been improving steadily since 2012. During the same period the stock price has been moving sideways more or less with a few volatile moments. CompX currently has a book value of $124 million, which would translate into $2.28 per share for NL Industries (adjusted for 87% ownership). Looking at the considerable amount of value CompX adds to the balance sheet indicates that it couldn't have been the reason for the strong price decline but doesn't look like it's going to add a lot of value any time soon either. The total book value per share of NL Industries is $3.49 per share. If we subtract NL's book value with the amount attributable to Compx's balance sheet, we're left with $1.21 per share.
The remaining book value of $1.21 has to be the value of Kronos but if we take a closer look, it seems that the book value of Kronos (adjusted for 30% ownership) comes down to $3.05 dollars per share for NL Industries. This leaves us with a difference of $1.84 per share ($3.05 - $1.21). When we look at the assets and liabilities on NL Industries' own balance sheet, this difference seems to be caused by a similar amount of net liabilities. Without any further analysis this would seem like a fair valuation of NL Industries' stock, but this is definitely not the case. Keep in mind that the book value of the stake in KRO is based on shareholders equity, which is significantly less than the market cap value of its 30% ownership. One might easily argue that the Kronos shares should be valued at its market price. Level 1 is a term in accounting used to signal minority ownership that should be valued at the market price. Level 1 represents a hierarchy in fair value measurements. Level 1 is the most transparent valuation. Accordingly, this stake should add $8.53 to NL's book value instead of $3.05.
Kronos Worldwide
Kronos Worlwide, a specialty chemicals company whose main source of revenue is producing and marketing titanium dioxide (TiO2) pigments on a global scale. 30% of its $1.3 billion market cap is owned by NL Industries. Just by comparing the stock price performances of NL Industries and Kronos it becomes clear that Kronos must have been the cause of NL Industries' pain.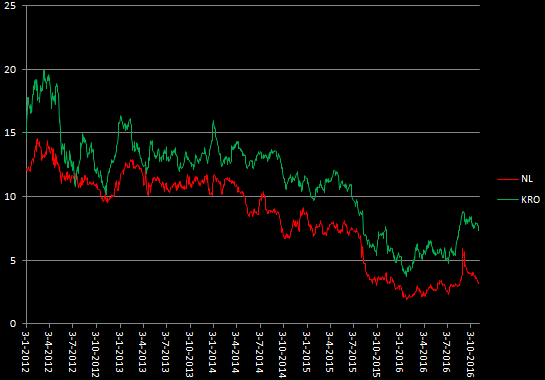 We can see a clear correlation between these two stocks since 2012. NL Industries appears to follow the price movement of Kronos, which was clearly visible in August. After a delayed response to Kronos' extreme price movement after the release of its Q2 results, NL Industries surged and outperformed Kronos before both declined again. Therefore by analyzing what went wrong all those years ago, we can understand NL Industries a bit better and perhaps even predict the trend in Kronos' financial results and therefore NL Industries' future price movements.
TiO2 price fixing
The industry that Kronos operates in is relatively small. North-America has five big players in this area including Kronos. A few years up until 2012 these major producers enjoyed an uptrend in TiO2 prices, causing strong financial performance for both Kronos and NL Industries. This all came to an end when Kronos along with other competitors such as DuPont (NYSE:DD) and Huntsman (NYSE:HUN) were sued for alleged price fixing TiO2 since 2003. In 2013 Kronos agreed to pay $35 million without admitting any fault or wrongdoing.
The lawsuit was the end of a flourishing time for the industry which saw the TiO2 price fall for the next few years. Kronos saw its revenue decline between 2012 and 2015 from $1,976 million to only $1,349 million in 2015. During this period the total net income fell from $219 million to a net loss of $174 million. It will be no surprise that the stock price declined over 80% as a result of this. While both stocks have surged in the recent week, Kronos' valuation as a part of NL Industries still seems to be too low. As a result there still seems to be upward potential for NL Industries' share price.
Turnaround in the making
Kronos' management acknowledged that it had to do something in order to improve results and offset the low selling price. In 2015 a restructuring plan was initiated designed to improve the long-term cost structure which partly consisted of a reduction in workforce. Improved margins along with a reversal in the trend of TiO2 prices could be a recipe for success.
About a year ago, Kronos along with multiple other TiO2-producing companies made it known that the bad times of the industry were slowly coming to an end and a reversal in sentiment might be near. Kronos' most recent 10-K, filed in March, stated under Outlook:
"We started 2015 with selling prices 9% lower than the beginning of 2014, and prices declined by an additional 17% during 2015. Industry data indicates that overall TiO2 inventory held by producers has declined significantly during 2015. In addition, we believe most customers hold very low inventories of TiO2 with many operating on a just-in-time basis. With the improvement in sales volumes experienced in 2015, we continue to see evidence of strengthening demand for our TiO2 products in certain of our primary markets. We and our major competitors announced a price increase in late 2015, which is expected to be implemented in the first quarter of 2016, or as contracts allow."
Price improvement of TiO2 was expected to seriously show towards the end of the year. This would be a welcome change for a company that had suffered for so long under the harsh conditions caused by the price decline. Besides a price improvement, an increase in sales volume was also expected. It was around this period that the stock prices of TiO2-producing companies started to bottom.
Throughout the months that have passed since the annual report, evidence of the beginning of a turnaround has most definitely been noticed throughout the industry. We've seen more and more evidence of improving industry conditions. Kronos' last few quarterly results have finally showed:
· Growing sales volumes
· Higher selling prices
· Gross margin improvement
· Positive net income
· An uptrend in EBITDA
Third quarter results
While writing this article, Kronos has released its results for the third quarter and from the looks of it, it's the most promising quarter so far. EPS during the third quarter came in at $0.19 vs an expected $0.09. A year ago the company reported an EPS of $-0.10 over the same period. Net sales topped the estimate by about $6 million and was reported at $356.1 million, an increase of 6% yoy. The company's management had this to add in the press release:
"Excluding the impact of the 2015 workforce reduction charge, segment profit increased in the third quarter of 2016 as compared to the third quarter of 2015 primarily due to the net effects of higher average TiO2 selling prices, lower raw material and other production costs, higher sales volumes and higher production volumes"
A small oversight of the improvements made yoy taken from the most recent 10-Q:

Click to enlarge
It looks like management was right when predicting future sales volumes and TiO2 price development and investors are seeing this pay off. Similar results and price movements can be seen throughout the industry. Since the publishing of the quarterly results, Kronos' share price has been up well over 10% and looks like it's in an obvious uptrend now.
Risk
The one big perceived risk of investing in NL Industries is a lawsuit that has been ongoing since 2000. Before NL Industries was a holding company, it sold paint. In the year 2000 NL Industries, along with four other companies, was sued for selling paint with toxic components (lead) that was used on a lot of homes. In 2003 the judge decided that there wasn't enough evidence to continue the lawsuit. This decision was appealed three years later and approved. In 2011 a new complaint was filed. In 2014 the judge finally decided that three of the accused did have to pay a combined $1.15 billion in damages. This decision was then appealed by the companies in 2015. In 2015 they filed their written arguments. Right now they're waiting for a date in which the judge will hear their arguments, which will probably be soon. The fact that NL Industries was ordered to pay damages surprised many in the legal community. According to this article on legal newsline, a law school dean and expert in class-action lawsuits and mass torts wouldn't be surprised if a $1.1 billion ruling isn't upheld at the next level.
Another prominent figure in the community, Lisa Rickhard, president of the U.S. Chamber's institute for Legal Reform, denounced the judge's decision. In her view
"The message to businesses from this ruling is: if you don't have a crystal ball, you can be sued," she continues "Under the court's logic, it doesn't matter if businesses had no way of knowing about harms caused by products - they can still be sued, even decades after the products were sold."
The court's logic is indeed flawed. In the ruling then judge James P. Kleinberg stated that local governments "lack the resources to force homeowners to remove all lead paint from homes in their jurisdictions." Almost as if to say that it was up to him to craft a solution. Never mind the questionable logic used to craft such a solution. Not only is the verdict questionable, but the solution itself is very questionable.
The $1.15 billion dollars is meant to finance a program that removes the lead paint from houses. There has been a lot of criticism on this program, because it would be a big possibility that the removal of the paint could lead to more toxic components being released. This has been shown by government-sponsored-studies. On top of that, there's another complication that might make it difficult to implement the program. In the proposed program, home owners could apply for inspection and removal of the paint, which means that it's voluntary. The only problem is that it's illegal to rent out "dangerous" homes, as which homes with lead paint are defined in this case. So chances are small that a lot of people will apply for this program. Therefore I do think that the lawsuit could be risky for NL Industries, but the threat seems to be overstated.
As you can see this has been going on for a while now, but it might end sooner rather than later. These are the steps of the lawsuit: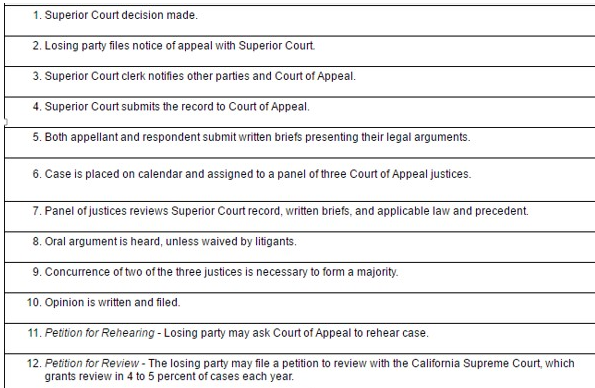 We are currently at step 8 and awaiting step 9. There will be a verdict at step 10 after which there is a change to take the case to the Supreme Court. If this were to happen, the lawsuit could be prolonged by an additional few years.
Conclusion
The great thing is that even though Kronos has such an enormous influence on NL Industries, this isn't the source of income. CompX provides a safety margin with its decent financials and performance. Therefore the downside is very limited. Like noted at the beginning of this analysis, NL Industries has a book value of more than 3 dollars per share. Now that Kronos seems to begin on a journey to its old days of financial strength, its book value will increase along with that of NL Industries.
Just like expected, NL Industries is picking up the trend. The 30% share in Kronos owned by NL Industries will be displayed in a different way in its own share price. Instead of just reflecting Kronos' book value, the turning sentiment will lead to more appreciation of Kronos' own market cap and outlook. Just an accurate reflection of Kronos' current market cap in NL Industries' share price would add another $5 per share. This implies a price target of above $8 for the stock, which still doesn't reflect the improved outlook for Kronos. Since the mrq results both of these stocks have gained serious momentum. NL Industries has surged to $6 per share after the results, $2.50 higher than before the release. While I expect this upward movement to continue, I would recommend waiting on a pullback before purchasing the stock.
Although I believe that investing in NL Industries can be very profitable, it is true that the stock itself is very risky. The low market cap, low float and low average volume could cause big sudden increases in volatility and spreads. Know the risks before opening a position in this stock.
Disclosure: I am/we are long NL.
I wrote this article myself, and it expresses my own opinions. I am not receiving compensation for it (other than from Seeking Alpha). I have no business relationship with any company whose stock is mentioned in this article.