The EIA reported a +30 Bcf injection figure yesterday, which was higher than our expectation of +23 Bcf. Be sure to read our summary of the storage figures here.
We anticipate an injection figure around +4 Bcf for the week ending November 18.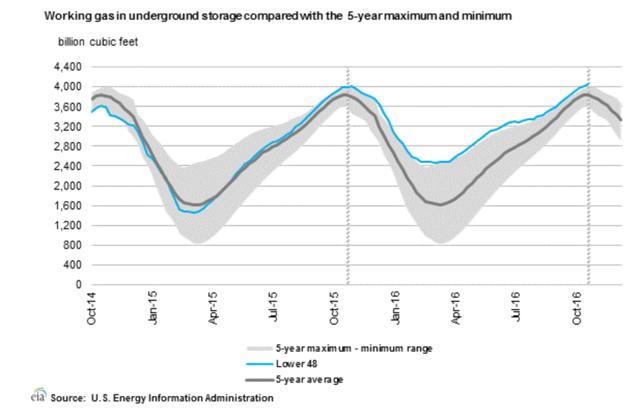 Click to enlarge
There's a relatively high probability that next week's storage report will be another build. Current range favors a build with supply barely outstripping demand this week. Overall US gas supplies rebounded slightly this week with slightly lower week-over-week Canadian gas imports and higher US gas production. On the demand side, base temperature is declining, so heating demand has been picking up but slower than normal leading to the injection. Historically speaking, the November 18 week saw five-year average storage draw of -45 Bcf, but last year saw an injection of +9 Bcf. On a temperature basis, this year's temperature for November 18 was hotter than last year, so the difference between the two could be explained by the structural imbalance.
Natural gas (NYSEARCA:UNG) prices popped higher today on the back of colder weather projections to start December. Here's what some models are projecting: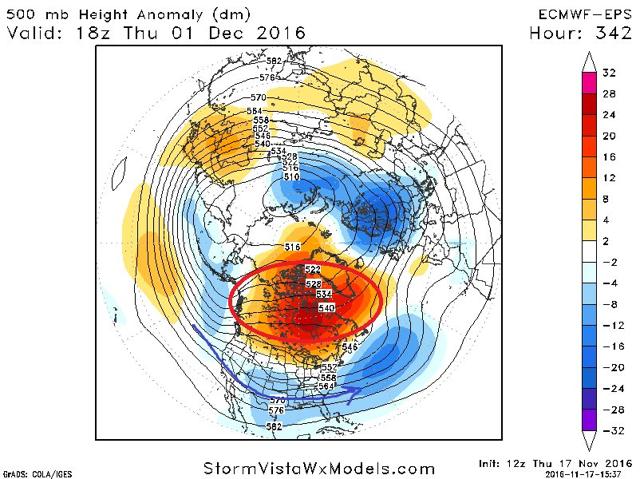 Click to enlarge
Source: Corey Lefkof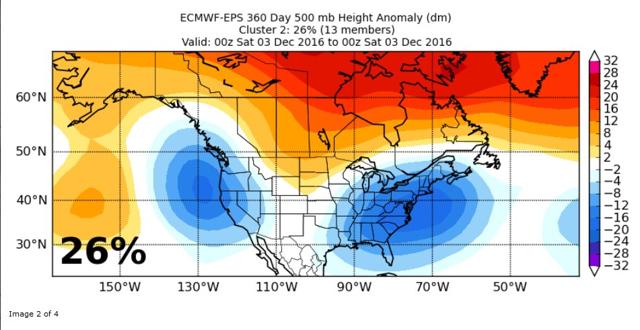 Click to enlarge
Source: Genscape Weather
Both of these models show "higher" probability of colder temperatures for early December, the probability increased from Wednesday. The market viewed it favorably and natural gas prices increased as a result.
As GeckoiCapital put it in our recent article:

Click to enlarge
As temperatures begin to normalize in the coming weeks, what will be important to watch is the price reaction for 2017 STRIP. We believe that as the front month rallies in anticipation of larger storage draws due to the structural imbalance, traders will begin to see what we are seeing for 2017. Even if this winter turns out to be slightly bearish overall, storage by April 1 will be around 1.75 Tcf, and by October of next year (assuming normal summer) storage will be much lower than the five-year average. This overlooked insight also was covered by Geckoi in one of its recent updates, and goes to show how much gas supplies would need to increase in 2017 to meet that difference.
Overall, next week's storage report will be another bearish one relatively speaking. We could see storage hit an all-time high again, but traders are more focused on the next 15-day outlook versus current storage. We will be updating our premium subscribers over the weekend on our thoughts on what's to come over the next several weeks and update our natural gas producer positions.
8-14-Day Outlook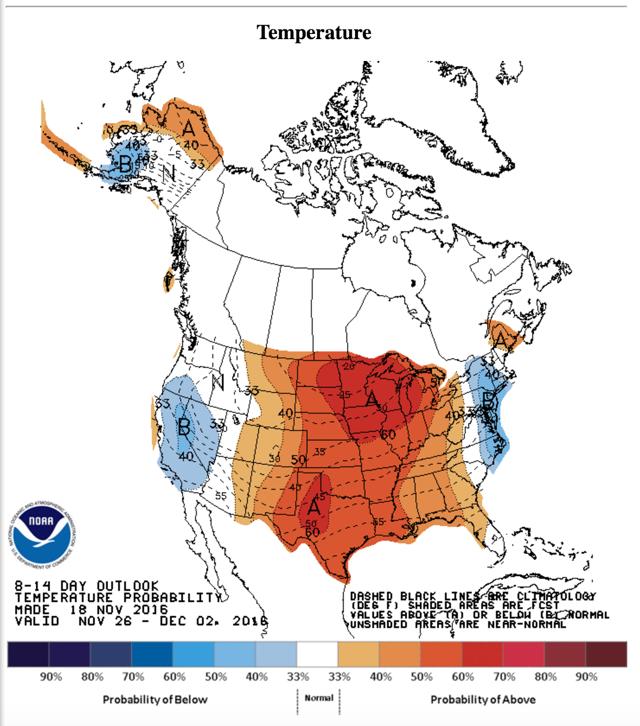 Click to enlarge
Disclosure: I/we have no positions in any stocks mentioned, and no plans to initiate any positions within the next 72 hours.
I wrote this article myself, and it expresses my own opinions. I am not receiving compensation for it (other than from Seeking Alpha). I have no business relationship with any company whose stock is mentioned in this article.