We were anticipating this latest Commitment of Traders (NYSE:COT) report as it was the first one issued since the US Presidential elections, so we finally got to see what traders were doing after the big drop in precious metals post-elections.
Everybody was expecting a big drop in net speculative long positions as we saw a 4% drop in the gold price on the week - but we were expecting a much greater drop in longs for the week than we actually saw. On the week, the pull-back in speculative longs was big but not as big as we expected given the large drop in the gold price, which suggests that we may see more downside solely based on the COT report.
Additionally, we saw a large amount of selling of physical metal by the gold ETFs which we think was a major additional contributor to the down move in gold, and is probably made up for the lack of as much selling from COT speculators. On the positive side (at least if you are a contrarian), Bloomberg reported that gold puts versus calls were the most expensive in over a year, which suggests traders think there's much more downside and are probably positioned accordingly.
We will give our view and will get a little more into some of these details but before that let us give investors a quick overview into the COT report for those who are not familiar with it.
About the COT Report
The COT report is issued by the CFTC every Friday, to provide market participants a breakdown of each Tuesday's open interest for markets in which 20 or more traders hold positions equal to or above the reporting levels established by the CFTC. In plain English, this is a report that shows what positions major traders are taking in a number of financial and commodity markets.
Though there is never one report or tool that can give you certainty about where prices are headed in the future, the COT report does allow the small investors a way to see what larger traders are doing and to possibly position their positions accordingly. For example, if there is a large managed money short interest in gold, that is often an indicator that a rally may be coming because the market is overly pessimistic and saturated with shorts - so you may want to take a long position.
The big disadvantage to the COT report is that it is issued on Friday but only contains Tuesday's data - so there is a three-day lag between the report and the actual positioning of traders. This is an eternity by short-term investing standards, and by the time the new report is issued it has already missed a large amount of trading activity.
There are many different ways to read the COT report, and there are many analysts that focus specifically on this report (we are not one of them) so we won't claim to be the exports on it. What we focus on in this report is the "Managed Money" positions and total open interest as it gives us an idea of how much interest there is in the gold market and how the short-term players are positioned.
This Week's Gold COT Report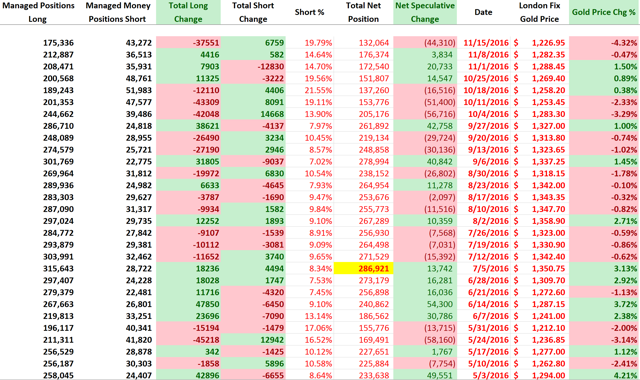 This week's report showed a drop in speculative gold positions as longs decreased their positions by 37,551 contracts on the week. On the other side, speculative shorts increased their own positions by 6,759 contracts on the week. That brought the net speculative long position to a mere 132,064 contract - the lowest it has been since early March when the gold price was in the low $1200's.
As we mentioned earlier, with a 4% decline in the gold price we expected more of a drop in speculative longs and a greater increase in speculative shorts. Since we didn't get that, this aspect of the report was not bullish for gold longs as we wanted to see more speculative longs "washed out" of their positions.
Moving on, the net position of all gold traders can be seen below: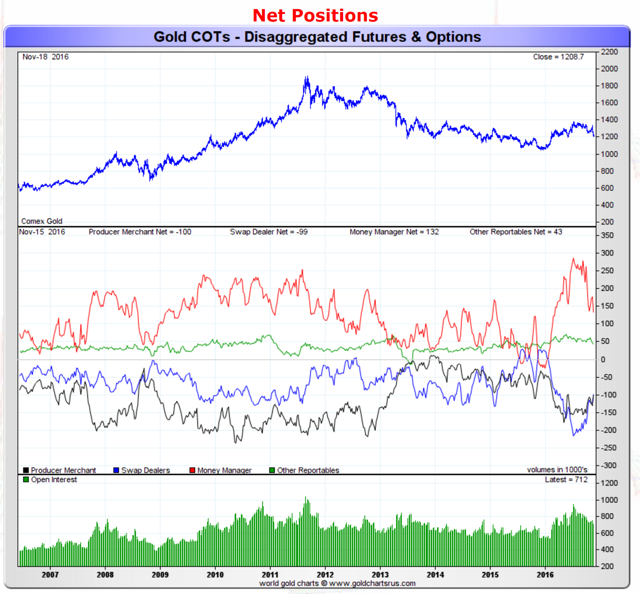 Source: Sharelynx Gold Charts
The red-line represents the net speculative gold positions of money managers (the biggest category of speculative trader), and as investors can see, the decline in speculative traders continued as the net long position fell to some of the lowest levels since early this year.
These are healthy speculative levels for a bull market (at least historically), but they are high for a bear market. Which one are we in? That question seems to still be outstanding especially as many investment banks reverse their calls on gold in response to its recent downturn. A good reminder for investors that investment banks tend to be trend followers…
As for silver, the action week's action looked like the following: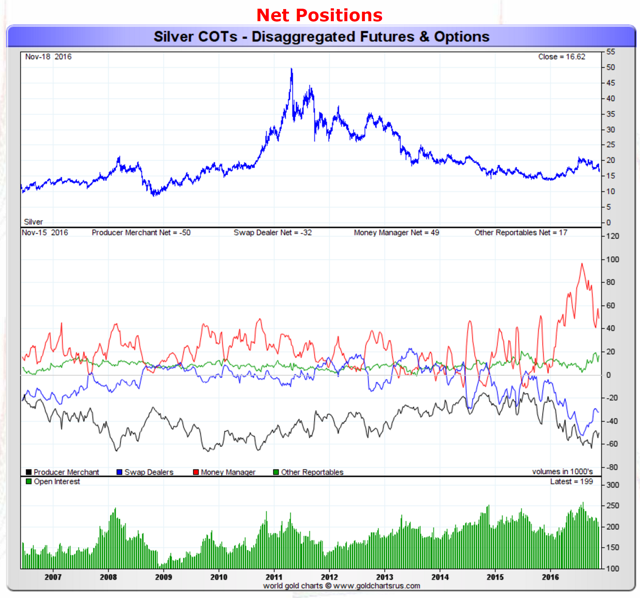 Source: Sharelynx Gold Charts
The red line which represents the net speculative positions of money managers, shows a large drop in speculative positions but we still remain relatively high in terms of historical silver net speculative positions. Similar to gold, we would have expected a much greater move in speculative silver traders to lower levels, but we simply haven't seen that so while we own silver, we wouldn't be surprised to see more downside until we reach lower speculative levels.
Our Take and What This Means for Investors
While this latest COT report was a positive report for gold, it was not as bullish as we expected as we wanted to see a larger drop in net speculator positions. The same or even more so is true of silver, as speculators left the bullish side but not in the amount we wanted to see considering the drop-in silver to the $16 handle.
Since all the selling from gold and silver didn't come from speculative traders, we saw a lot of the additional pressure on gold coming from ETF liquidation. Bloomberg reported that gold funds sold for five consecutive days; and based on data from GLD, those funds continued to sell Thursday and Friday - which makes seven consecutive days of physical gold liquidations from funds. That is the longest stretch this year, and based on our data, the longest since November 2015 when gold was trading around $1100 per ounce.
Finally, Bloomberg also reported that the cost of gold puts compared to gold calls is the most expensive in a year.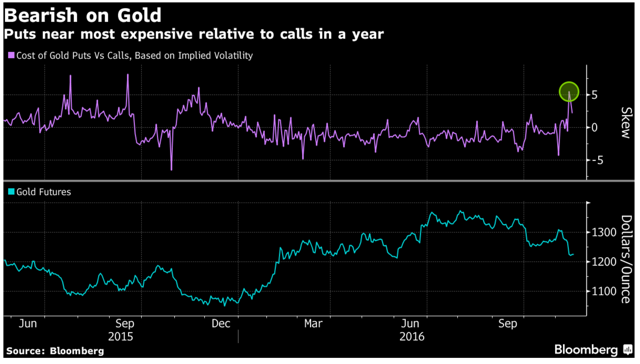 Source: Bloomberg
What that means is that traders are betting on gold declining further as demand for puts is much greater than calls. For us that is a positive as we tend to be contrarians, and if traders are expecting gold to decline further than many of them are also probably positioned accordingly.
In conclusion, this week's report shows that gold bulls need to be extremely cautious here despite the sell-off as we wouldn't be surprised to see more downside in both gold and silver in the week to come as there is room for more speculators to jump ship.
This leaves us a bit torn as we have little doubt that both economic policy moving forward and mine supply declines is going to be gold-positive, but in the short-term there is more room for speculative positions and ETF holdings to decline further and put more pressure on the gold price. Also, right now investors across all stripes are still trying to process what a Trump presidency will mean and thus we expect narratives could change quite quickly and violently - it's tough to develop macro views in that type of environment.
Thus, we think it is time to be cautious on gold and silver. We are not selling our positions, but we don't want to get all in until we feel a bit more comfortable that some of the selling has run its course. We will feel that way when we see either lower net speculative long positions, or physical buying strengthen out of India and China. Or the bond market's bloodbath having adverse consequences elsewhere - which of course would change the narrative on gold once again.
Since we like gold long-term and we still believe the macro-economic consequences of Trump's policies will be inflationary and bond-market negative, we still like gold. But we think investors should play it cool and be patient here as we believe there is potentially more downside to come until speculators get washed out of their positions. Thus we think the right move here is to hold tight to gold and ETF's such as the SPDR Gold Trust ETF (NYSEARCA:GLD), ETFS Physical Swiss Gold Trust ETF (NYSEARCA:SGOL), iShares Silver Trust (NYSEARCA:SLV). Personally, we are also nibbling away at the gold miners, but primarily doing so via re-allocation (swapping gold ETF's for miners) rather than increasing PM allocation.
Now is a time where narratives about the future will be changing quickly and violently in all investment spheres, so precious metals investors need to be patient and don't be surprised to see more downside. But for the patient, we don't see how future economic policies will be gold negative, thus it's a great time to be nibbling away at quality gold miners and explorers as long as investors have the wherewithal to hold tight.
Disclosure: I am/we are long SGOL, SIVR.
I wrote this article myself, and it expresses my own opinions. I am not receiving compensation for it (other than from Seeking Alpha). I have no business relationship with any company whose stock is mentioned in this article.