Click to enlarge
Bristol-Myers Squibb Company (NYSE:BMY), formed in a merger between two companies each founded during the 1800's, is a pharmaceutical company with a focus on the development and marketing of specialty drugs.
In July the common stock's price took a devastating blow with the failure of the Checkmate-026 trials to win necessary approvals for new indications. Since that time SeekingAlpha Contributor EP Vantage has brought up additional risks Opvido faces in expanding its marketability in the recent article Roche And Bristol Face Bladder Cancer Threats.
Bristol-Meyers Squibb has two main earners -- Eliquiris, and the aforementioned Opdivo -- which together made up a 36% and growing portion of company sales.
Since Opdivo's Checkmate-026 trial result, questions about what the drug's prospects are, and just how much money it may earn in the future, are at the foremost of many BMY investors minds.
But there's been hardly a whisper about BMY's unsustainable activity of dipping into its piggy bank to pay the quarterly dividend for 7 quarters running.
Altogether, since the turn of the year BMY has generated just $.57B in distributable cash and paid out $1.91B in dividends!
Therefore, BMY's investors are betting big on the company's up and coming products both to sustain the dividend and improve the share price.
Financial Position
What BMY faces isn't a life-or-death financial emergency. The firm possesses $5.5B in cash and marketable securities and they've committed to paying annual dividends of $2.5B. If sales of their products altogether ran sidewise from here-on, they have a couple of years worth of financial wherewithal to right the ship. There's no concern about the company's solvency here. I just want to get that out of the way.
The numbers on the company's ongoing operations tell us one thing though. It looks like BMY is still at least two quarters away from growing sales of its core products before the dividend is covered by the cash generated through operations.
BMY's Horses
Here are how things are going as of the most recent reports.
We saw solid growth from our key products, leading to 21% sales growth and an almost doubling of EPS compared to Q3 last year.

-BMY CFO Charles Bancroft
Eliquis:
Anti-clotting drug Eliquis began hitting big numbers this year as sales grew 90% year-over-year, to $884M. As the highest earner in BMY's portfolio, the stability of the company's dividend is highly dependent on further growth in its sales.
Opdivo:
Opvido is a great product, extending the lives of those afflicted with melanoma to a far greater degree than its predecessors. Demand for approved indications remains strong. U.S. sales increased by 11% to $702M. Modest growth is likely to continue for several years until a competitor unseats this leading product. However with the failed Checkmate-026 trials, doubling or tripling its sales over the coming years has become less of a certainty.
The first challenge is market saturation. Most people who will need this product next quarter will be replacing those before them who no longer need the product. The second challenge is winning approvals for additional indications, and entering new markets. In the above mentioned article by EP Vantage, we learned the path is not at all clear for the expansion of Opdivo's approved indications since the failure at Checkmate-026.
Daklinza:
Delivered $329 million in sales, down more than 25% quarter-over-quarter. A superior drug, Epclusa by Gilead, is expected to continue causing a rapid collapse of Daklinza's sales.
Portfolio Gross Margin: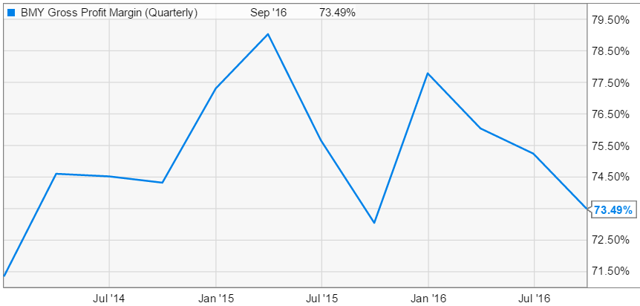 Click to enlarge
Source: Faloh Investment
Of note, the gross margin earned on sales of Eliquis is smaller than the gross historically earned across BMY's portfolio. Further pressure on gross margin will be realized even as sales volume on the overall product portfolio expands in the coming months.
Potential Markets Are Uncertain, But Its What Investors Are Relying On With BMY's $94B Market Capitalization
While I spotlighted only the three drugs with the most action in this article, the majority of BMY's portfolio appears to be moving sidewise or in the case of Daklinza, getting crushed. The critical factor in BMY's ability to pay and grow its dividend going forward is now plain to see: Just how much runway for sales growth do Opdivo and Eliquis have?
Its a question rife with uncertainties -- competitors, pricing, and the expansion of the product's indications will all play their role in the final outcome.
We'll stick to conservative, although far from anemic, growth estimates in the valuation section below.
Hacking BMY's Valuation
From the rear-view mirror, looking at the trailing twelve month's earnings, BMY's valuation is sky high with a price-to-earnings ratio of 27.78. Meaning a dollar invested today is hoping to pay itself back in about 28 years. The SP500 is broadly trading at a P/E of 25, which is among its all-time highs in terms of the dollars being paid for a year of earnings.
While a P/E of 27.78 is very expensive, I prefer to look forward in my investing decisions. BMY has successfully launched Eliquis and top-line revenue is set to continue growing. If the most recent (and most successful) quarter's earnings do a little better than repeat during the next year's time, we can use this assumption to get a one year forecast of the company's earnings per share.
I'll spare you the math. With a further 20% growth in earnings, next year's earnings per share are sure to crack $3.45. Such earnings should produce enough cash to cover the $1.44 in anticipated per share dividend distributions, and even give the company some room to increase its distribution as Contributor Dividend Appreciator anticipates.
Under the scenario of 20% growth, the company's forward PE is a more reasonable 16.45 and the dividend will be well-secured by earnings.
Remarks On Investor Expectations
Bristol-Myers Squibb Company is offering investors a 2.68% yield as of Friday's closing at $56.76. Despite the company's past two years of dipping into their liquidity to pay the dividend I believe those times will soon be behind them. Nonetheless, 2.68% is not a great yield.
The place where this company is most likely to generate value for investors during the next few years is in the appreciation of capital as the market reacts kindly to continued sales growth. But capital appreciation is a far less certain outcome than this company's ability to continue paying its dividend.
BMY's price per share is going to face a lot of ups and downs as the company fights to expand the marketability of Opdivo. Trial successes may lead to rallies, while unsuccessful trials will certainly drop this company's price as the potential for Opdivo grows dimmer with each failure.
The company's valuation is fair only under the assumption of 20% growth going forward, which means there may be safer bets offered in the marketplace.
Final Word
Opvido and Eliquiris have a long period of exclusivity ahead during which they will float the company's cash flow needs. Under the scenario rated most likely by this author, the company will be able to pay its dividend with cash freshly earned from operations by the 3rd quarter of 2017.
If securing a 2.68% yield with some growth prospects ahead fits your needs, and can stomach long periods of ups or downs in the price per share, this is a company to look into.
Additional Disclosure: This article represents the opinion of the author as of the date of this article. This article is based upon information reasonably available to the author and obtained from public sources that the author believes are reliable. However, the author does not guarantee the accuracy or completeness of this article. It is merely the author's interpretation of the information contained in the article. The author may close his investment position at any point in time without providing notice. The author encourages all readers to do their own due diligence. This is not a recommendation to buy or sell a security.
Please click the + icon next to my user name and follow me, Faloh Investment, as I work to keep you informed on further developments in the world of dividend stocks.
Disclosure: I/we have no positions in any stocks mentioned, and no plans to initiate any positions within the next 72 hours.
I wrote this article myself, and it expresses my own opinions. I am not receiving compensation for it (other than from Seeking Alpha). I have no business relationship with any company whose stock is mentioned in this article.