The German based Center for Economic Research publishes a monthly report with leading data for both countries and economic sectors. The institute asks about 350 financial experts in multiple countries and sectors to get a view of what is going to happen. This is comparable to purchasing manager indices because it is forward looking. In this article, I will show you the results of the report published on the 17th of November. Please note that the graphs I am about to show you, come from my friend Kai Pflughaupt (Twitter: @KaiPflughaupt). I only update the graphs but didn't come up with the design.
In this article, I focus on the outlook of business sectors. The first thing that strikes me is the big difference between financial sectors like banks and insurance companies and the consumer and construction business. The consumer and construction sectors are outperforming - by far. Whereas more than 50% of all survey participants are negative about financial companies. Note that technology is also doing quite well with a 54% positive outlook and only 1% negativity.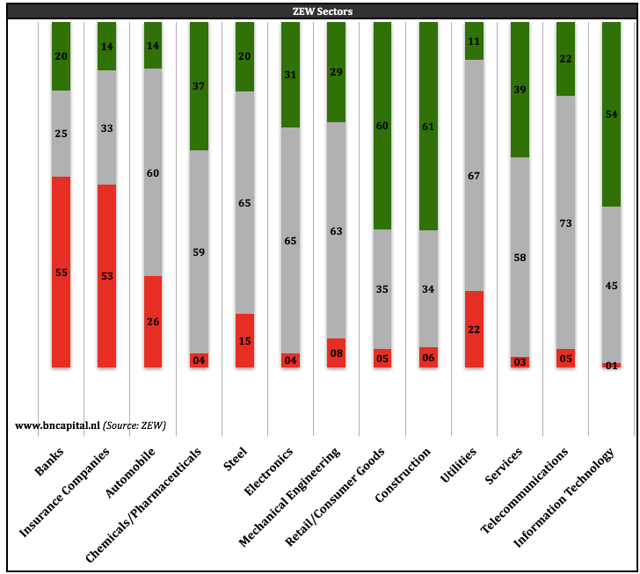 Click to enlarge
The graph below supports this because it shows you the exact difference between positive and negative values. Based on the current situation, there is growth in consumer, construction and technology related businesses. Financials should be avoided.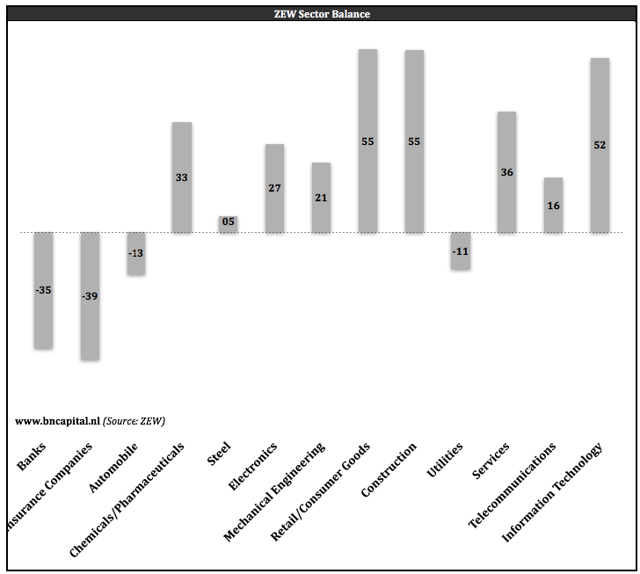 Click to enlarge
However, let's look at how the balance has changed. This is way more interesting because it shows us where the big changes are, whether the current situation is good or bad in certain sectors.
The graph below shows that financial sectors are doing much better than during the last month. The reason is quite simple: rates have exploded after the election of Donald Trump. The only balances that have performed worse are automotive and mechanical engineering sectors.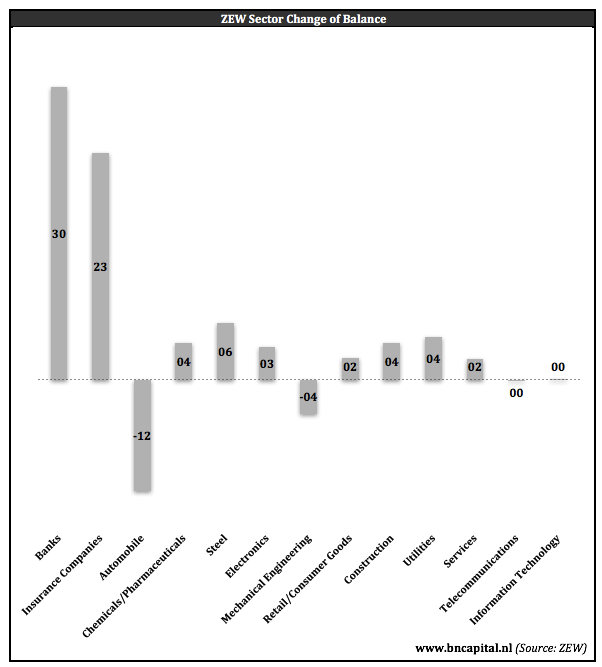 I support everything in this report. Financials are not doing great because rates are low. However, since rates are going up again, and Trump is expected to loosen bank regulations, it is a high certainty that financial companies are going to perform better in the near-term future. The consumer is also doing great which is supported by the latest retail sales numbers.
Many thanks for reading my article, I hope this overview helps you in your research process. Please leave a comment below if you have questions or remarks.
Disclosure: I/we have no positions in any stocks mentioned, and no plans to initiate any positions within the next 72 hours.
I wrote this article myself, and it expresses my own opinions. I am not receiving compensation for it (other than from Seeking Alpha). I have no business relationship with any company whose stock is mentioned in this article.