Unilever (NYSE:UL) (NYSE:UN) has seen its share price fall 20% since its 52-week high of $48.56 in September.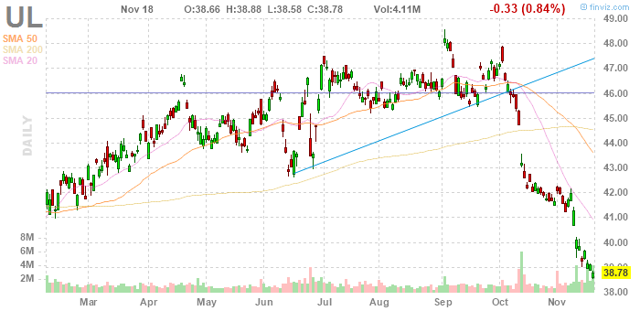 Click to enlarge
Two steep drops are discernible from this chart: one in mid-October and another in early November. The reasons for this are easily identified: the dispute with British grocery chain Tesco (OTCPK:TSCDF) (OTCPK:TSCDY) over rising costs and the sell-off of consumer staples stocks in the aftermath of the Presidential election.
The dispute with Tesco came about because Unilever felt it necessary to raise the costs for its goods to British grocers by 10% due to the fall in value of British Pound Sterling (NYSEARCA:FXB) as a consequence of Brexit. Tesco initially responded by pulling Unilever products from their shelves and website, and Unilever ceased supplies until the higher prices were posted. The situation was resolved by both parties quickly, though Unilever's share price remained in the low-$40 range that it fell to after the dispute erupted.
The second fall to the high-$30s occurred as part of a general sell-off of consumer staples stocks after Donald Trump was named President-elect on November 9. This sell-off seems to be in reaction to the likelihood of a Federal interest rate hike in December, rather than to Trump's victory.
Neither event, however, has changed the fact that Unilever is a tremendous business, with a market capitalization of $120.03 billion, operations in over 190 countries, and a huge portfolio of over 400 branded food, home care and personal care products.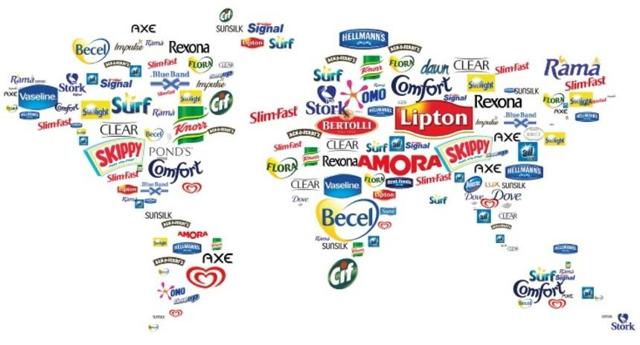 Click to enlarge
Unilever's profitability over the past five years testifies to the strength of their branded offerings and their global presence.
| | | |
| --- | --- | --- |
| Year | Revenue (€) | Net Income (€) |
| 2011 | 46.47 billion | 4.12 billion |
| 2012 | 51.32 billion | 4.37 billion |
| 2013 | 49.80 billion | 4.84 billion |
| 2014 | 48.44 billion | 5.17 billion |
| 2015 | 53.27 billion | 4.91 billion |
Unilever are not content to just rest on their laurels, however. In August they completed a $1 billion acquisition of the online Dollar Shave Club, with founder Michael Dubin staying on as CEO. And in September, they acquired sustainable cleaning products maker Seventh Generation for a reported $700 million. Talks are ongoing regarding the prospective acquisition of Jessica Alba's Honest Co. This activity is proof that Unilever are committed to expanding the size and profitability of their offerings, which will benefit shareholders going forward.
American shareholders seeking to buy Unilever have four options open to them. The company is a dual-listed Anglo-Dutch monster, whose British shares are listed on the London stock exchange as ULVR and whose Dutch shares are listed on Euronext as UNA. On the NYSE, this corresponds to UL and UN respectively. American investors would be best availing of the British shares, either directly on the London exchange, or with the UL shares on the NYSE, as the UK does not withhold dividend taxes on American investors.
Currently, Unilever is trading in the high $30 range at a price-to-earnings ratio of 20.57, a forward P/E ratio of 18.51, and offers a dividend yield of 3.66% with a high-but-sustainable payout ratio of 67.9%. Investors seeking a stable, safe dividend are being offered an attractive price right now.
DISCLAIMER: I am not a financial professional and accept no responsibility for any investment decision a reader makes. This article is presented for information purposes only. Furthermore, the figures cited are the product of the author's own research and may differ from those of other analysts. Always do your own due diligence when researching prospective investments.
Disclosure: I am/we are long ULVR.
I wrote this article myself, and it expresses my own opinions. I am not receiving compensation for it (other than from Seeking Alpha). I have no business relationship with any company whose stock is mentioned in this article.