This week, the Canadian Loonie has been one of the strongest currencies aside from the US Dollar after a Trump win.
However, on a holistic basis the loonie has continued to trade within the range of all-time lows to the dollar:
Daily Chart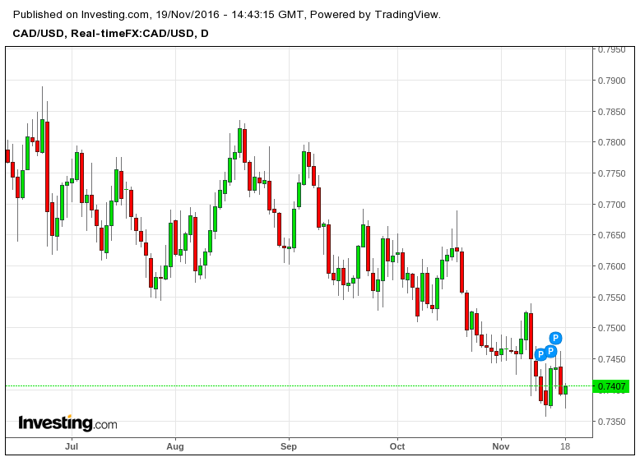 Click to enlarge
Weekly Chart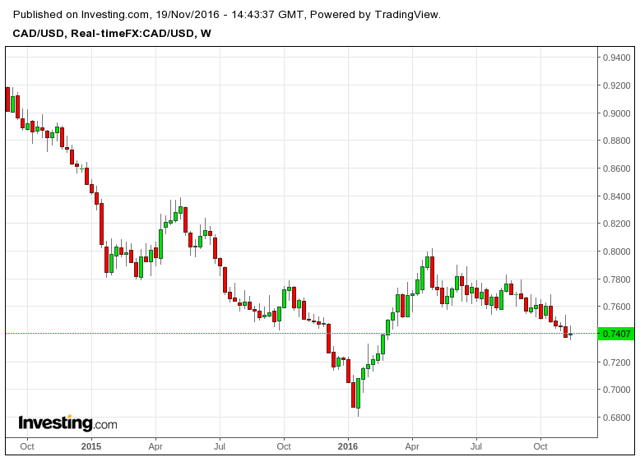 Click to enlarge
Monthly Chart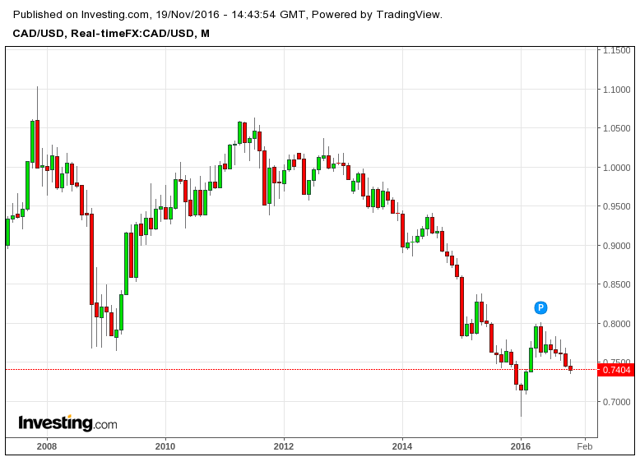 Click to enlarge
Could the loonie have upside from here after a significant long-term fall? Possibly. However, I would be inclined to avoid the loonie for the time being because of uncertainty, and I expect that we could see significant volatility in this currency in the weeks ahead.
One of the biggest questions facing Canada in light of a Trump presidency is how the president-elect intends to either renegotiate or pull out of the North American Free Trade Agreement (NAFTA) outright.
With the United States being Canada's largest exporter, loonie demand will ultimately be greatly hampered should Canada be unable to export their goods across the border.
However, even if Trump did take the US out of NAFTA, it is unknown to what extent this will affect Canadian trade. For instance, one argument is that as a result of the US-Canada Free Trade Agreement, NAFTA is somewhat of an irrelevancy to Canada and the greatest impact would be felt by Mexico. On the other hand, the more general consensus is that Canada could still see trade restrictions implemented regardless. While the root cause of dissatisfaction with NAFTA on the part of the United States lies in large part with Mexican trade, Canada still stands to see restrictions on trade for goods including softwood lumber, beef exports and dairy supply management.
In light of the above, the uncertainty regarding the trading landscape between Canada and the United States would make me steer clear of the loonie for the time being. Even if oil prices continue to rise, we have still seen the loonie fall significantly on weak economic data, and this will likely remain the case if trade restrictions are implemented.
Disclosure: I/we have no positions in any stocks mentioned, and no plans to initiate any positions within the next 72 hours.
I wrote this article myself, and it expresses my own opinions. I am not receiving compensation for it (other than from Seeking Alpha). I have no business relationship with any company whose stock is mentioned in this article.