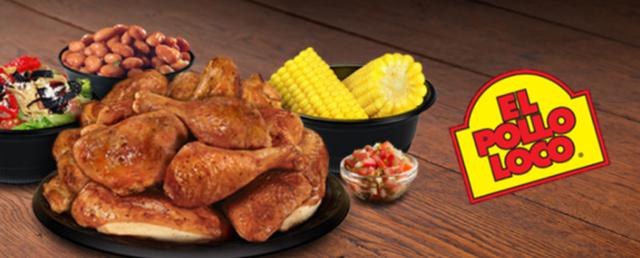 Click to enlarge
El Pollo Loco (NASDAQ:LOCO) has seen some pretty wild action in the past year or so as the stock flies and plummets based upon ever-changing investor sentiment. I was bearish for a long time as I saw its valuation as unbefitting of a company with average fundamentals but earlier this summer, I abandoned that stance. At the time, I felt the stock had been punished enough to account for LOCO's shortcomings and since that time, it has been more sideways action. The stock was crushed off of the Q3 earnings report but since the euphoric rally from the election, LOCO is back near its relative highs. Given somewhat mixed signals from the market, what are we to make of it at this point?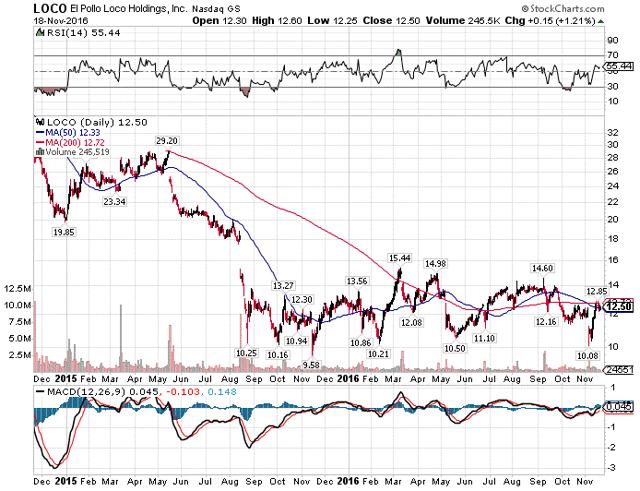 Click to enlarge
The landscape for virtually any sort of restaurant chain has been pretty bleak this year as consumers have pulled back on spending somewhat. That has exposed weakness at certain chains as marginal customers take their money elsewhere but LOCO has been somewhat spared from that.
In Q3, revenue was up almost 8% as new units continue to drive the top line higher. But apart from that, LOCO broke from the industry mold in Q3 and produced a solidly positive comp sales number, coming in at +1.4%. The gain was driven entirely from higher average ticket price as transactions came in flat, and while that's not a great situation, it is still better than much of the competitor base. This number disappointed investors that wanted more and while I'm certainly disappointed with flat traffic, the simple fact is that I've seen many other fast casual names that saw lower traffic Y/Y so LOCO is still performing well on a relative basis.
LOCO continues to suffer from higher labor costs, another industry trend that is taking its toll. Higher labor costs are just a fact of doing business in the retail and restaurant spaces and LOCO saw its unit-level margins decline by 20bps in Q3 as a result. Food and paper costs improved as continued deflation of input prices helps keep margins afloat but even with the modest decline in Q3, LOCO's unit-level profitability still stands at nearly 21%. That's very strong and surely a big reason why the bulls are enticed by the model. LOCO's margins were very modestly impacted by higher labor costs and as increases in that line item should moderate some into next year as higher costs are anniversaried, LOCO has a chance at margin expansion again heading into 2017, if ever so slight.
A modest reduction in this year's guidance sent the stock plunging initially off of the report but as I mentioned, it has gained all of it back since the election. Still, the action since the September high has been pretty bearish and the bounce off of $10 hasn't changed that. The recent rally has LOCO going for 18 times next year's earnings, what I'd characterize as about average for its peer group. The group has rallied hard off of the election and with LOCO included, its valuation looks a bit stretched again. But keep in mind that LOCO's Q3 looked a lot better than many of its competitors so let's take a look and see if it deserves its new multiple.
Analysts are looking for 8% sales growth next year, roughly congruent with 2016. That sounds right as a modestly positive comp sales number along with continued unit expansion will get us there. That's not where I'll spend my time because I think that's probably pretty close. But with respect to margins, I think there is some room for discussion.
EPS is only supposed to grow by 3% and with LOCO's share count flat Y/Y, that means that margins are supposed to contribute -5% or so to earnings growth next year. That implies something like 100bps or so of deleveraging on unit margins assuming all corporate costs hold steady, something I'm not sure we can assume.
Food and paper costs continue to see deflationary moves and as I said, the sheer amount of growth that we see in labor costs should be somewhat lower next year as some of the impact has already been absorbed. Of course, we won't get a clear read on that until early next year some time but for me, assuming 5% in margin losses is a little much and more pessimistic than what I'd think is reasonable. That leaves the door open for a bit of an upside surprise if LOCO can deliver, particularly with respect to comp sales.
I'll admit I'm cautious here as estimates continue to come down and because traffic was flat in Q3. I think LOCO is still outperforming many of its competitors but is that enough? That depends upon whether or not you think LOCO can beat the 69 cents in earnings it is supposed to produce next year and right now, I'm leaning towards that being the case. I think estimates are low enough that even the status quo will get LOCO there and if it can see even a modest uptick in comps, it could best them in a meaningful way. If you're long, just be patient; I think you'll be rewarded.
Disclosure: I/we have no positions in any stocks mentioned, and no plans to initiate any positions within the next 72 hours.
I wrote this article myself, and it expresses my own opinions. I am not receiving compensation for it (other than from Seeking Alpha). I have no business relationship with any company whose stock is mentioned in this article.