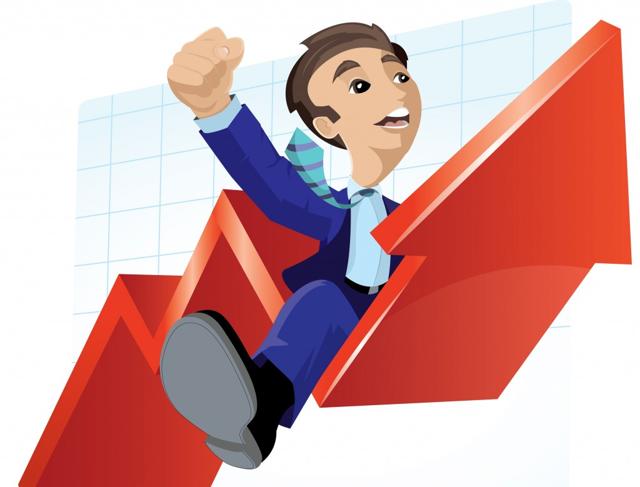 Click to enlarge
Source: Google Images
Transports performance during the past week was much more moderate than last week. Nonetheless, the gap between broader markets continues to increase. Currently, this gap is at nearly three times that of major indices.
The momentum is currently strong as the Thanksgiving and Christmas holidays approach. Consumer spending will likely be in full effect, and the fourth quarter GDP estimates may continue to rise with expectations.
Investors may want to think about taking some profits in the near-term as prices are high across many industries. Being prepared for volatility next year once Donald Trump takes office, is a prudent approach. There is nothing wrong with locking in some gains for 2016 early.
Q1 2016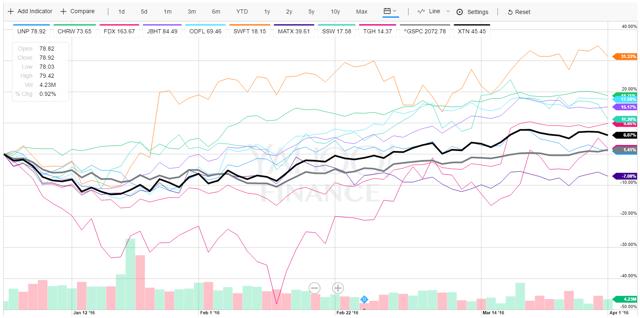 Click to enlarge
Source: Yahoo! Finance
Through the first quarter of 2016, transports substantially outperformed the broader S&P 500 index as evidenced by the SPDR S&P Transportation ETF. Transports were up over 6 percent during the quarter, while the S&P 500 was up nearly 1.5 percent. Mid-March reflected the greatest difference between the two.
Specific examples of companies reflecting major transport segments have been highlighted above for illustrative purposes. Only Union Pacific, Textainer Group Holdings (NYSE:TGH) and Matson (NYSE:MATX) lagged the SPDR S&P Transportation ETF performance during the first quarter.
Q2 2016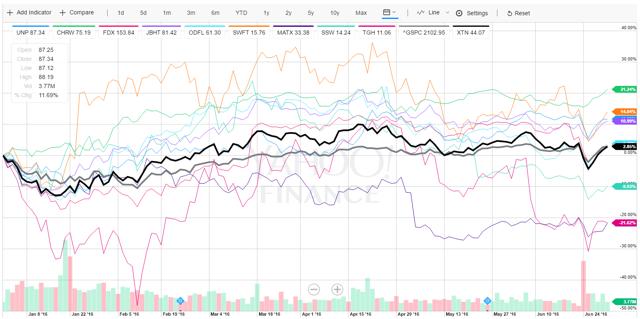 Click to enlarge
Source: Yahoo! Finance
Through the second quarter of 2016, transports substantially underperformed the broader S&P 500 index as evidenced by the SPDR S&P Transportation ETF. Both transports and the S&P 500 index were up nearly 3 percent through the second quarter.
Transports were much more effected by the perceived impacts from the Brexit vote, similar to the growth concern impacts during January and February. Only Matson and Seaspan Corporation (NYSE:SSW) lagged the SPDR S&P Transportation ETF performance through the second quarter.
Q3 2016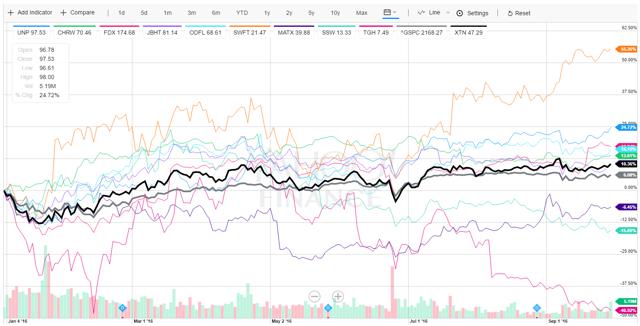 Click to enlarge
Source: Yahoo! Finance
During the third quarter of 2016, transports re-established the lead versus the S&P 500 as evidenced by the SPDR S&P Transportation index (NYSEARCA:IYT). Both were up 6.1 and 10.4 percent respectively.
Major laggards included Matson, Seaspan and Textainer Group Holdings. The challenging shipping container industry and the Hanjin bankruptcy have continued to weigh on all companies with strong exposure to this industry.
YTD 2016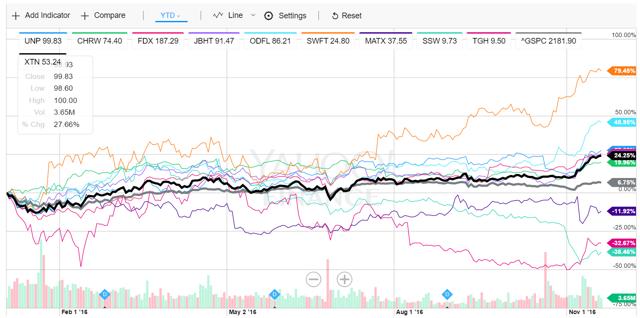 Click to enlarge
Source: Yahoo! Finance
Year-to-date, YTD the spread between the SPDR S&P Transportation ETF and the S&P 500 increased from last week with transports leading by 17.5 percentage points. The S&P 500 increased by 90 basis points, bps to 6.8 percent YTD; while the SPDR S&P Transportation ETF improved by 430 bps to 24.3 percent YTD.
Since Donald Trump won the election, momentum for transports has remained much stronger than broader markets. The container shipping industry has continued to greatly lag peers, but has benefited paring losses for the year.
Expectations are getting much higher for increased consumer spending. The likelihood that this occurs may be increasing due to the stronger third quarter and the upcoming holiday shopping season. The real question will be how the first half of 2017 performs relative to 2016. If momentum carriers through, investors could be looking at a robust next few quarters.
Rail Operators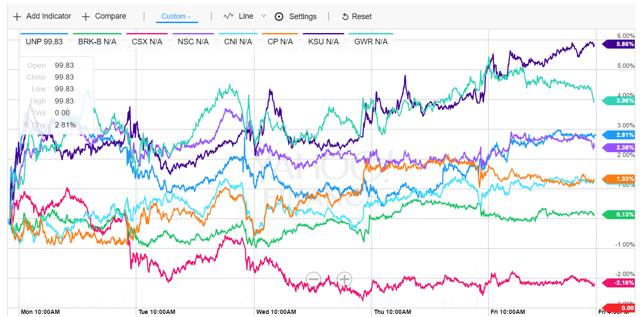 Click to enlarge
Source: Yahoo! Finance
After last week's plunge, Kansas City Southern (NYSE:KSU) led all rail operators with a nearly six percent improvement for the week. The only railroad to witness negative performance for the week was CSX (NYSE:CSX). For investors considering BNSF (NYSE:BRK.B) via Berkshire Hathaway as a diversified alternative strategy, performance continued to lag direct railroads.
Rail traffic continues to experience positive momentum. Three Class Is are in positive territory for the fourth quarter including Canadian National (NYSE:CNI), Kansas City Southern and Norfolk Southern (NYSE:NSC).
Railcar Manufacturers & Lessors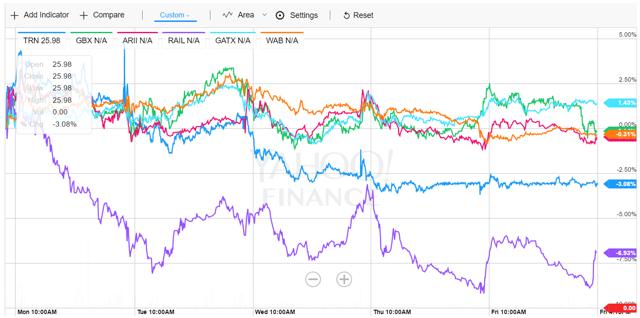 Click to enlarge
Source: Yahoo! Finance
Railcar manufacturers and lessors were much more muted than railroad stocks. Trinity Industries (NYSE:TRN) and FreightCar America (NASDAQ:RAIL) were both laggards after leading last week's charge.
Railcars produced continue to decline substantially versus last year, while railcar orders have remained weak. The expectation remains for railcar manufacturers to lag the growth in rail operator traffic.
Truckload Carriers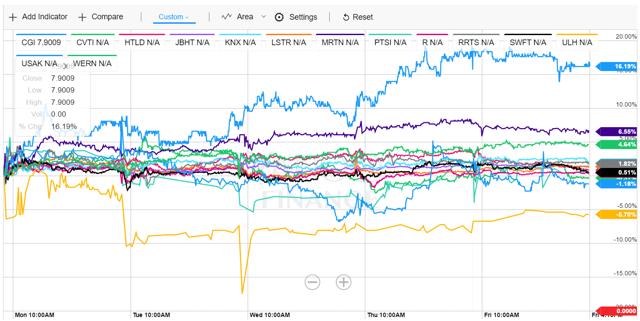 Click to enlarge
Source: Yahoo! Finance
Truckload carriers were mostly muted like railcar manufacturers. Leaders for the week included Celadon Group (NYSE:CGI), Marten Transport (NASDAQ:MRTN) and Werner Enterprise (NASDAQ:WERN). Universal Logistics Holdings (NASDAQ:ULH) was the laggard, down nearly six percent for the week.
Trucking stocks have benefited from perceived reductions in regulatory measures. This has led to extreme gains for some of the more speculative plays; Celadon Group's performance over the past two weeks is a direct example of this.
Less-Than-Truckload Carriers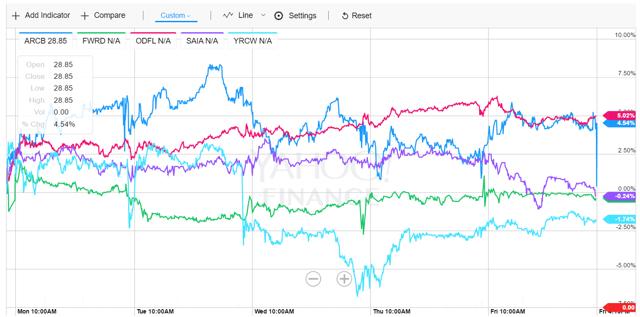 Click to enlarge
Source: Yahoo! Finance
For less-than-truckload, LTL carriers Old Dominion Freight Lines (NASDAQ:ODFL) and ArcBest Corporation (NASDAQ:ARCB) led all peers for the week. Overall performance was much more muted, as for truckload peers. Saia (NASDAQ:SAIA) and Old Dominion Freight have been the strongest performers for the year. ArcBest has rallied of late.
The LTL market will look to benefit from the expected improvement for the industrial sector next year. E-commerce has provided a tailwind during 2016, combined next year could offer further upside.
Air Freight, Package & Delivery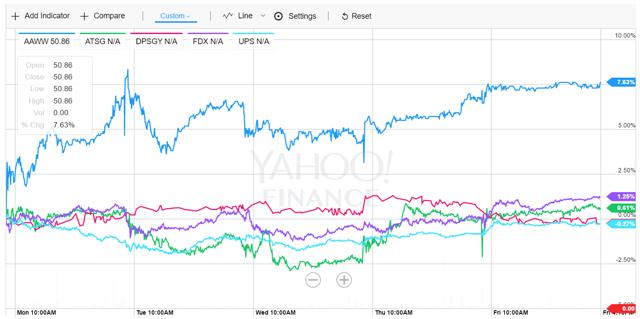 Click to enlarge
Source: Yahoo! Finance
Air freight package and delivery companies hovered around flat performance for the week, with the exception being Atlas Air Worldwide (NASDAQ:AAWW) which was up over 7.5 percent. Over the past two weeks both Atlas Air and Air Transport Group (NASDAQ:ATSG) have led their peers.
Air freight lessors are benefiting from increased demand from new e-commerce entrants such as Amazon.com (NASDAQ:AMZN), as well as from existing customers like FedEx Corporation (NYSE:FDX) and United Parcel Service (NYSE:UPS).
Contract Logistics, Forwarding & Brokerage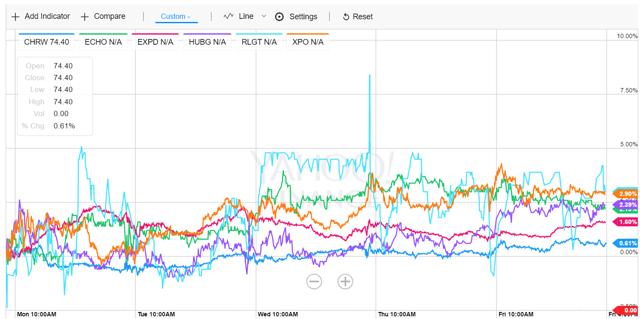 Click to enlarge
Source: Yahoo! Finance
All contract logistics companies witnessed positive performance for the week. This was at a much more moderate rate versus last week. Leaders included XPO Logistics (NYSEMKT:XPO) and Radiant Logistics (NYSEMKT:RLGT).
The big four out of this group, CH Robinson Worldwide (NASDAQ:CHRW), Expeditors International (NASDAQ:EXPD), Hub Group (NASDAQ:HUBG) and XPO all have individual strengths making each one unique. XPO is likely to blur the lines the most through overlapping products and services.
Container Shipping Lines, Charter Owners & Container Lessors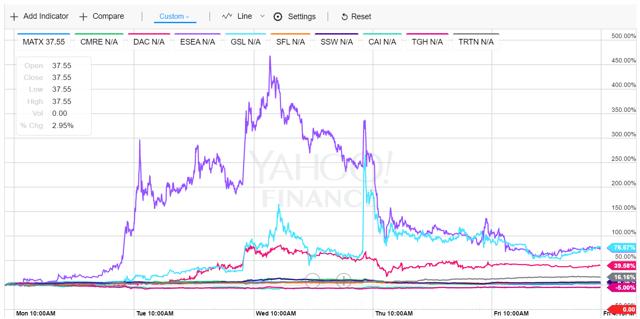 Click to enlarge
Source: Yahoo! Finance
For the container shipping industry, the big story was for dry bulk shipping lines. Companies with some exposure to this industry included Euroseas (NASDAQ:ESEA), Global Ship Lease (NYSE:GSL) and Danaos Corporation (NYSE:DAC), which all rallied substantially at 40 to 77 percent.
Except for Triton International's (NYSE:TRTN) performance, all other container shipping line peers were flat to moderately negative. While assets form the Hanjin bankruptcy were integrated into another company leading to increased spot market pricing, the overcapacity issues plaguing the industry are still at work.
Demand Trends
Key demand-based indicators that are monitored include Class I rail traffic, trucking industry tonnage, shipments, and loads, air cargo tonnage, container shipping line twenty-foot equivalent units, TEUs, North America seaport TEUs, shipping lane port calls, North America cross-border trade, and freight rates for most of these indicators.
U.S. & Canada Class I Rail Traffic - Carloads & Intermodal Units Carried
For week 45, total traffic improved to -6.1 percent YTD with carload traffic better by 20 bps to -8.6 percent and intermodal traffic better by 10 bps at -3 percent. Week 45 continued to witness overall improvement compared to year-over-year (YOY) rail performance, despite decreased total traffic declines by 50 bps from week 44 to 0.3 percent. This performance represents the second consecutive positive week for the year.
Container traffic improved by 10 bps to -0.7 percent for the year. The focus remains on how intermodal pricing will adjust after the recent run-up. Even if pricing comes down, on a year-over-year basis, current levels remain high.
Week 45 witnessed a new record for the year with the eighteenth consecutive week of weekly coal carload traffic above 108,000, and sixteenth consecutive week at or above 112,000. Grain performance increased to 14 percent growth versus last year.
Motor vehicles and equipment carload traffic maintained its performance above 40,000 carloads with an increase of nearly one percent versus last year. Crushed stone, gravel and sand has outperformed petroleum products now for eighteen consecutive weeks.
Trucking Industry
Truck pricing has improved by around 10 percent from the April lows earlier during the year, and as of early November. Year-over-year, YOY the national dry van spot rate average was down at -2 percent.
Diesel fuel prices have improved by nearly 23 percent since the lows set in February of this year, and as of early November. YOY, U.S. diesel prices were down below -2 percent. Truckload stocks have rallied strongly on the hopes for reduced regulation and improved demand.
Air Cargo
For air cargo, concerns have emerged regarding potential restrictive trade policies for the U.S. This has been most prevalent for Asian countries and their respective air cargo operators. The tone has been weak even before Donald Trump's presidential victory as the Transpacific Trade Partnership had even been scrutinized by Hillary Clinton. This has left countries, notably China, in a scramble to strategically assess their options.
Air freight companies remain in a tough situation, like the container shipping industry. Capacity continues to outpace the growth of tonnage. There are months and/or short-term trends where the opposite has occurred, but supply demand imbalances will take more time to adjust.
Container Shipping Lines
It is official, Hyundai Merchant Marine, HMM will not join the 2M Alliance including Maersk Line and Mediterranean Shipping Company, MSC. There are still ongoing discussions as to how HMM may still end up playing a role including possible slot purchase agreements or other cooperation possibilities.
Average spot rates for containers remained have come down for four consecutive weeks. Despite the declines, average rates remain substantially higher by 50 percent or more for most Asian originated trade lanes.
North America Seaports
Preliminary numbers continue to display diverging trends for the Ports of Los Angeles and Long Beach. The Port of Los Angeles continues to witness record twenty-foot equivalent container unit, TEU traffic, while the Port of Long Beach's performance remains negative YOY.
Stronger performance during September is expected to have carried over into October for some North American seaports. Expectations for increased U.S. consumption bode well, but stronger global currencies versus the dollar would also be a strong positive to increase demand.
North America Cross-Border Trade
The information being discussed by many companies with exposure to Mexico has been to work with Donald Trump and his team to make sure that the point of Mexico's importance from a supply chain perspective is clear. This has been voiced by Kansas City Southern and other companies including Ford Motor Company (NYSE:F).
At the political level, companies like Kansas City Southern will be reliant upon the American Association of Railroads, AAR as well as the U.S. Chamber of Commerce. The U.S. - Mexico Leadership Initiative CEO Dialogue is sponsored by the Chamber and is a strong forum for public and private stakeholders to convene regarding important issues.
Portfolio Management Strategy Update
The LLGP and LSGP portfolios were created in February/March of this year; currently there are 13 holdings for the LLGP and two holdings for the LSGP. At the end of the week, the LLGP was up 2.8 percent an increase of 220 bps and the LSGP was up 37.5 percent representing a 730 bps increase from last week.
During the week for the LLGP, four positions were completely exited. These included Amazon, Deutsche Post DHL Group (OTCPK:DPSGY), PayPal Holdings (NASDAQ:PYPL) and Seaspan. Gains were realized for all positions, with the exception being Seaspan.
The reasoning behind the decision to liquidate holdings was tied to the surge in stock market performance after Trump's victory. While prospects remain positive, some positions did not merit holding and/or necessitated taking some profits. Partial positions were sold for Cal-Maine Foods (NASDAQ:CALM), JB Hunt Transport (NASDAQ:JBHT), Matson, Sprouts Farmers Market (NASDAQ:SFM) and US Foods Holding (NYSE:USFD).
LLGP top double-digit performers YTD:
The WhiteWave Foods Company (NYSE:WWAV) 54.9 percent
Amazon.com 35.5 percent
JB Hunt Transport 20.1 percent
The Boeing Company (NYSE:BA) 15.7 percent
Republic Services (NYSE:RSG) 14.6 percent
Deutsche Post DHL Group 13.8 percent
LLGP negative performers YTD:
Unilever -10.8 percent
Sanderson Farms -8.5 percent
Seaspan Corporation -5.5 percent
Autoliv (NYSE:ALV) -3.5 percent
Sprouts Farmers Market -2.3 percent
LINE -2.2 percent
Both portfolios are currently managed in Scottrade accounts. The funds will be transferred over the next week and a half or so into Motif accounts. For those familiar with Motif, the core benefits are lower individual commission fees, Motif portfolio developments up to 30 companies and IPO access prior to secondary market pricing.
Substantial cash has been raised and a more conservative approach will be taken based on Motif's lower commission fees. Once Trump takes office in January, market volatility may increase.
LSGP Performance
Mobileye (NYSE:MBLY) 1.2 percent
XPO Logistics 59.1 percent
YRC Worldwide 31.6 percent
Half of the XPO position was sold for a realized 57 percent gain. The remaining position is up over 62 percent. Two-thirds of the YRC Worldwide (NASDAQ:YRCW) was sold for a realized gain of 33 percent. The remaining position is up nearly 30 percent.
Both positions have been up big over the past couple of months. For similar reasons as the LLGP, cash was raised to take advantage of anticipated volatility during next year.
LLGP Holding Scorecard
Top Performer
Top performers are companies which have returned the highest results for the year. In addition, they have exhibited strong operating metric performance leading to stock gains. These companies imbue the objective of achieving annualized double-digit returns.
Boeing
JB Hunt Transport
Republic Services
Neutral
Neutral holdings have returned moderately positive or negative performance for the year. Some companies may be witnessing moderate impacts to the business driven mostly by industry-specific trends.
These companies typically will fluctuate between less than positive 9 percent to no greater than negative 5 percent during normalized market conditions. Seaspan was dropped back down to the watch list. Typically, it is not uncommon for a majority of holdings to be in this list. Ideally, the substantial majority will be in the neutral or higher lists.
Cal-Maine
Calavo Growers (NASDAQ:CVGW)
Kansas City Southern
LINE
Matson
Sprouts
ULTA
US Foods
Watch List
Companies on the watch list merit a close consideration as to their sustainability to remain within the LLGP. If a determination is made to remain, the likely result will be to aggressively defend the stock price and accumulate on weakness. If the determination is to liquidate, the holding will likely be moved to the LSGP and sold opportunistically for a realized gain.
To date, all companies on the watch list have had a determination made to remain in the LLGP. Both Cal-Maine and Seaspan will be monitored weekly as to possible further additions. Ideally, not many companies will remain on this list for a long duration period.
Sanderson Farms (NASDAQ:SAFM)
Unilever
Areas Of Interest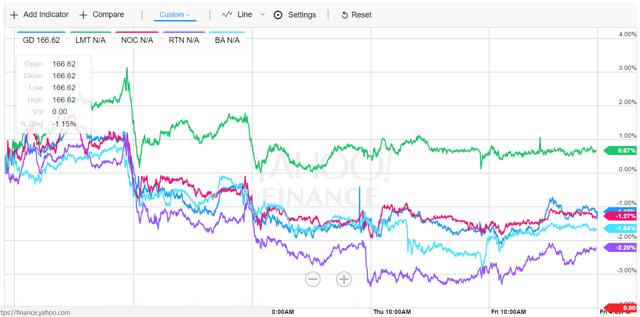 Click to enlarge
Source: Yahoo! Finance
Defense stocks witnessed marginal declines the week after their strong rally. Boeing continues to performed in-line with its defense peers. A patient approach is being taken as Boeing continues to perform well.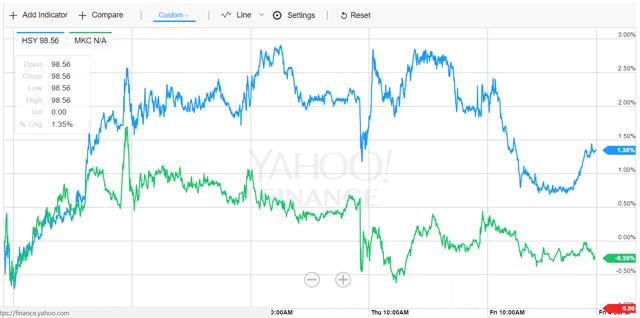 Click to enlarge
Source: Yahoo! Finance
McCormick & Company (NYSE:MKC) has struggled more than The Hershey Company (NYSE:HSY) of late. Both companies will be assessed more closely with a bias towards McCormick.
Summary
Transports have performed strongly through mid-November. The divergence from broader markets has grown despite more muted performance for many individual stocks during the week.
This divergence and trend is expected to remain near the current levels. Preliminary results from retail and e-commerce shopping numbers could propel certain industries higher closing the gap somewhat. But overall, the lead is simply too large, as for most of the year, major transports and broader market indices have moved in tandem.
The economy has picked up some steam the past few months. This momentum will likely carry into 2017. The sustainability into the back-half of 2017 is probably the most uncertain now. The biggest focus for transports will continue to be on trade relationships once Donald Trump assumes office. From an economic perspective, it is hard to imagine any changes which would negatively impact commerce. But until actions are taken, uncertainty will remain.
Disclosure: I am/we are long BA, CALM, CVGW, JBHT, KSU, LN, MATX, RSG, SAFM, SFM, UL, ULTA, USFD, XPO, YRCW.
I wrote this article myself, and it expresses my own opinions. I am not receiving compensation for it (other than from Seeking Alpha). I have no business relationship with any company whose stock is mentioned in this article.
Editor's Note: This article covers one or more stocks trading at less than $1 per share and/or with less than a $100 million market cap. Please be aware of the risks associated with these stocks.