WTI (NYSEARCA:USO) rose from $43.12 to $45.58. (Be mindful of contract roll)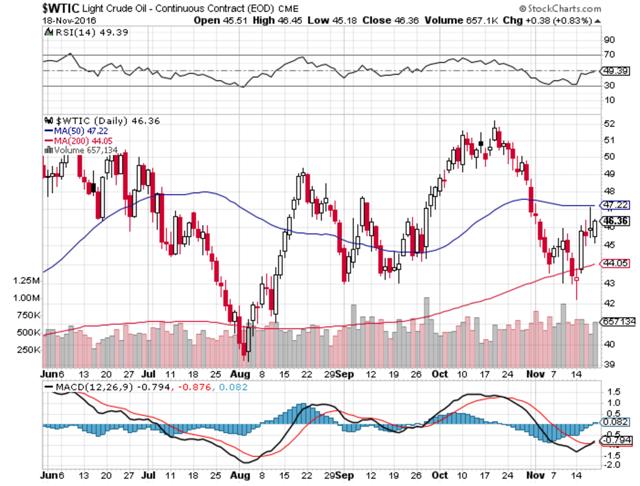 Click to enlarge
Oil prices rose this week on a combination of more clarity surrounding the OPEC producer deal at the end of November, and the overly bearish positioning as illustrated from the CFTC trader position report on Monday.
Short sellers increased shorts at the fastest pace this year in the midst of uncertainty surrounding the OPEC production cut deal. This is what we said on Monday when the position disclosure came out:

Click to enlarge
Our article on "Breaking Down the OPEC Deal" was released to public on Wednesday and highlighted what we thought would happen with the deal. Now there are further updates with regards to the deal that was released last night. Iran oil minister says the OPEC curb deal is now "highly likely." This comes after sources leaked yesterday that OPEC proposed to Iran to allow it to freeze production at 3.92 million b/d.
We think the OPEC deal has a much higher probability now of going through, and looking at this week's position disclosure, we think the shorts are going to be in full a whole lot of pain in the next rally up.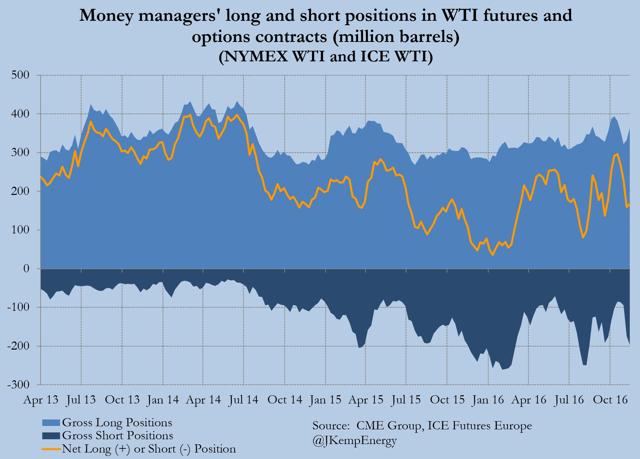 Click to enlarge
Source: John Kemp
Position disclosure up to Nov. 15 shows that shorts increased positions by another 23 million bbls, while longs also increased positions by 32 million bbls. Net long positions increased +9 million bbls. Looking at the price action following Nov. 15, we think the shorts have largely stayed put, while the longs likely increased positions. This brings several interesting things that could happen in the next several weeks. As we get closer and closer to the OPEC producer meeting, if the shorts stay put and the longs continue to increase position, we think it's going to be very painful for the shorts. The next rally following the OPEC announcement will see oil prices move past $50 and trend towards $60 by year end. Sentiment amongst sell-side banks will shift from overly bearish to slightly less bearish with many of them raising oil price targets after the fact. We think 2017 presents an interesting and lucrative time to be energy investors. Sentiment shift will be followed with fund flows, and money managers across the globe are underweight energy equities as oil price uncertainties have weighed. With a decisive OPEC cut, we think this should be the first step to changing that sentiment, and fund flows should follow.
We will be writing a new weekly update on the oil markets this Sunday detailing where we think the oil markets are headed to next. If you are interested in reading our analysis, please sign up here.
Disclosure: I/we have no positions in any stocks mentioned, and no plans to initiate any positions within the next 72 hours.
I wrote this article myself, and it expresses my own opinions. I am not receiving compensation for it (other than from Seeking Alpha). I have no business relationship with any company whose stock is mentioned in this article.