When gold prices declined after the election season, I started to consider equity investment opportunities which I could take advantage of. Companies which have a strong correlation with gold such as Barrick Gold Corp. (NYSE:ABX) and Goldcorp Inc. (NYSE:GG) were some of my favorites due to their market size and their stock prices' cohesion to gold sentiments. But before I could make a decision about such an aggressive investment opportunity I needed to figure out whether the price of gold will rebound in the coming days and what I could expect if they do rebound from a catalyst which would send gold prices back up to stability.
First of all, let's clarify that the dip in the precious metal's price was due to the demonetization policy adopted in India. As one of the most significant sources of demand for gold, sentiments in the subcontinent have always been a major influence in determining gold prices across the world. At the same time, it is also important to remember that the country boasts a large black market economy which amounts to approximately 25% of the total economy, that too being a conservative estimate. When the Modi government decided to curb on corruption by discontinuing 500 and 1,000 rupee notes, it essentially robbed the people of their ability to convert black money into white money, which they did by gradually buying gold using these high denomination bills. In the events that followed, this demonetization policy caused the demand for gold to drop as consumers all across India raced to their local banks in an effort to exchange their soon to be defunct currency notes rather than buy gold to convert their black money.
There are other factors weighing in on gold, such as the strengthening dollar and speculation of a rate hike in December by the US Federal Reserve. Basic economic theory tells us that gold prices flourish during periods of uncertainty; however, the recent gold trends seem to be negating the orthodox stance. The current global economic and political atmosphere should have sent the precious metal's prices back up, but even though that is not the case, I can't completely cancel out the factor's influence on the price of gold. There are investors out there still waiting for gold to reach an even lower price, possibly in the $1,100/t oz. region, and as provided that the Fed decides to remain cautious about increasing rates, then I expect the price of gold to remain subdued and offer resistance at the current price range of $1,225/t oz. to $1,285/t oz.
However, Janet Yellen's testimony before the Joint Economic Committee on 17th November didn't exactly quell questions about the time of a rate hike. Mott Capital Management in its latest article talked about how rate hike in December might not be such a sure shot since a careful interpretation of the wordings of Yellen's statement (Full statement from the hearing available here at the Joint Economic Committee's website) indicated that although rates are going to increase, they might not increase next month.
Of course, interest rates alone do not have strong enough pull on the price of gold, but a strong negative correlation is found between the price of the precious metal and the US Dollar. A 1-year analysis of gold prices along with US Dollar index rates shows us that the two variables have a relationship of -0.635. So when we know that the Fed will continue to increase rates, and while European economies suffer from various social and economic ailments and uncertainties, the strength of the dollar is bound to increase, and thus we should safely expect the price of gold to head downwards. As for the situation in India, it is unlikely that the slump in demand for gold will persist. The move to demonetize the 500 rupee and 1,000 rupee notes was aimed at battling corruption and the burgeoning black market economy, but when 90% of the cash in a country is suddenly scrapped, then it's bound to be a very unpopular move. Instead of storing currency notes which would later be used to buy gold, individuals in the largely cash-based economy are clamoring to exchange their bills. This forced decline in the demand for gold will likely persist for another month (maximum two months) as the government works towards releasing replacement notes, but given the economic condition of India, it is easy to see how the black market economy will rebound once the new bills are issued. Basically, demand for gold will rebound once new notes are introduced.
Based on these disclosures, we should see gold subdued in the coming one or two months as the situation in India stabilizes and demand for gold returns to normal; however, beyond that as long as the USD strengthens, we will see a gradual decline in gold prices, eventually landing within the $1,100/ t oz. range.
So let's assume that prices are going to increase very gradually over the next 2 months once demand of the precious metal stabilizes after the Indian government reintroduces new currency notes, which stocks would be the best options to maximize your exposure to a rise in gold price? From a list of companies which includes Barrick Gold Corp., Goldcorp Inc., Newmont Mining Corp. (NYSE:NEM), and AngloGold Ashanti Limited (NYSE:AU), a basic correlation analysis shows that ABX, NEM, and AU have the strongest correlations with gold prices ( 1-year historic records), with Barrick Gold Corp.'s stock taking the lead. Beyond that it is safe to assume that gold prices will begin to decline and once we see that trend emerge we can take a short position on the stock with the most exposure. Remember, the key here is to choose a stock with maximum exposure to fluctuations in gold prices.


(Chart by Author, Historic Price data for ABX, GG, NEM, and AU picked up from Nasdaq.com - Gold Spot data picked up from investing.com)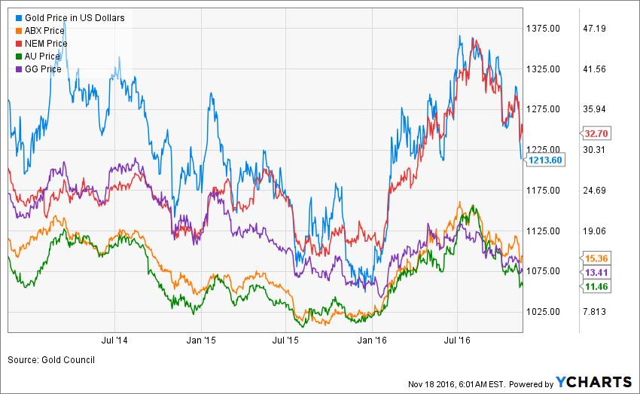 (Source: YCharts)
A further linear regression of all the stocks reveals much more information about the equities and their relationship with gold prices. While you can access the spreadsheet where all the calculations and regression analyses have been performed, or contact me to mail the file to you, I have simplified the models by stating their respective formulae in the picture below. By simply adding the gold spot price in the respective area, you can come up with an expected price for each of the company stocks.


(Historic price data for regression analyses of ABX, GG, NEM, and AU picked up from Nasdaq.com - Gold Spot data picked up from investing.com)
However, if you open the excel sheet and look at each of the stocks' regressions individually, you can note that the R-Squared is highest for ABX yet again, where 90.7% of the variability in the stock price of Barrick Gold is explained by the variability of gold price. So, barring unforeseen circumstances, for someone like me who does not expect gold prices to dip any further in the coming 2 months and then restart its gradual decline in the months to follow, ABX is my best option as it offers the most exposure to gold prices.
Disclosure: I/we have no positions in any stocks mentioned, and no plans to initiate any positions within the next 72 hours.
I wrote this article myself, and it expresses my own opinions. I am not receiving compensation for it (other than from Seeking Alpha). I have no business relationship with any company whose stock is mentioned in this article.