OPEC's secretary general Mohamed Barkindo visited Iran's oil minister Bijan Zangeneh in Teheran as part of his on-going efforts to forge an "effective mechanism," which the Saudi energy minister had said was missing in the Algerian Accords. After the meeting, Mr. Zangeneh said,
"It is highly likely that oil and energy ministers of the member countries of the Organization of the Petroleum Exporting Countries will reach an agreement" on Nov 30.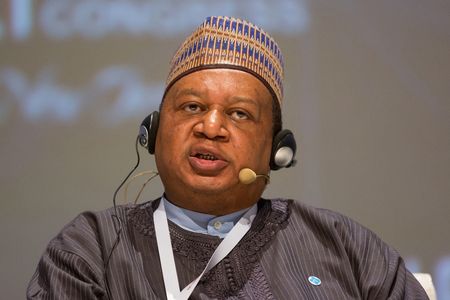 OPEC Secretary General Bardinko. Source: Bloomberg.
But despite the hyperbole about the agreement, Iran also claims that it produced 3.92 million barrels per day in October, higher than that estimated by secondary sources, which means OPEC production was higher than 33.6 million barrels, if true, and that several oil projects have since come on stream. In other words, they are not cutting or capping production, and if that's OK with OPEC, then sure, they have an agreement.
Iraq
Iraq's new oil minister, Jabar Ali al-Luaibi, had previously said, in effect, it is willing to play along but will not actually restrain production.
The ministry has new ambitious plans to develop the oil sector… Among them, the most important is to increase crude output to reach a level that suits Iraq's needs; we don't want to specify a ceiling for future production like in the past…Iraq is seeking to play an active role in order to support oil prices while preserving a share that is proportionate to its reserves."
Meanwhile, it was just reported that Iraq's South Oil Company (SOC) would have to compensate it contractors (Shell (NYSE:RDS.A) (NYSE:RDS.B), Exxon Mobil (NYSE:XOM), ENI) if it placed limits on their production. A senior government official close to Prime Minister Haider al-Abadi told Reuters,
OPEC must submit to the fact that Iraq must stay away from any possible output cut deal because the country is in the middle of a tough war and every single dollar is needed to keep it standing on its feet."
Falah al-Amri, Iraq's OPEC governor and head of the country's state marketer SOMO, was even more direct in saying that Iraq would not cut production, "Not for OPEC, not for anybody else."
Assuming Iran increases it production to 4.2 million barrels per day and Iraqi output rises another 250,000 b/d in the first half of 2017, that would effectively increase OPEC's production to 34.5 million barrels per day. Libya claims it can reach 900,000 b/d by the end of 2016, an increase of 400,000 b/d from the October OPEC number, bringing OPEC's production up to 34.9 million barrels per day without a cut.
For OPEC production to be reduced to 32.5 million, Saudi Arabia, the UAE and Kuwait would have to cut 2.4 million. Furthermore, OPEC itself has estimated that the call on OPEC oil will be lower during the first half of 2017, 31.6 million in the first quarter and 32.1 million in the second quarter.
Conclusions
Given the facts above, and the "imperative" to reach agreement, I think we will see some sort of innovative, dynamic structure, as opposed to fixed quotas. As I reasoned before, it is best for Saudi Arabia to be unpredictable because that "bakes in" a price risk premium in crude oil futures contracts at no cost to them.
An example of what I am thinking is an agreement to commence on January 1st (buying another month of uncertainty), that OPEC countries, led by Saudi Arabia, will reduce production over the first half of the year, to cut production down to 32.5 million barrels per day, on average over the first six months, as needed, to bring the rebalancing of the market forward. It would do so in recognition of the continuing uncertainties to production levels in numerous OPEC member countries, such as Libya, Nigeria, Iran and Iraq.
With such an agreement, the threat of a reduction remains, but the agreement is not violated if production is higher as each month unfolds in 2017. It can defend itself each month that the quota is an "average" of the six months "as needed."
Russia will of course continue to call the agreement "positive," claiming it will "cooperate." Just words.
Disclosure: I/we have no positions in any stocks mentioned, and no plans to initiate any positions within the next 72 hours.
I wrote this article myself, and it expresses my own opinions. I am not receiving compensation for it (other than from Seeking Alpha). I have no business relationship with any company whose stock is mentioned in this article.