Given the recent price decline in gold following the results of the US election, I thought it would be prudent to take a look at a couple of gold miners which I believe are at opportune buying points with limited downside risk. Both of these companies are gold producers and have strong balance sheets which I believe will protect them in the event of gold price weakness and fluctuations as compared to juniors or producers with poor balance sheets. I also believe both of these picks are currently priced attractively and provide good entry points.
My first pick is Richmont Mines (NYSEMKT:RIC) which is a small Canadian gold producer. Their flagship asset is the Island Gold Mine in Ontario and they also operate the Beaufor Mine in Quebec. Richmont Mines recently reported third-quarter results that were at first blush disappointing, but were expected which I think sets up a good buying point. Revenues were $23.9 million, which was an 8% decrease from last year and earnings were $0.2 million, down from $2.6 million in the third quarter last year. All-in sustaining costs came in at $1,230 for the quarter which was a 22% increase over the same quarter last year. Revenues and earnings were lower due to lower gold production which was a result of planned downtime related to a scheduled mill electrical upgrade at the Island Gold Mine coupled with the depletion of the Monique Mine ore stockpile earlier this year.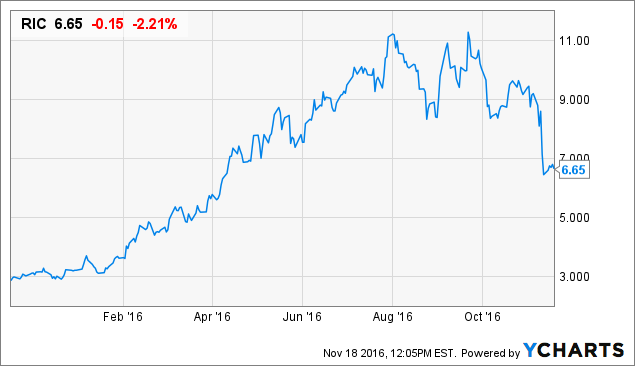 Production was 18,856 ounces of gold for the quarter which was a 20% decrease from last year. Despite the decrease in production and the increase in cost in the third quarter, there is some good news as Richmont Mines has issued positive revised production guidance during the third quarter. Annual gold production guidance has been revised upwards from a range of 87,000-97,000 ounces to 98,000 to 106,000 ounces. While AISC guidance remains the same in US dollars, Richmont Mines has revised cost guidance downwards in Canadian Dollars which is a positive sign.
Richmont Mines has a strong balance sheet and ended the quarter with a very strong cash position of $60.1 million compared to debt of only $9.7 million. Richmont Mines is currently undertaking an expansion case preliminary economic assessment that would increase productivity from 900 tonnes per day to 1,100 tonnes per day beginning in 2018 at the Island Gold Mine. The expansion case PEA is expected to be completed during H1 2017. Drilling results in the Expansion Case PEA area have been favorable so far and Richmont Mines is hopeful they will lead to an increase in resources.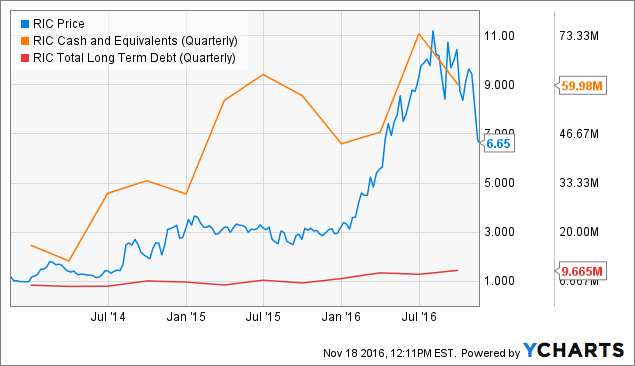 I think with Richmont Mines increasing production guidance, we will see a very strong fourth quarter, and I think with the current share price off roughly 40% from its high earlier this year, I believe this presents a good buying opportunity. I like the fact that Richmont Mines has all their producing mines in the safe jurisdiction of Canada. Despite initial appearances that this was a weak quarter, the results were expected. Because the third-quarter numbers were weak and the stock price has already sold off substantially from its high earlier this year, I think now is a good time to accumulate shares, especially on any further share price weakness.
The main risk I see to investing in Richmont Mines is the price of gold. While this may sound obvious, I believe that a break of technical support in gold could be disastrous and any close below $1,180 an ounce could lead to major losses in gold stocks.
My second pick is IAMGOLD (NYSE:IAG) which operates the Rosebel Gold Mine in Suriname, the Westwood Gold Mine in Canada and the Essakane Gold Mine in Burkina Faso, as well as has a 41% interest in the Sadiola Mine in Mali. IAMGOLD recently reported strong third-quarter results mainly due to an increase in gold price and higher production. Revenues increased by $74.8 million from $207.6 million to $282.4 million mainly due to higher gold prices and higher sales volumes. Adjusted net earnings were $21.8 million, or $0.05 per share, compared to an adjusted net loss of $46.9 million, or $0.12 per share, in the same quarter last year. This easily beat analysts' expectations of earnings of $0.01 per share. Net operating cash flow increased from $9.8 million to $126.6 million. Overall, both top and bottom line numbers were very strong and the stock reacted favorably to the news, up roughly 8% on the day following earnings.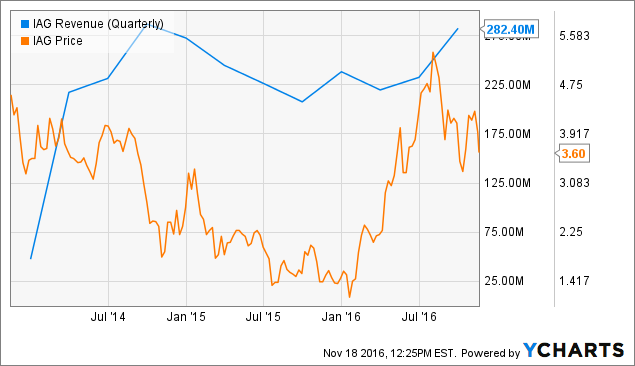 IAG Revenue (Quarterly) data by YCharts
Gold production rose 7% to 210,000 ounces and IAMGOLD now expects to achieve the higher end of their guidance range of 770,000 to 800,000 ounces for the full year. Gold margins increased from $330 an ounce to $612 an ounce on a cash cost basis. This was due to a higher average realized gold price of $1326/oz in the third quarter compared to $1,121 an ounce in the third quarter of 2015 coupled with a 10% decrease in cash costs.
The main thing I am not pleased by is that AISC costs remain high. AISC came in at $1,046 an ounce for the quarter, which was up from $1,027 an ounce in the same quarter last year. While this was due to higher sustaining capital expenditures, I would have liked to see the number come in a bit lower. IAMGOLD adjusted their previous full-year outlook on AISC from $1,000 to $1,100 to $1,050 to $1,100 an ounce which is also a negative. On a positive note, AISC were down by $68 an ounce compared to the second quarter.
IAMGOLD ended the quarter with cash and cash equivalents of $627.3 million compared to long-term debt of $484.8 million and managed to reduce long-term debt by 23% during the quarter through their $230 million equity financing. The reduction in long-term debt reduces the interest expense by $39.4 million over the remaining debt term and leaves IAMGOLD with a strong cash position.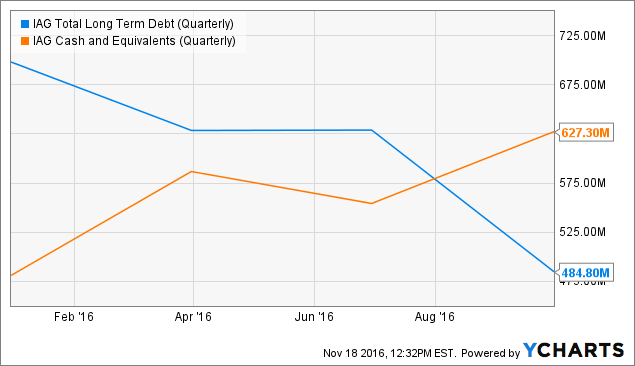 IAG Total Long Term Debt (Quarterly) data by YCharts
Moody's and S&P have both upgraded their outlooks for IAMGOLD in the last several months to positive and I am bullish on IAMGOLD. With gold off its 2016 highs, I think any weakness in share price is a good opportunity to accumulate shares. As with Richmont Mines, the main risk I see with investing in IAMGOLD is the gold price. I consider IAMGOLD to be a riskier investment than Richmont Mines given their higher leverage to gold prices, but as long as gold doesn't breach technical support, I would feel confident in investing in IAMGOLD.
Disclaimer: This article is meant for informational purposes only. You should always consult with a financial advisor before making any investment decisions. There are risks involved with investing including loss of principal. This article is not to be considered investment advice or a recommendation to buy or sell any security.
Disclosure: I/we have no positions in any stocks mentioned, and no plans to initiate any positions within the next 72 hours.
I wrote this article myself, and it expresses my own opinions. I am not receiving compensation for it (other than from Seeking Alpha). I have no business relationship with any company whose stock is mentioned in this article.