Natural gas (NYSEARCA:UNG) prices rose from $2.620/MMBtu to $2.84/MMBtu this week or a rise of 8.4%.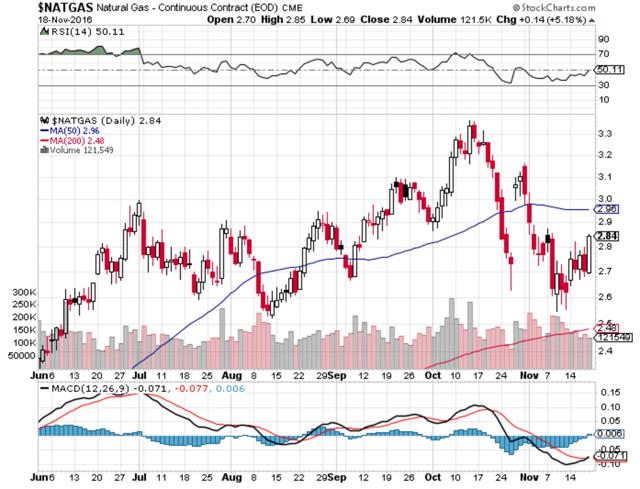 Click to enlarge
Natural gas prices started the week quite volatile with two simultaneous back to back up and down days. Prices quickly rose from $2.70/MMBtu to over $2.84/MMBtu on Friday as weather forecasts for December show slightly higher probability of colder weather. We said in our NGD on Friday that the two recent updates show cooler weather patterns developing and that is certainly supportive of the markets.
(Graphs from Friday's NGD)

Click to enlarge
Source: Corey Lefkof and Genscape Weather
We spoke with several gas traders on Friday after the big rise, and they told us that some "big player" was too short of the market. Next week's CFTC trader position disclosure report will show the changes to short positions, and we think shorts will have to cover soon even if weather turns out to be just "slightly bearish versus normal."
This November turned out to be one of the five hottest Novembers on record. The scorching start to November made most feel like it was more like summer than fall as temperatures in some regions were five degrees higher than the norm. Weather forecasts however for the next several weeks have drastically shifted cooler, and the recent model changes have provided support to an already pessimistic market.
As Geckoi Capital recently pointed out in our article:

Click to enlarge
We wrote an article on Oct 30 proclaiming that the "Bottom is Here." At the time, the weather services that we subscribed to showed early indication of colder temperatures developing by the second week of November. This alongside the structural imbalance in the natural gas market led us to make the call on the bottom that never turned out. After nearly a 10%+ drop in natural gas prices, and already being positioned in these Canadian natural gas producers, we wait patiently for our bullish natural gas thesis to play out over the next 18-24 months.
Looking at the sentiment line-up and positioning, we think the upside in natural gas prices could surprise many if weather returns just to "normal". As we highlighted in our Big Picture Outlook piece, the structural deficit is too great to ignore, and this same exact concern was shared by Geckoi in their recent update.
Overall, we remain bullish natural gas prices and have been positioned so. If you would like to read our analysis of our energy picks, please consider signing up here as we give weekly updates. Natural gas prices in the short-run will continue to move materially with each update. All eyes will be on the weather model changes for December over the next week, so if there are any significant changes, we will be updating premium subscribers first.
Disclosure: I/we have no positions in any stocks mentioned, and no plans to initiate any positions within the next 72 hours.
I wrote this article myself, and it expresses my own opinions. I am not receiving compensation for it (other than from Seeking Alpha). I have no business relationship with any company whose stock is mentioned in this article.