This revisit updates my initial look at Colony Capital (NYSE:CLNY) from my August 19, 2016, article,"Colony Capital: A View From The Perspective Of A Preferred Investor."
Although it is my hope that you will read the entire article, for which I have provided the link above, my bottom-line assessment and buy recommendation at the time were as follows:
The attendant conference call paints a nice picture and I remain convinced that this company is built to last. As a preferred shareholder I am secure in the knowledge that any investment in its preferreds would be a safe one. Consequently, let's determine if an investment in CLNY's preferreds is a wise decision at this time and at the yield we are comfortable with. And of the three offered, which would be the best buy at the above charted prices. However, should you decide to place a bid, be certain to check the prices just prior to placing your bid.

To further add to the information pool, an SA editor suggested that I refer to this linked News Release and comment on the effect the imminent merger might have concerning the exchange of each company's preferreds. As a knowledgeable preferred investor, the details of the release acknowledged the obvious. No matter what company or entity issues the replacement preferreds, it is responsible for them under exactly the same terms, coupon rate and conditions as the day they were issued. Something the common shareholder could not be assured of. Another reason I love my preferreds and remain a devoted preferred investor.
Let's see how the commons have performed over the past three months since I wrote the initial article concerning Colony. Because of the greater volume of common shares traded as opposed to the limited liquidity of most preferreds, I find the commons to be a better indicator of a company's performance.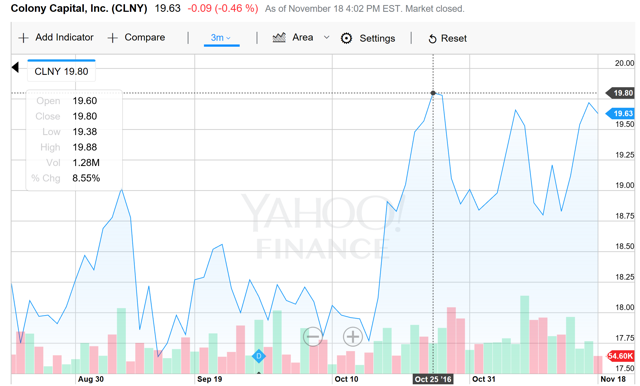 Click to enlarge
It appears that over the past three months, CLNY's price has increased from $18.24 on August 19, to its current $19.63. That's an increase of $1.39.
Before we discuss Colony's future prospects, let's see how its preferreds have fared during the past three months: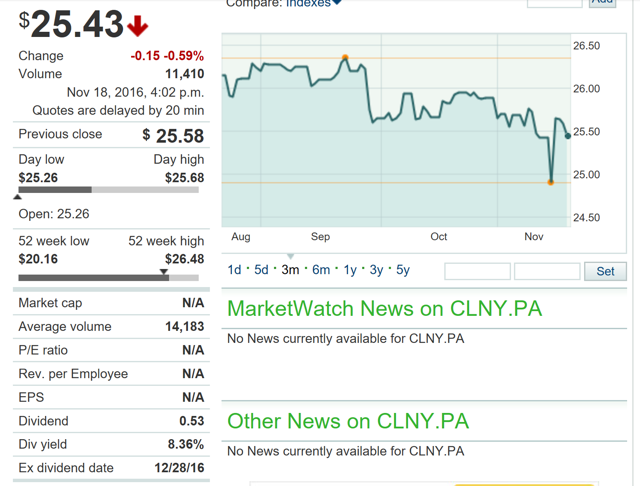 Click to enlarge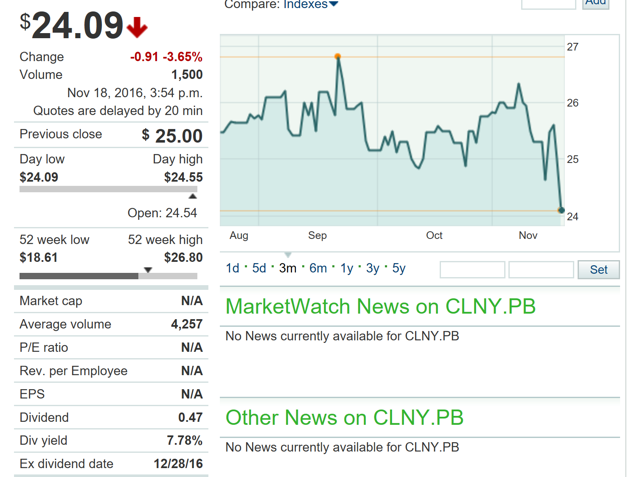 Click to enlarge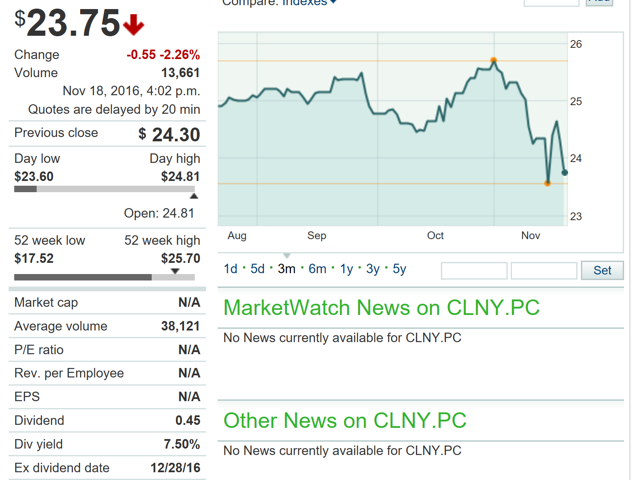 Click to enlarge
Over the past three months, all three preferreds have fallen in value, which I had predicted because of the above par values they were trading at that I had attributed to irrational exuberance. I stated this at the time, and commented: "I'm not surprised, just about anything with a pulse, especially preferreds, has skyrocketed in an all-out quest for yield in this low-yield environment."
Now for a little forward guidance:
Because, as I illustrated above, as a long-term cumulative preferred investor, I am little concerned about quarterly financial reports and their attendant conference calls, which are liberally spun, I don't bother paying much attention to them unless the particular company is at risk of suffering some existential threat. CLNY is not one of those companies; therefore, it's time to determine if either of its preferreds are a buy at this time, and if so, which is the better buy.
CLNY Preferreds 11-19-16
| | | | | | |
| --- | --- | --- | --- | --- | --- |
| Symbol | Yearly Dividend | Price | Dividend/Price | Yield | Best |
| CLNY-A | 2.125 | 25.43 | 2.125/25.43 | 8.36% | Best* |
| CLNY-B | 1.875 | 24.09 | 1.875/24.09 | 7.78% | |
| CLNY-C | 1.78125 | 23.75 | 1.78125/23.75 | 7.50% | |
Click to enlarge
* This one is complicated.
Series A is callable 3/20/17 and costs CLNY the most interest per share paid out as a dividend, which makes it likely that it will be called first, meaning in potentially less than a year. Consequently, if called, the investor who bought at $25.43 would lose $0.43 per share. However, its quarterly payment of 0.53, which more than covers the loss, and if not called immediately it might possibly be considered the best buy. However, the B, offers a better yield than the C and cannot be called until 6/19/19, which gives you an approximate 3-year window to receive the higher dividend yield with the gain when called of $0.91. I wouldn't concern myself about the C being called because, at the above price, the investor would net $1.25 gain when and if it is called, but I don't expect this to happen for quite some time because it costs CLNY the least per share.
Time and the market will determine if my selection has proven correct.
Disclosure: I/we have no positions in any stocks mentioned, and no plans to initiate any positions within the next 72 hours.
I wrote this article myself, and it expresses my own opinions. I am not receiving compensation for it (other than from Seeking Alpha). I have no business relationship with any company whose stock is mentioned in this article.