Despite a volatile month for the S&P 500 (NYSEARCA:SPY), Texas Instruments (NYSE:TXN) has been unshaken. The stock has remained in a tight range for the past 5 months, while many other QQQ components have seen their share prices all over the map. With the S&P 500 extending its Trump rally last week, Texas Instruments was able to close at a new 52-week high. The stock outperformed the S&P 500 last week, extending its lead against the benchmark from the beginning of this year. The stock is currently up 32% this year compared to the S&P 500, more than quadruple the performance of simply being long the market.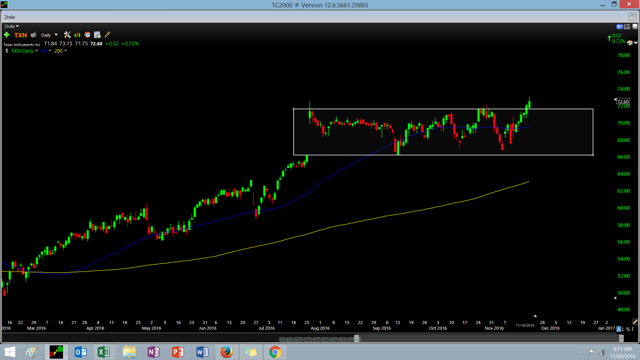 Click to enlarge
(Source: TC2000.com)
The most impressive part of the Texas Instruments investment thesis to me is the company's ability to grow earnings and increase their yield, despite standstill revenues. Texas Instruments' revenue has not increased from 2011, but the company has managed to increase their earnings by 50%. This is a testament to the company's operational excellence, as most companies require revenue growth to see meaningful earnings growth. In addition to earnings growth, the company has also stayed competitive by increasing their dividend yield every year. Texas Instruments' dividend has gone from $0.56 to $1.52 over the same time period, an increase of 270%.

Click to enlarge
(Source: YCharts.com)
My strategy for trading stocks is a trend-following approach as I'm a huge proponent of Richard Dennis. Richard Dennis was a commodities speculator known as the "Prince of the Pit" at the Chicago Board of Trade. He had a remarkable career, becoming a millionaire before the age of 26. Richard Dennis later taught complete strangers to trade his "Turtle Trading Strategy." Some of the original "Turtles" still trade today and have seen massive success from his teachings. Jerry Parker (one of Dennis's disciples) founded Chesapeake Capital in 1988, and currently manages over $1.5 billion.
Dennis's success came from his style of hitting massive home run trades on his winners, despite several strikeouts. His strategy was to let his winners run as long as they remained in an uptrend, and cut his losers as soon as they invalidated their uptrend. I have tweaked Dennis's Turtle Trading system in a few ways to better adapt to current markets, and my risk profile. Despite this being a purely technical system, this does not mean I ignore fundamentals.
I am also a large believer in William O'Neil's CANSLIM method, and use the "CAN" to help select fundamentally strong stocks. The "CAN" in his CANSLIM method stands for the following:
C - Current Earnings: William pointed out the importance of choosing stocks whose earnings per share (EPS) in their most recent quarter had grown from the previous year.
A - Annual Earnings: William also believed annual earnings growth to be very important. Companies being selected for investments according to William should have good annual earnings growth over the past 5 years. As William stated "Who wants to own part of an establishment showing no growth?" Due to this, William recommended buying stocks with annual earnings growth of at least 25%.
N - New: The N in Williams CANSLIM stock selection approach stood for new, which meant the company recently underwent a change of some type. Whether it be a new product, entering a new market, or a new high in price. In my application of this method, I place the most emphasis on a new high in price as this confirms my primary trading strategy.
By marrying these two systems, I am able to find fundamentally strong stocks, while timing my entries to generate maximum returns. While most buy and hold investors simply buy good companies and hold for the long term, I wait for confirmation to buy. My confirmation signal is new 3-month highs for the stock, while it trades above its 50-day and 200-day moving averages.
Putting TXN Through The CAN Screener

Click to enlarge
(Source: TC2000.com)
A - Annual Earnings:
Taking a look at Texas Instruments on a year-over-year basis, we can see that annual diluted EPS has been steadily growing since 2011. Despite a slight hiccup in 2012 where earnings dropped by 20%, the company is moving in the right direction. Earnings growth each year has not been jaw-dropping by any means, but is very impressive considering the backdrop of static annual revenues. The company has already reported $2.35 in diluted EPS for 2016, and is on track to beat last year's annual diluted EPS.

Click to enlarge
(Source: YCharts.com)
C - Current Earnings: Moving down to a quarterly basis, we can see that earnings growth is beginning to pick up steam. While Texas Instruments' Q3 earnings was static between 2014 and 2015, it has jumped from $0.76 to $0.94 in the 2015-2016 period. This equates to nearly 25% growth over the quarter, and is a significant step in the right direction. Looking at second quarter earnings, there is also obvious earnings growth. Despite a paltry increase in Q2 earnings growth between 2014 and 2015 ($0.62 vs. $0.65), the company reported $0.76 in earnings for Q2 of this year. I would not be surprised to see Texas Instruments beat on their Q4 earnings as well, and have no reason to doubt them. The company has beat by a considerable amount in each of their prior 5 quarters, with the beat in the most recent quarter being the most dramatic.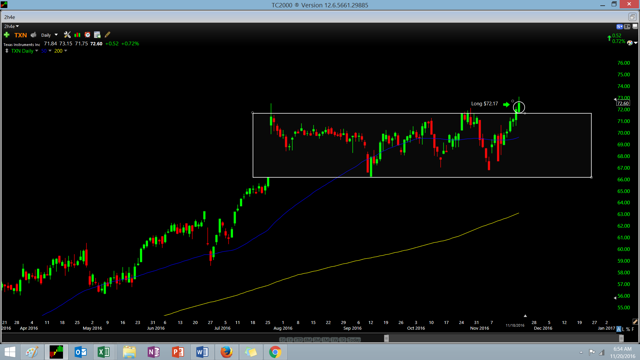 Click to enlarge
(Source: TC2000.com)
N - New: The "new" for Texas Instruments comes in the form of new highs. The stock has made new 3-month highs as of Friday, at the same time as making new 52-week highs. This is a buy signal based on the Turtle Trading Rules, and the reason I took a position Friday. I entered Texas Instruments at $72.20 Friday with a position size of 8.5% of my account.
Technical Outlook & Summary
When looking for long candidates, my preferred setup is a weekly uptrend, with a new daily breakout. In terms of Texas Instruments, the stock completely fits the bill. Looking at a weekly chart, we can see a very clear uptrend in place on the stock dating back to late 2012. The stock has made continuously higher highs and higher lows, and is well above its uptrend line at current levels.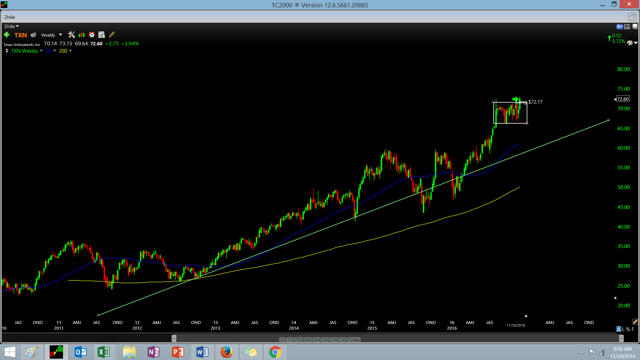 Click to enlarge
(Source: TC2000.com)
Moving down to a daily chart, there are several positive developments.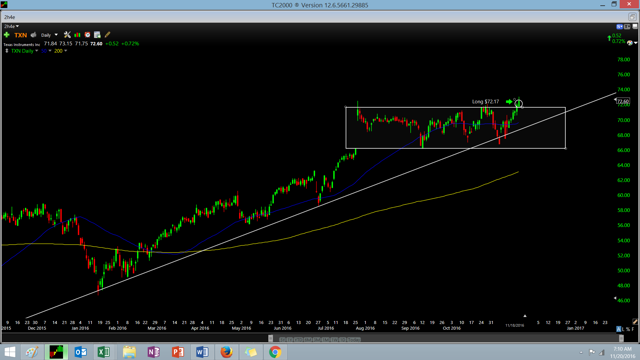 Click to enlarge
(Source: TC2000.com)
1) The stock gapped up on July 26th of this year, and has found support at its gap fill level. This is very encouraging as it shows that buyers are coming in to support the new price breakout. This is evidenced by the support at the $67 level in September, October, and November.
2) Texas Instruments is back above its shorter-term uptrend line is made by connecting the January and June lows. The stock found support at this level for a second time in early November. This is a positive for long-term investors as this means the trend of higher highs and higher lows is continuing.
3) Possibly the most obvious positive development, the stock is making new highs. New 52-week highs are a very positive sign, especially when a stock is leading the market. Currently, the S&P 500 is not at a new 52-week high, but Texas Instruments is. This shows that Texas Instrument does not need the market to break out for it to see price appreciation.
What if I am wrong on Texas Instruments?
Being a trend follower, I never know which trades will be my winners, and which my losers. I simply use the exact same signal to buy, and put stops in place in case this is a loser. Over the past 4 years, I have seen a win rate of 62%, only slightly better than a coin flip. My success from trend following comes due to my rigid rules that I cut my losers quickly. While my win rate is only 62%, my average winning trade is 23%, and my average losing trade is 7%. Due to this massive outperformance on my winners vs. losers, even a 40% win rate would suffice trading this system. My first rule in my trend following system is to not lose money, this is why I figure out where to place my stops before I enter a trade.
In addition to being very disciplined with stops, position size is the 2nd most important thing to me. Due to my conservative risk profile, I only risk between 1.0% and 1.25% of my portfolio on any given trade. My stop on Texas Instruments is at $63.39 on a closing with a long entry of $72.17. To position size properly before entering a trade, I need to figure the difference between my entry and my stop. Based on a $72.17 entry and a $63.39 stop, the total risk on my trade is $8.78. This represents a position risk of 12.18%, and gives me an idea of how to size my position. Given the fact that 12.18% is at risk on this position, I have decided to use 8.5% of my portfolio to enter this trade. This keeps my risk within my above parameters as an 8.5% portfolio allocation with a 12.18% position risk is equal to less than 1.25% of my total portfolio at risk (8.5 x 0.1218 = 1.035%).
The reason I decided on the $63.39 level for my stop is for 3 reasons. My goal when placing a stop on a trade is to find the point where I believe the uptrend to be invalidated. I believe $63.39 is a level where the uptrend would be in jeopardy, and I would no longer be interested in being long the stock. This does not mean the stock is going to go into a bear market; it simply means as a momentum investor, I want to be in things that are moving up, not neutral.
1) Texas Instruments has strong support at the $67.00 level, and has made higher lows since September. A close below the $67.00 level would invalidate the gap-up from July, and represent a new 3-month closing low. Due to the fact that I enter stocks on new 3-month highs, I am not eager to stay long stocks making new 3-month lows.
2) Texas Instruments is currently holding its uptrend line, and in the process of completing a base breakout above it. I want to see this uptrend line hold long term, and see the stock continue to trend above it. I will not be concerned if the stock breaks its uptrend line as long as it remains above $67 support, but it would be a miniscule red flag for me.
3) TXN's 200-day moving average comes in at the $63.20 level, and I do not want to be long stocks below their 200-day moving average (yellow line). The 200-day moving average is moving up at a pace of $0.15 per day; therefore, a close below $63.39 would represent a violation of the 200-day moving average. The 200-day moving average is my line in the sand for bull and bear markets. Due to this, a close below $63.39 would represent a clean break of the 200-day moving average, and have me exit the position.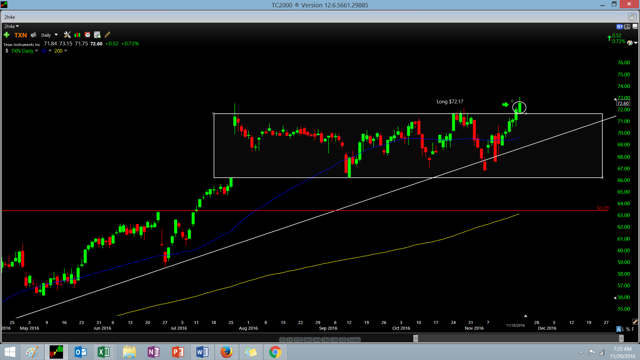 Click to enlarge
(Source: TC2000.com)
I believe Texas Instruments to be an excellent long candidate for those looking for stocks with a good risk-reward profile going forward. The stock has proven it can make new highs without the S&P 500, and for those interested in yield, it offers over a 2% dividend at current levels. I am long the stock from $72.17, and will remain long as long as $63.39 is not violated on a closing basis. I would not be surprised to see Texas Instruments' shares trade above $82 in 2017.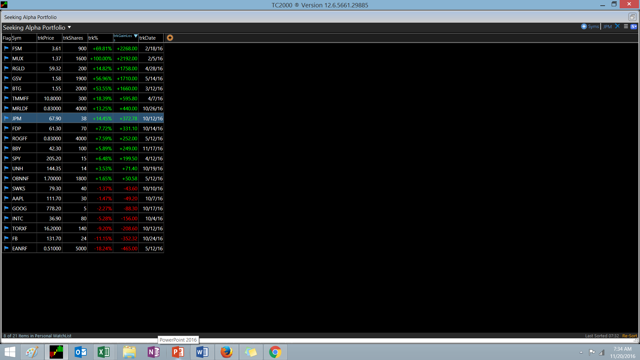 Click to enlarge
(Source: TC2000.com)
For full transparency, I have shown all of my positions from all my articles written this year (and the dates they were purchased). As you can see, while I have a roughly even split of winners and losers, my winners are much larger in size.
Disclosure: I am/we are long TXN, SPY.
I wrote this article myself, and it expresses my own opinions. I am not receiving compensation for it (other than from Seeking Alpha). I have no business relationship with any company whose stock is mentioned in this article.
Additional disclosure: If you liked this article and found it useful, please feel free to follow me by clicking on my name next to my avatar at the top of this article. I also invite you to check my performance at TipRanks.com where I am ranked in the Top 100 Contributors for performance with an average return this year of 65% on new long positions.