Cisco Systems (NASDAQ:CSCO) has taken a beating since giving its earnings results just a few days ago. As you can see below, shares have erased the gains they've made since October.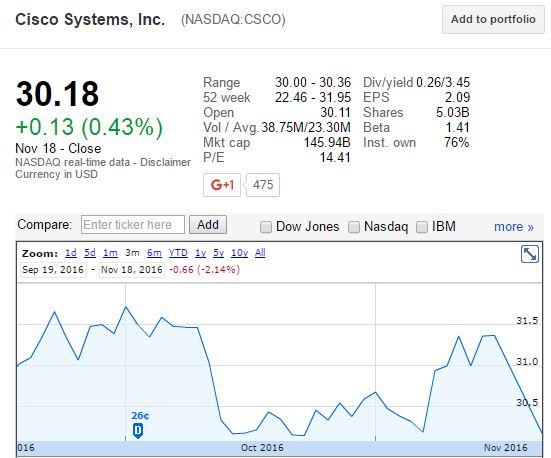 Courtesy of Google Finance.
In a nutshell, this is because Cisco reported a pretty weak quarter, where revenue growth slowed significantly. I've long been a fan of Cisco Systems, but on my last article on the subject back in August 11th, I had turned my bullishness into "cautious optimism" due to a run-up in the share price. This article takes a look at Cisco's latest quarter, and particularly each of its major business segments and where things are going in the future. Also, this article looks at what dividend-minded investors can expect going forward.
Slowing down
Overall revenue increased a disappointing 1% in the quarter, with earnings per share up 3%. The driver of this deceleration is product orders declining 2% year-over-year, with service provider orders down 12%. Management was quick to highlight 48% year-on-year revenue growth to recurring software and subscription services, but that wasn't enough to offset the declines in some of Cisco's legacy business segments.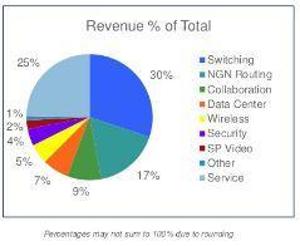 Courtesy of Cisco Systems Investor Relations.
The big picture story of Cisco is a common one with many established tech and tech service companies: Legacy businesses are shrinking fast. New forms of doing essentially the same business is replacing the old model, but there are growing pains.
Revenue from switching was down another 7%, which one analyst called "disappointing." This is Cisco's largest single business segment, and it is dragging down revenue growth, despite being quite profitable. Collaboration, data centers and wireless were each down low single-digits. One point of light in the 'old line' business was routers, which increased 6%.
Security revenues increased 11%, as information security has become more and more integrated with communications and services. This has helped Cisco, and should continue to do so for the immediate future. Cisco has become a 'market leader' in this critical area for enterprises. Services revenue, unsurprisingly, increased 7%. Services has now become the second biggest business segment in the company itself.
So, the "refresh cycle" is continuing, especially in security and services, but growth has slowed. The first analyst to ask questions found switchers revenue to be "disappointing," and that data center results were "not delivering," despite some changes in management. Guidance for the second quarter 2017 is for normalized revenue to decline between 2% and 4%, which is probably where a lot of the concern comes in. Shrinking revenue could be a big problem, although one quarter certainly does not equal a pattern.
Valuation and conclusion
If Cisco's next quarter guidance is right, then revenue is set to start declining. I don't like to own businesses that are in decline, even though I think we should give the company at least a few quarters before coming to that conclusion.
In the meantime, the valuation is alright, but not that great. Trailing, operating earnings per share is 12.8 times, with a 3.4% dividend yield. That seems pretty reasonable, especially because the company's average ten-year valuation is 14.2 times, according to data from FAST Graphs. That's a discount of about 10%. Typically, that would be enough for me to recommend buying Cisco, but the prospect of a flat top line is somewhat worrisome to me.
In the past, I've recommended Cisco Systems because of its dividend growth, and I expect that dividend growth to continue. The trailing dividend is still only 38% of free cash flow, plus about $33 billion of net cash. That's $33 billion more cash than debt. As far as balance sheets go, it really doesn't get much better than Cisco.
However, I don't believe a 10% discount is really enough to entice investors to buy more shares if revenue is going to be flat to down. Cisco isn't a terribly risky investment, although I do fear more downside to shares if Cisco's "refresh cycle" results in several years of revenue declines. Something similar happened to IBM (NYSE:IBM), and that was not good for the company's stock, and so I am hesitant to add more shares of Cisco.
If you're interested in Cisco Systems, feel free to follow me here on Seeking Alpha. I remain personally long this stock and will write update articles when doing so is material and relevant.
Disclosure: I am/we are long CSCO.
I wrote this article myself, and it expresses my own opinions. I am not receiving compensation for it (other than from Seeking Alpha). I have no business relationship with any company whose stock is mentioned in this article.