Company Profile
Biglari Holdings Inc. (NYSE:BH) is a holding company owning subsidiaries engaged in business activities including media, property and casualty insurance, and restaurants. It owns, operates, and franchises restaurants under restaurant concepts, including Steak 'n Shake, a classic American brand serving premium burgers and milk shakes; and Western, which offers signature steak dishes and other classic American menu items, as well operates other concepts, Great American Steak & Buffet, and Wood Grill Buffet consisting of hot and cold food in buffet style dining. As of December 31, 2015, the company operated 417 Steak 'n Shake company-operated restaurants and 144 franchised units, and 4 Western company-operated restaurants and 66 franchised units. Biglari Holdings Inc. also engages in underwriting commercial trucking insurance, and selling physical damage and nontrucking liability insurance to truckers, and publishes and sells magazines and related publishing products and services in print and digital under the MAXIM and Maxim brand names, as well as licenses media products and services. Biglari Holdings was founded and led by Sardar Biglari.
What do we have here?
Sardar Biglari likes to say that his performance should be judged on intervals no shorter than five years. So let's see how the company compares to its competitors. And for my analysis, I have chosen the following companies: Chipotle Mexican Grill (NYSE:CMG), Berkshire Hathaway (NYSE:BRK.A) (NYSE:BRK.B), Papa John's International (NASDAQ:PZZA), Dunkin' Brands Group (NASDAQ:DNKN) and McDonald's Corp. (NYSE:MCD). The graph below shows cumulative monthly returns of these companies from January 1st, 2011 to November 18th, 2016.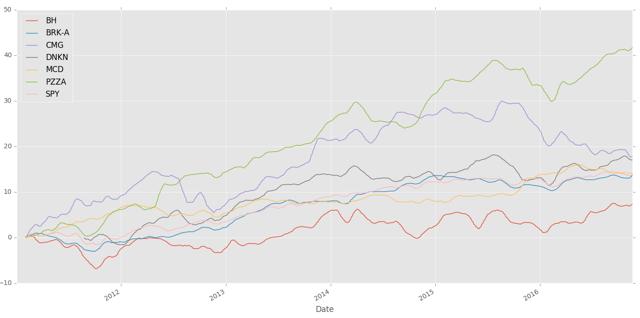 Click to enlarge
Source: Author created image using data from Yahoo Finance and Python
During this period of time, Biglari Holdings was the worst choice among these companies. Starting from January 1st 2011, the stock price increased from $357.78 to $448.92.
And another useful tool is 10-year stock return map that shows the pattern of the winning and losing buy and sell combinations. You can see the best years for buying Biglari Holdings stock were between 2007 and 2009, and in recent years, we could not earn much on this stock.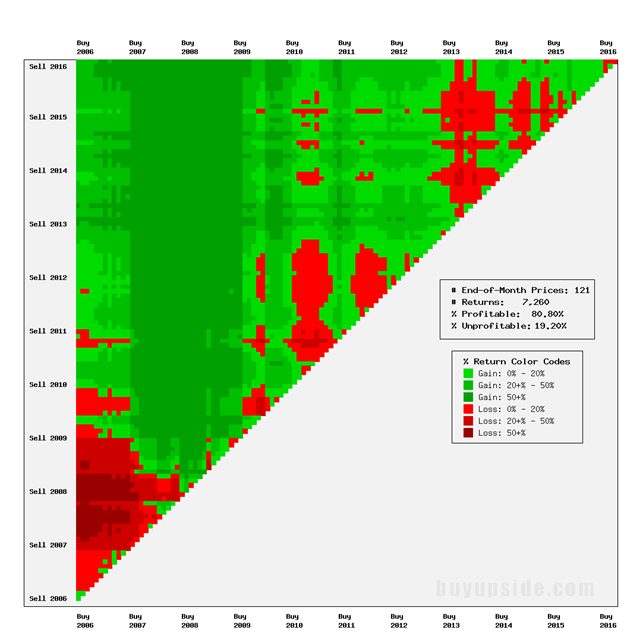 Source: buyupside
Restaurant operation is the biggest segment and the cash machine behind BH. According to 3Q report, Steak 'n Shake and Western Sizzlin comprise 650 company-operated and franchised stores:

Click to enlarge
Source: Biglari Holdings 2016 3Q Report
And earnings of their restaurant operations stayed almost at the same level: $601,951 for first nine months of 2015 vs. $603,850 for 2016. I think that if there are no big changes in this segment, franchising business will be the main opportunity for further growth.

Click to enlarge
Source: Biglari Holdings 2016 3Q Report
In 2014, Biglari acquired the First Guard organization. First Guard Insurance, licensed in 28 states, is a direct underwriter of commercial trucking insurance, selling physical damage and non-trucking liability insurance to truckers. We don't know how much Biglari Holdings paid for this business, but it seems steady and profitable. Contribution to net earnings during the first nine months of 2016 were $3,001, which represented an increase of $966 over the first nine months of 2015.

Click to enlarge
Source: Biglari Holdings 2016 3Q Report
And finally, let's look at Maxim business. They reduced the fixed costs, but during the time of transforming the brand the magazine have lost the readership. In this article, which analyzes what happened with Kate Lanphear's Maxim, there is a well-turned phrase: "The new new Maxim is a magazine for an audience of one: Sardar Biglari." And yes, it looks like Maxim is a toy of a boring man, which moreover will not make money.

Click to enlarge
Source: Biglari Holdings 2016 3Q Report
Below, I will make an attempt to estimate fair value of this stock using the discounted cash flow model. For constructing the probabilistic DCF model, I've used the Monte Carlo method and the Oracle Crystal Ball. Here, I made an assumption that discount rate has Weibull Distribution with 7.5% location, 0.888% scale, and shape equals to 2. And revenue growth has beta distribution with minimum 2% and maximum 5%. You can see it below.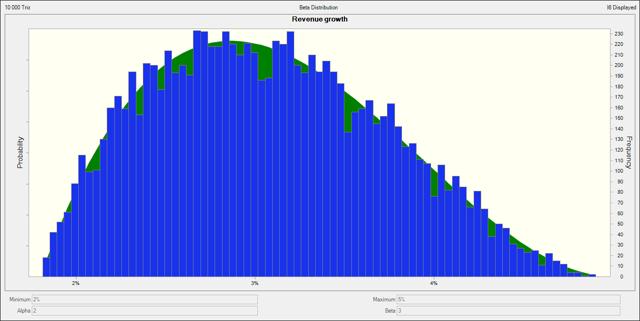 Click to enlarge
Source: Data - Morningstar; infographics by author
This table shows my main input and predictive data
| | | | | | | | | | | |
| --- | --- | --- | --- | --- | --- | --- | --- | --- | --- | --- |
| | 2012 | 2013 | 2014-09 | 2014-12 | 2015-12 | 2016 | 2017 | 2018 | 2019 | 2020 |
| Revenue | 740 | 756 | 794 | 224 | 861 | 888 | 915 | 943 | 972 | 1002 |
| EBIT | 43 | 21 | 15 | 6 | 23 | 85 | 84 | 85 | 87 | 91 |
| Free Cash Flow to Firm | | 33 | -21 | 11 | 32 | -102 | 226 | 58 | 66 | 27 |
Based on these data, you can see my predictive fair value.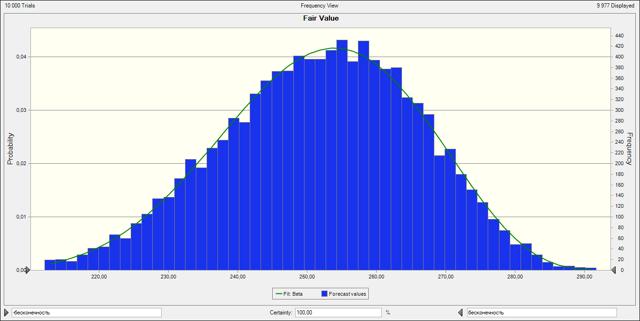 Click to enlarge
Current price of Biglari Holdings is very high from different perspectives. Quoting 2015 Annual Report:
Our structure provides us with a far more flexible instrument than do most other forms of public corporations. By way of illustration, most corporations reinvest earnings within their industry, whereas we postulate that just because we generate profits, for example, in our restaurant business, it does not mean we are required to reinvest the money there. We send cash unneeded at the subsidiary level to the parent company in order to increase our ownership in other businesses."
But now we see that "cash unneeded" at subsidiary level goes to Maxim and high fees to Sardar Biglari. Yes, he did a great job with Steak 'n Shake, but now we should see something more to justify such high stock price.
Disclosure: I/we have no positions in any stocks mentioned, and no plans to initiate any positions within the next 72 hours.
I wrote this article myself, and it expresses my own opinions. I am not receiving compensation for it (other than from Seeking Alpha). I have no business relationship with any company whose stock is mentioned in this article.