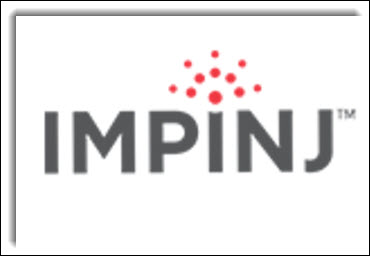 Quick Take
Impinj (NASDAQ:PI) has registered to sell up to $75 million worth of its common stock in its first follow-on offering after going public in July 2016. The company will use the proceeds to continue to invest in R&D and sales and marketing efforts.
Impinj is growing its revenue at an accelerating rate, expanding its product and service lines to provide more value-add to customers, while retaining high gross margins.
Although the stock dropped 10% on news of the offering, it is a BUY in my opinion, notwithstanding the IPO lockup period expiring on January 17, 2017.
Company
Seattle, Washington-based Impinj has pioneered and developed RAIN RFID tags for retail, healthcare and other industries. The company was founded in 2000 by current CEO Chris Diorio and co-founder Carver Mead who developed the core RFID technology.
Impinj raised $67.2 million in gross proceeds in its IPO in July, selling 4.8 million shares at $14 each, at the high end of its expected range. Shares soared on the first day of trading. Since then, its shares have reached a high of $38.43 per share, but with a pullback to as low as $24 in early November.
Earlier in 2016, I wrote about the company and its IPO prospects here: Impinj Upcoming IPO Analysis
Technology
Impinj has developed its Item Intelligence platform, which enables companies to cost-effectively implant its low-cost RAIN-based RFID tracking tag chips into items.
Items can then be quickly read by various RFID readers at various stages, allowing companies to better track the movement of those items throughout their supply chain and understand their business in near real time.
Applicable industries include:
Retail
Pharmaceutical
Healthcare
Food and Beverage
Manufacturing
Supply Chain Logistics
Below is a brief explainer video about the company's Item Intelligence platform:
(Source: Impinj YouTube)
The company more recently begun positioning itself as a gateway to the Internet of Things, or IoT.
For example, Impinj announced a partnership with Intel (NASDAQ:INTC) to incorporate Intel's Retail Sensor Platform and ItemSense software into the Impinj Platform to help retailers with greater inventory intelligence for better inventory accuracy, improved on-shelf availability, omni-channel fulfillment and data analytics for corporate decision making.
Market
According to a 2015 IDTechEx Research Report on the players and opportunities for the period 2016-2026, the total RFID market will grow to $18.68 billion, with most of the growth coming from passive UHF RAIN RFID chips, the kind that Impinj focuses on.
The graphic below shows market segmentation by type over the three-year period 2014-2016: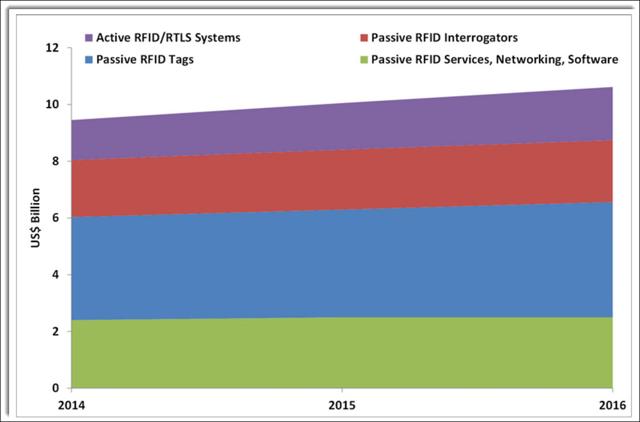 Click to enlarge
(Source: IDTechEx 2015 RFID Report)
So, in 2016, the report indicates that the global market for Impinj's passive UHF RAIN RFID tags will reach approximately $6.2 billion. Based on the overall industry growth and the higher growth rate for passive UHF tags, my 2026 global market size estimate is more than $10 billion.
Competition
Impinj's competitors in the passive UHF RAIN RFID space include:
NXP Semiconductors (NASDAQ:NXPI)
Tagsys
Omni-ID
Alien Technology
Confidex
Invengo
The above list is not comprehensive, and many RFID manufacturers sell a variety of RFID models and types.
Financials
Impinj's recent financial results can be summarized as follows:
Accelerating revenue growth, from 15% YoY in 2014 to 41% through Q3 2016
Gross margin is steady at 52%
CFFO swung to significant cash usage through Q3 2016
Below are the company's operational results for the past three and ¾ years (audited GAAP for full years):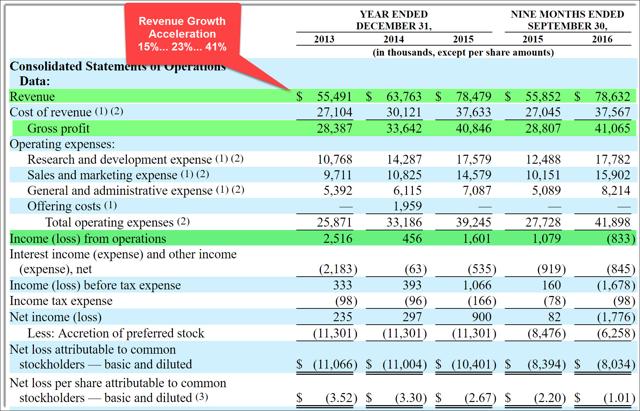 Click to enlarge
(Source: Impinj S-1 Filing)
Revenue
To Q3 2016: $78.6 million, 41% increase vs. prior
2015: $78.5 million, 23% increase vs. prior
2014: $63.8 million, 15% increase vs. prior
2013: $55.5 million
Gross Margin
To Q3 2016: 52%
2015: 52%
2014: 53%
2013: 51%
Cash Flow from Operations
To Q3 2016: $9.5 million cash used
2015: $3.5 million cash generated
2014: $832,000 cash used
As of September 30, 2016, the company had $61.9 million in cash and short-term investments and $16.4 million in current liabilities.
Offering Details
Impinj intends to raise $75 million by issuing additional common stock. As of November 18, 2016, the stock closed at $29.83.
Assuming this per share price, an additional 2.51 million common shares would be sold, adding to the 18.78 million shares of common stock outstanding as of September 30, 2016, and 10.71 million shares of float.
The 180-day IPO lockup period for the $67.2 million in IPO shares sold expires on January 17, 2017.
Impinj didn't provide any details on how it intends to use the offering proceeds, other than the standard 'for working capital and other general corporate purposes.'
Commentary
The stock price dropped 10% on the news of the offering, which is a bit perplexing.
The company beat revenue and earnings guidance in its most recent quarter and again increased its endpoint IC volume endpoint forecast for 2016 to between 5.6 billion and 5.8 billion units, a 63% YoY increase at the midpoint.
In Impinj's most recent earnings call, company CFO Evan Fein stated that they 'plan to increase our investment level', by investing incremental gross margin dollars into R&D, sales, and marketing and expect to 'keep EBITDA as a percentage of sales in the near-term in the low single-digit.'
At the current stock price level of $29.83, the stock indicates a price/sales ratio of 5.53 and an EV/sales ratio of 5.3. Given the company's accelerating growth trajectory, expanding addressable market and growing opportunities to cross-sell its family of products and services, these ratios show an undervalued stock.
The company sees broad-based growth and adoption across numerous industries and recently launched its xSpan connectivity layer service offering. The xSpan gateway is a warehouse ceiling mounted sensor system that provides continuous item visibility for a diameter of up to 1,000 square feet and enables companies to understand when items are entering, exiting or transitioning between areas and zones within the warehouse or building.
So, the picture of Impinj that I see is a company that is growing rapidly and investing its additional gross margin into R&D and sales. It is selling growing volumes of ICs, but is not sitting still; rather it is putting significant resources into expanding its revenue streams into connectivity and software for data analytics.
I'm bullish on Impinj's prospects, as it has its priorities straight by focusing on expanding its potential revenue 'pie' which increases customer lock-in and cross-selling opportunities.
The stock drop is a temporary pullback on the offering headline, so the stock is a BUY on its future accelerating growth prospects.
I write about IPOs, M&A, and billion dollar privately-held tech companies. If you want to receive future articles automatically, click the +Follow link next to my name at the top of this article.
Disclosure: I/we have no positions in any stocks mentioned, and no plans to initiate any positions within the next 72 hours.
I wrote this article myself, and it expresses my own opinions. I am not receiving compensation for it (other than from Seeking Alpha). I have no business relationship with any company whose stock is mentioned in this article.