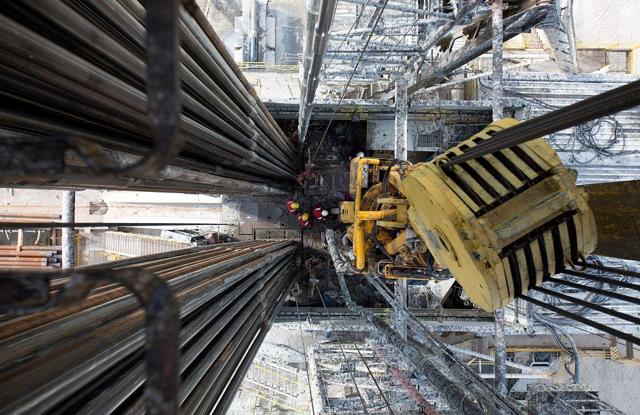 Click to enlarge
In the first half of 2016, Weatherford (NYSE:WFT) raised so much capital, it made my head spin. In March, the company raised $630 million in equity; months later, it raised $2.7 billion in debt. The $3.3 billion in fresh capital shored up Weatherford's balance sheet, pushed back near-term principal payments, and avoided a potential debt covenant breach. Nonetheless, in March, I estimated that based on liquidation value, Weatherford was insolvent by $1.6 billion.
Months later, Weatherford's debt remains untenable. At year-end 2015, it had $7.4 billion in debt at 6.4x run-rate EBITDA (last three quarters annualized). At Q3 2016 the company had $7.5 billion in debt at 31x run-rate EBITDA. Through year-to-date September 2016, the company has suffered cash burn of $547 million. Its $129 million in quarterly interest expense exceeded its Q3 EBITDA of $68 million, and the losses will likely continue. At Q3, I estimate the company is now insolvent by $4.1 billion.
Weatherford Is Insolvent By $4.1 Billion
The following analysis estimates the value of Weatherford's equity if the company was liquidated today: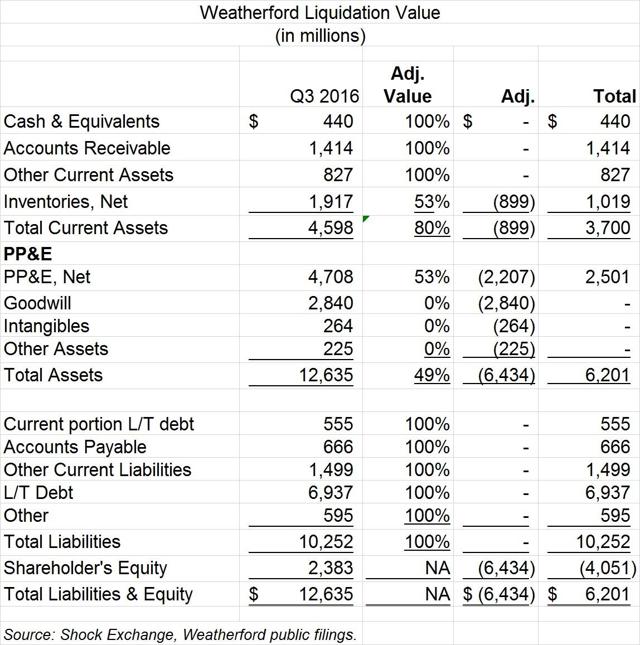 Click to enlarge
At Q3 2016, Weatherford had $12.6 billion in assets, of which 62% was made up of goodwill, intangibles and PP&E, and was highly illiquid. Instead of selling these assets for their so-called carrying value, Weatherford has chosen to raise capital from outside sources.
PP&E was $4.7 billion. My mark on these assets was based on prior allocations between land/buildings, equipment and machinery at year end. I assumed the break-down was land/buildings (14%), equipment (67%) and machinery (19%).
The adjusted value for land/buildings, equipment and machinery was 100%, 50% and 30%, respectively. The weighted average adjusted value was 53% in total.
The company classifies its rig assets as rental and service equipment. I assumed a liquidation value of 50% of book.
A drillship was recently sold to Ocean Rig (NASDAQ:ORIG) for 10 cents on the dollar. This is an indication of the dismal market for energy-related equipment.
The 30% mark for the machinery is optimistic. To avoid an argument, the company could simply sell these assets.
Inventory has a mark of $899 million. I assumed the raw materials could be sold for 100%, the finished goods inventory at 50% and the work and progress at 0%.
Inventory has been stale and slow moving, so a 53% adjusted value appears reasonable.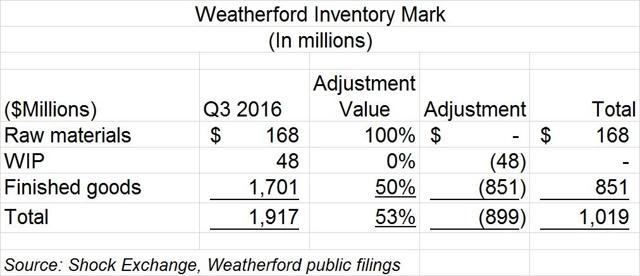 Click to enlarge
Goodwill and intangible assets and other non-current assets were valued at 0%. This would reduce total assets by $6.4 billion and bring equity down to -$4.1 billion.
Is $1 Billion Equity Raise Kicking The Can Down The Road?
Last week, Weatherford raised $540 million in senior notes to repay its revolver and cure an imminent covenant breach. This week, the company is seeking as much as $1 billion in new equity to shore up its balance sheet and help fund cash burn. Payments on the company's $140 million SEC kick in this quarter, and will likely amplify cash burn.
Weatherford's quarterly interest expense exceeds its EBITDA; until that is corrected, cash burn will likely continue unabated. Secondly, the equity raise does not cure its $4.1 billion insolvency. With another equity raise, Weatherford appears to be kicking the can down the road.
Conclusion
Weatherford is insolvent by $4.1 billion. The stock is worthless, yet the company has an $11.4 billion enterprise value, or 47x run-rate EBITDA. WFT remains a sell.
Disclosure: I am/we are short WFT.
I wrote this article myself, and it expresses my own opinions. I am not receiving compensation for it. I have no business relationship with any company whose stock is mentioned in this article.