Among intense information noise surrounding the approaching OPEC meeting in Vienna on November 30, there are increasing indications that Saudi Arabia and its allies will be able to deliver a production control agreement at the meeting.
The most direct signal in this regard came on Saturday, November 19, from Algeria's Energy Minister Noureddine Boutarfa. Commenting on the outcomes of OPEC's consultative meeting in Doha the day earlier, the minister stated to the press that "11 OPEC member countries on Friday agreed to support and implement Algiers agreement, which provides for reducing the production to 32.5 million barrels per day."
As I have written in the past, official media communications by Algeria's Energy Minister are worth paying close attention to as Minister Boutarfa appears to have been given the role of OPEC's informal spokesman on issues related to production control negotiations.
Of note, OPEC has 14 member countries. The minister did not specify which 11 OPEC members have agreed to the production cut at the high end of the discussed range. As a reminder, Libya and Nigeria are expected to be given exemptions ("within reasonable range") and Iran has been insisting on a special post-sanctions quota. The reference to the 11 OPEC members appears to suggest that some quota negotiations are still in progress and need to be completed before the meeting in Vienna.
In another important development yesterday, Iranian Minister of Petroleum Bijan Zangeneh signaled Iran's support for a production control agreement. Iran's news agency IRNA circulated a wire quoting Minister Zangeneh as saying:
"It is highly probable that OPEC members will reach a consensus in the November meeting."
Importantly, Minister Zangeneh also dismissed the possibility of Iraq not joining the freeze plan.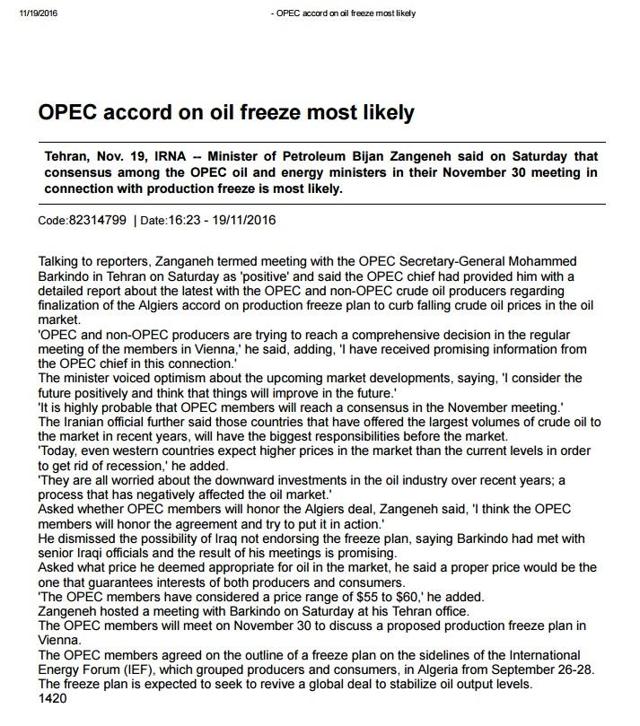 Click to enlarge
The most important circumstance pointing in the direction of some production pact being announced in Vienna is that Saudi Arabia has been the primary sponsor of the initiative since August and may be prepared to shoulder the lion's share of the burden. In this regard, a case can be made that the kingdom is giving up much more in terms of potential market share than other OPEC members (or Russia), making the deal highly attractive to all other parties.
Saudi Arabia also has a heavy "stick" in its arsenal to help push the process over the hump. In the absence of a satisfactory agreement, the kingdom does have the option of simply carrying on with its policy of maintaining market share until market forces do the job of fully re-balancing the market. In this regard, Saudi Arabia has earned credibility - the kingdom's policy has been consistent and bluntly articulated since the beginning of the downturn in oil. Saudi Arabia has also demonstrated its readiness to walk out of a meeting if negotiations are not being advanced in good faith, even if the sharp drop in oil price is the price to be paid.
Monitoring and enforcing the compliance is a more challenging task than delivering a constructive agreement. In this regard, many analysts' skepticism is not without merit. That said, if OPEC is indeed able to agree in Vienna on a production ceiling of 32.5 million barrels per day for at least six months, the impact on production volumes and oil price should not be underestimated. Personally, I anticipate that such an outcome would catch many skeptics by surprise. It is worth noting in this context that the short position in financial futures-plus-options has been on the rise in the last four weeks, according to CFTC data (the chart below), which may contribute to a position, liquidation-driven rally in the event of a stronger-than-expected resolution at the OPEC meeting.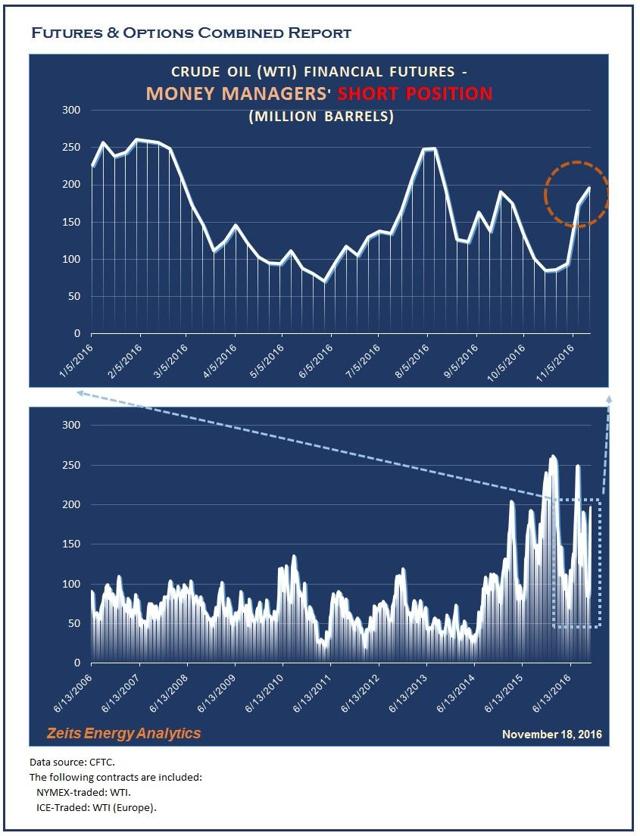 Click to enlarge
Disclaimer: Opinions expressed herein by the author are not an investment recommendation and are not meant to be relied upon in investment decisions. The author is not acting in an investment, tax, legal or any other advisory capacity. This is not an investment research report. The author's opinions expressed herein cannot be a substitute for comprehensive investment analysis. Any analysis presented herein is illustrative in nature, limited in scope, based on an incomplete set of information and has limitations to its accuracy. The author recommends that potential and existing investors conduct thorough investment research of their own and consult a qualified investment adviser. The information upon which this material is based was obtained from sources believed to be reliable, but has not been independently verified. Therefore, the author cannot guarantee its accuracy. Any opinions or estimates constitute the author's best judgment as of the date of publication, and are subject to change without notice. The author explicitly disclaims any liability that may arise from the use of this material.
Disclosure: I/we have no positions in any stocks mentioned, and no plans to initiate any positions within the next 72 hours.
I wrote this article myself, and it expresses my own opinions. I am not receiving compensation for it (other than from Seeking Alpha). I have no business relationship with any company whose stock is mentioned in this article.