The main international story since the U.S. election is the rise in global bond yields. Trump's election has led investors to believe a large increase in U.S. bond issuance is around the corner, leading to a selloff of U.S. treasuries. Most other international news this week was positive. E.U. news points to continued expansion, Japan news surprised to the upside and UK news continued to show a strong, post-Brexit economy.
EU was positive. GDP increased .3% Q/Q and 1.6% Y/Y. The Y/Y rate has decreased over the last 4 quarters, falling from 2% in 4Q15 to its current 1.6% rate. Although industrial production increased 1.2% Y/Y, it's been moving sideways since 12/15. And like industrial production, exports, which rose 2%, have also been moving sideways, but this time since 12/14, a full year longer than the IP number. Prices rose .5% M/M; this marks the 4th consecutive month when prices rose .1%. Finally, construction spending dropped .8%. But more importantly, the post-recession pattern of no meaningful gain continues: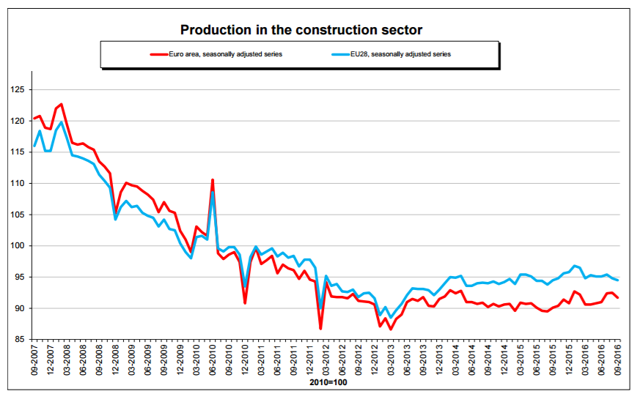 Click to enlarge
In other EU news, the EU bond markets sold-off on the news of Trump's win:
The so-called "Trumpflation" trade has seen a sharp sell-off in government bonds in the last week, as president-elect Donald Trump's promises of higher infrastructure spending have raised expectations of higher inflation and faster interest rate rises.

However, domestic political issues have made Italy and Portugal the EU's biggest sufferers this morning. Yields on Italy's 10-year debt are up 7 basis points to 2.030 percent, while yields on Portugal's 10-year debt are up 11 basis points to 3.580 percent. In Italy, an upcoming referendum on constitutional reform has created additional political uncertainty with the country's banking system already in a fragile state, while Portugal's Socialist government is pushing to implement a controversial anti-austerity budget.

The bond market sell-off isn't limited to the EU; the US and Japan fixed income markets also dropped. In addition, Yves Mersch, a member of the ECB, gave a speech in which he argued that the ECB's bond buying program should end as soon as possible (Google translator translation):

In order for the recovery to be sustained, we must tackle above all the causes of this global low-interest environment. But monetary policy cannot stand alone. Furthermore, our measures are not designed to be a permanent part of the system. They have been used as temporary measures and must therefore be withdrawn as soon as possible.

In view of the volume of the purchase programs, this will be necessary for some time, but a sustained use of our securities purchases, for example, would create incentives for state financing - a development which could ultimately be contrary to the ban on monetary government financing and thus not compatible with our mandate.

The economic recovery can thus not be borne solely by monetary policy, but needs support from politics. In essence, it is a question of making a trend change in global growth. This includes fiscal policy, where there is room and necessity. Only then can our monetary policy normalize again. In addition, we need, above all, reforms which, for example, ensure greater flexibility in labor and product markets and increase productivity.
News from Japan was very positive. GDP rose at a 2.2% annual rate, thanks to large increases in durable residential investment (up 9.6% annually) and exports (which advanced at an 8.1% annualized rate). Industrial production also increased, rising 1.5% Y/Y. This is the second month of increases following a long line of contractions:
Also this week, the BOJ entered the bond market to implement its yield curve control program:
The Bank of Japan surprised markets this morning by announcing it would be dipping its toes into the bond markets by snapping up an unlimited amount of five-year and two-year bonds at fixed rates in the wake of a punishing global bond sell-off.

The announcement is the first follow-up from Japan's policymakers after a landmark decision to adopt a yield curve target, where the central bank is aiming to cap the 10-year bond yield at around 0 percent.
In reality, they wound up purchasing very few bonds; the mere hint that they would purchase securities sent yields lower. But, it's doubtful this will be the result for all such actions going forward.
UK news was generally very bullish. Employment is strong. The unemployment rate was 4.8%: the employment percentage of 74.5% was the highest since 1971. Retail sales increased 1.9% M/M and 7.4% Y/Y. The .9% M/M inflation increase provided the only negative news. Due to the post-Brexit drop in the pound, inflation has increased fairly sharply in the last two reports. However, it is still over 1% below the Bank of England's 2% inflation target.