Earlier this year, I expanded my coverage of business development companies ("BDCs") to include Baby Bonds (also known as exchange-traded debt) for investors who would like to limit the amount of pricing volatility and overall risk in exchange for lower yields. This will likely be a long series of articles that will cover general BDC topics as well as introducing investors to individual bonds offered by BDCs. My initial article "Baby Bonds For BDCs: Set To Rise?" was an excellent buying point for Baby Bonds, but was quickly followed by a "search for yield" investing environment, taking bond prices to new highs.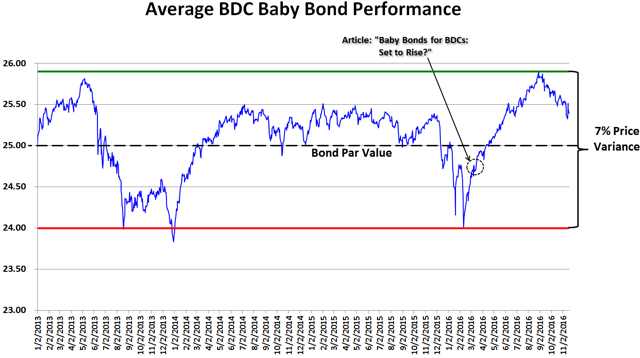 Click to enlarge
Important note: As shown in the previous table, BDC Baby Bonds have traded in a relatively tight range between $24 and $26, which is attractive for investors seeking less price volatility and predictable income.
Yields are starting to rebound
Obviously, higher bond prices drove effective yields to new lows, which is why I decided to put my Baby Bond coverage on hold. I have difficulties with discussing investments that I personally would not consider, and as Baby Bond prices soared above par, yields dropped to an average of 6.6% as shown in the chart below. However, in September, yields started to rebound, and will likely continue to do so given the current market conditions discussed later. Personally, I will be waiting and assessing Baby Bonds, looking for buying points in the coming weeks/months. I have already started to make small purchases, but mostly to dip a toe in and assess trading liquidity and patterns.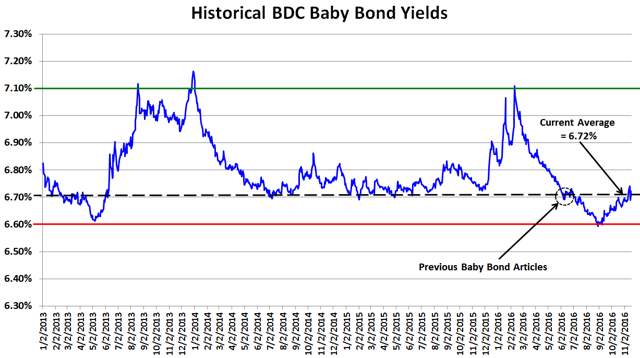 Click to enlarge
General market yields are rebounding
Since late October, yields for most investments have been trending higher, especially Treasuries and bonds. There are many potential reasons for this, including "risk on" appetite for investors, overvalued markets, changes in supply and demand, expected inflation and the potential for increases from the Fed. The following charts provided by FRED show the historical effective yields for BofA Merrill Lynch US Corporate BB Index and 10-year Treasuries. Baby Bonds tend to follow other corporate yields, which I believe still have room to rise.

Click to enlarge

Click to enlarge
The following chart shows the historical effective yields for the iShares iBoxx $ High Yield Corporate Bond ETF (NYSEARCA:HYG) and the SPDR Barclays Capital High Yield Bond ETF (NYSEARCA:JNK). It should be noted that HYG and JNK have continually declining distributions, as discussed in "High-Yield Bond Funds Are Getting Crushed By Higher Yield BDCs," which are partially responsible for lower effective yields (along with changes in price).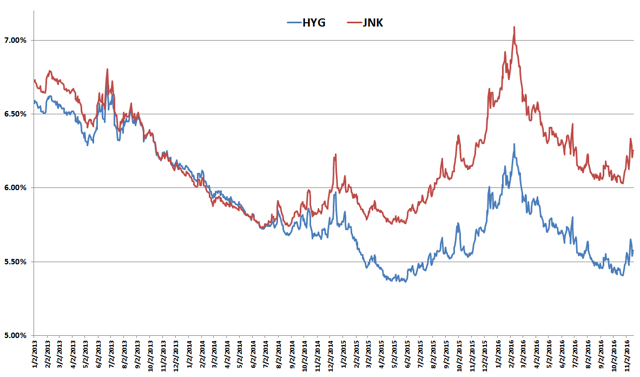 Click to enlarge
Why do I like BDCs and their Baby Bonds?
Required to maintain 2-to-1 asset coverage ratios (determines a company's ability to cover debt obligations with its assets after all liabilities have been satisfied).
Portfolio diversification requirements.
Permanent equity capital (no runs on the bank to force the liquidation of assets).
No BDC has previously defaulted on a bond obligation.
"Conduit theory" of avoiding double taxation.
Supporting smaller to mid-size companies that would likely not be able to get the diversified capital they need from typical banks.
I have an intimate understanding of the sector and closely watch the actions of management.
Current BDC Baby Bond Effective Yields
BDC bonds trade "dirty," which means the market price includes accrued interest. Investors need to closely watch record and ex-dividend dates to calculate the amount of accrued interest in the current market price. The effective yield column takes this into account, as discussed in Part 6 linked below.
It is important to note that the bonds offered by Apollo Investment (NASDAQ:AINV) and Solar Capital (NASDAQ:SLRC) (AIB, AIY and SLRA) as well as AFC through Ares Capital (NASDAQ:ARCC) have much longer maturities, but also have proper credit ratings and are usually lower yield. Many of these bonds are currently callable and one of the reasons that they gravitate toward par of $25 after excluding accrued interest.
Some or all of the bonds for ARCC, Hercules Technology Growth Capital (NASDAQ:HTGC), Horizon Technology Finance (NASDAQ:HRZN), KCAP Financial (NASDAQ:KCAP), PennantPark Investment (NASDAQ:PNNT), Medley Capital (NYSE:MCC), MVC Capital (NYSE:MVC), Saratoga Investment Corp. (NYSE:SAR), Stellus Capital Investment Corp. (NYSE:SCM), WhiteHorse Finance (NASDAQ:WHF) and Triangle Capital (NYSE:TCAP) are currently callable within 30 days.
BDCs with bonds that are not callable until mid-2017 or 2018 include HTGC, AINV, MCC, SLRC, TCAP, Capitala Finance Corp. (NASDAQ:CPTA), TriplePoint Venture Growth (NYSE:TPVG), Prospect Capital Corp. (NASDAQ:PSEC), Newtek Business Services (NASDAQ:NEWT), Fifth Street Finance (NYSE:FSC), Main Street Capital (NYSE:MAIN) and THL Credit (NASDAQ:TCRD).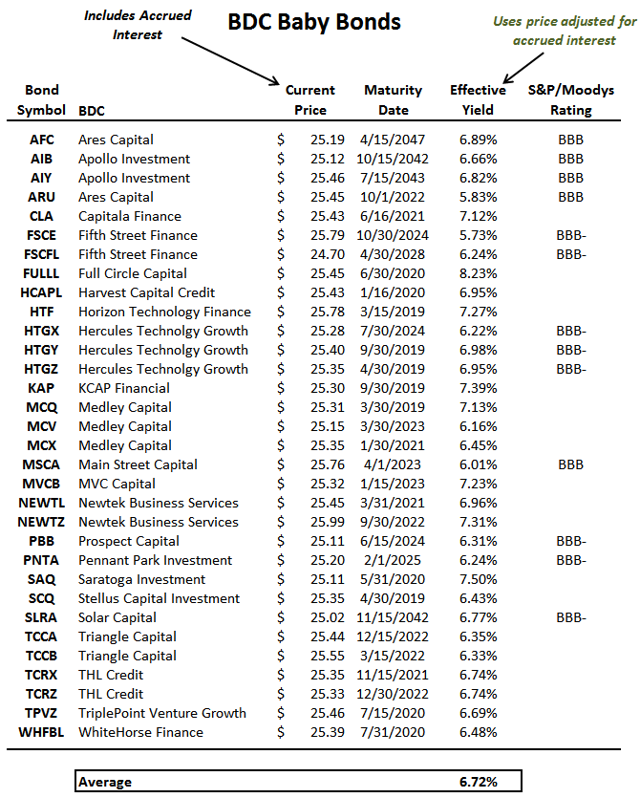 Click to enlarge
Previous articles in this series:
Links to additional information on Baby Bonds/ETD:
Upcoming articles:
I am in the process of ranking and assessing BDC Baby Bonds, including the likelihood of potential bond redemptions (as discussed in Part 7), portfolio/asset credit quality (as displayed/discussed in Part 3), leverage and asset coverage ratios, interest expense coverage (as displayed/discussed in Part 1), etc. I will also be taking into account qualitative measures of management, especially related to managing the capital structure and historical/potential net asset value declines (as displayed/discussed in Part 4 and Part 5). For a list of all my articles including my upcoming/historical purchases and current positions, interest rate impact analysis, risk rankings, dividend coverage tiers, suggested BDC portfolios, target pricing charts and valuations, expense ratios, please see "Index to Free BDC Research."
Personal note: I have updated my positions to reflect changes in my holdings, but please keep in mind that some of the positions are very small and mostly for research purposes. There are over 50 publicly traded BDCs, and I try to cover as many as possible, but I do not have the bandwidth to include each company for each article.
Disclosure: I am/we are long ABDC, AINV, ARCC, BKCC, FDUS, FSC, FSFR, FSIC, GAIN, GARS, GBDC, GLAD, GSBD, HCAP, HTGC, MAIN, MCC, MRCC, NMFC, PFLT, PNNT, PSEC, SLRC, SUNS, TCAP, TCPC, TPVG, TSLX.
I wrote this article myself, and it expresses my own opinions. I am not receiving compensation for it (other than from Seeking Alpha). I have no business relationship with any company whose stock is mentioned in this article.