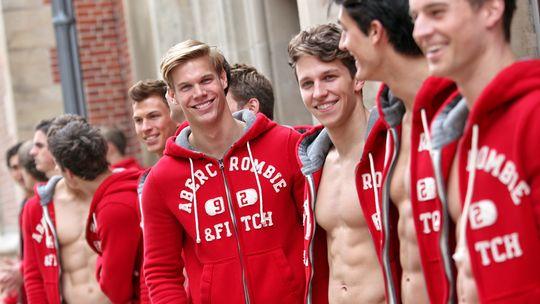 Source: Medical-liens.com
Abercrombie & Fitch (NYSE:ANF) reported Q3 earnings Friday morning, and it did not go well. The company generated revenue of $821.7 million and EPS of $0.12. Results fell shy of revenue expectations of $831 million and EPS of $0.20. I had the following takeaways on the quarter.
Comparable Store Sales Continue To Deteriorate
Total revenue was up 5% sequentially, but down 6% Y/Y. The company's comparable store sales fell 5% versus a 4% decline in Q2. It was a tale of two brands as comp sales for the Abercrombie brand fell 14% and were flat for Hollister. Softness in flagship and tourist stores hurt the Abercrombie brand this quarter. The unseasonably warm winter was particularly damaging as the brand stocked outerwear that did not sell well. The company is attempting to adjust its inventory for those items it expects to sell well during the holiday season. Nonetheless, Q3 might have been a missed opportunity.
A bright spot was the Hollister loyalty program; it has over 4 million active users and drove loyalty and customer retention during the quarter. Direct to consumer sales were 23% of total sales versus 21% in the year earlier period. That said, total comp sales were down 5% in the U.S. and down 10% internationally.
Declines in international sales are becoming a familiar narrative for multinational retailers this season; Footlocker (NYSE:FL) experienced a decline in international sales as well. While Q3 GDP grew 2.9% in the U.S., Europe's growth was anemic. Europe's four largest economies - Germany, U.K., France, Italy - experienced sequential growth in GDP of 0.2%, 0.5%, 0.2% and 0.3%, respectively. Europe accounts for over half of Abercrombie's international revenue and could be a headwind going forward.
Exceptional Liquidity
The key to retailers might be their access to liquidity. Abercrombie has cash of $470 million; its cash exceeds total debt of $285 million. Ample liquidity should buy the company time to close underperforming stores and exit unprofitable leases. I expect the company to be judicious with its capital going forward. If a shakeout occurs among retailers, then Abercrombie could be one of the last ones standing.
Conclusion
Declining revenue and falling gross margins do not bode well for Abercrombie & Fitch. Going forward, the company's 62% gross margins might not be robust enough to cover store expense and marketing costs which were a combined 60% of revenue. At over 21x P/E, ANF is overvalued. Avoid the stock.
Disclosure: I/we have no positions in any stocks mentioned, and no plans to initiate any positions within the next 72 hours.
I wrote this article myself, and it expresses my own opinions. I am not receiving compensation for it. I have no business relationship with any company whose stock is mentioned in this article.