A modified version of this article was released to members of the Cambridge Income Laboratory on Jul. 29, 2016.
The Guggenheim Enhanced Equity Income Fund's (NYSE:GPM) objective is to seek a high level of current income and gains with a secondary objective of long-term capital appreciation. GPM will manage the Fund utilizing a covered call strategy based on a dynamic rules-based methodology to obtain broadly diversified exposure to the equity markets. GPM is currently about 32% leveraged.
Sounds fancy, but what does the fund actually own?
| Name | % |
| --- | --- |
| SPDR S&P 500 ETF Trust (NYSEARCA:SPY) | 44.50 % |
| iShares S&P 500 Growth ETF (NYSEARCA:IVW) | 17.80 % |
| iShares S&P 500 Value ETF (NYSEARCA:IVE) | 15.80 % |
| iShares Russell 2000 ETF (NYSEARCA:IWM) | 11.00 % |
| PowerShares QQQ Trust (NASDAQ:QQQ) | 10.90 % |
So let's get this straight: you're paying the fund managers 1.58% in fees (2.02% if interest expense is included) to own 5 broad market ETFs and to write calls on them? Then their performance better be real good, right?
Uninspiring performance
Let's take a look at the trailing 5 years of performance for GPM versus the S&P 500 [SPY] and also the Nuveen S&P 500 Buy-Write Income Fund (NYSE:BXMX), which writes call options on the S&P 500, but is unleveraged. While 10-year performance data is available, GPM changed its investment mandate in 2010 to remove short selling as a principal investment strategy of the fund, thus any comparisons before that date might be misleading.
Note that the NAV returns of GPM and BXMX are presented, which are a better representation of fund performance compared to price returns because the latter are affected by changes in premium/discount value. Periods longer than one year are annualized.
| | | | | |
| --- | --- | --- | --- | --- |
| | GPM | GPM* | BXMX | SPY |
| YTD | 7.33 | 5.55 | 3.48 | 7.38 |
| 1-year | 5.06 | 3.83 | 2.97 | 5.89 |
| 3-year | 8.41 | 6.37 | 6.83 | 10.85 |
| 5-year | 8.71 | 6.60 | 8.08 | 13.06 |
(Source: Morningstar, data from Jul. 29. *Indicates a leveraged-adjusted return.)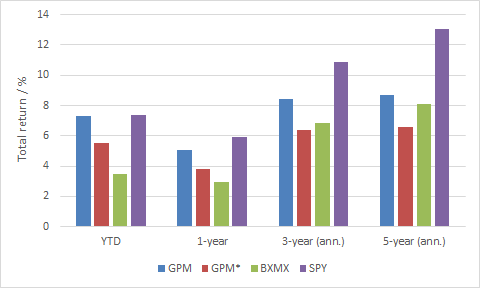 (Source: Stanford Chemist with data from Morningstar, data from Jul. 29. *Indicates a leveraged-adjusted return.)
We can see from the data above that GPM's performance has not been particularly noteworthy. After adjusting for leverage it outperforms BXMX on a YTD and 1-year basis, but underperforms on a 3 and 5-year basis. Note that it is not surprising that both of the covered call funds have significantly lagged SPY, given the strength of the current bull market.
High z-score
Of course, poor performance is not the main reason to execute a CEF pairs trading opportunity. Like all other CEFs, GPM has been a major beneficiary of the rally in income assets over the past 6 months. However, while a rising tide lifts all boats, GPM's boat has been lifted a bit higher than the others.
According to CEFConnect, GPM's current premium/discount of -3.19% is now 3.50 standard deviations higher than its average value over the past year.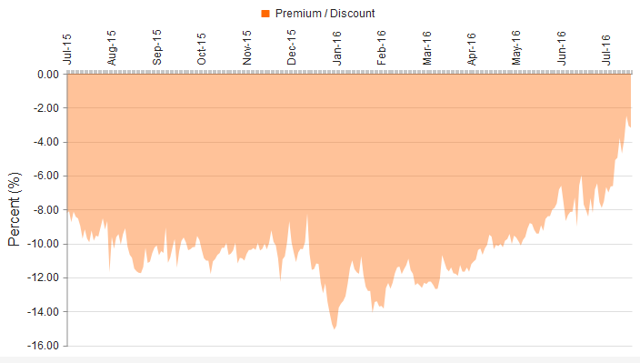 Click to enlarge
(Source: CEFConnect, data from Jul. 29.)
Since inception of the fund, GPM's premium/discount has never exceeded 5%. Therefore, while an explosion of premium/discount value would hurt a short GPM position, history has shown us that this would be quite an unlikely event.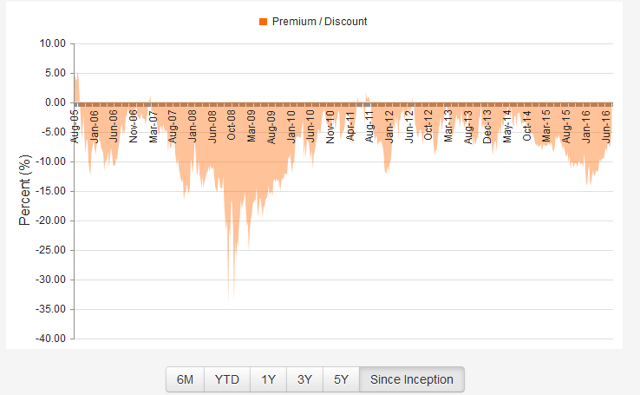 Click to enlarge
(Source: CEFConnect, data from Jul. 29.)
Pairs trading opportunity
An ideal arbitrage partner for GPM would be the PowerShares S&P 500 BuyWrite Portfolio (NYSEARCA:PBP), which writes calls on the S&P 500 at 100% option coverage. We can see that over the past 6 months, GPM has tremendously outperformed PBP.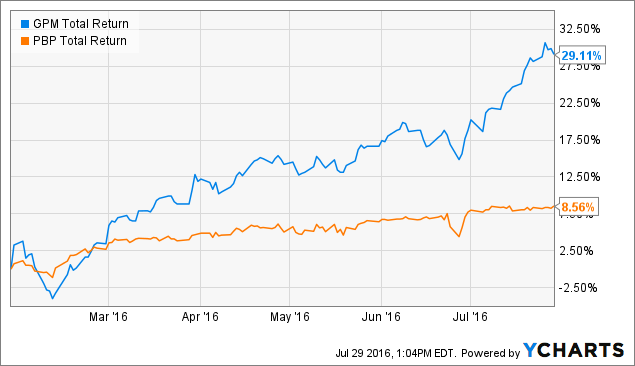 GPM Total Return Price data by YCharts
But how much of this is due to premium/discount expansion? We can see that while GPM has gained 29% in price, its NAV only increased by 17%. Once adjusted for leveraged, the NAV gain of 12.74% is only 4 percentage points higher than PBP's. This statistic also indicates to me that GPM does not have 100% option coverage.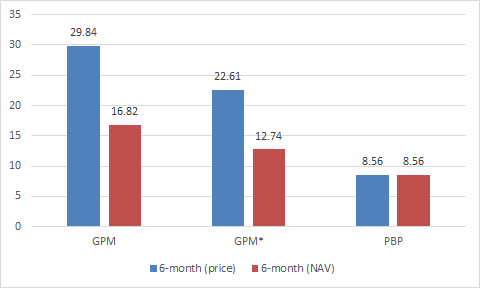 (Source: Morningstar, data from Jul. 29.)
In GPM's annual report, the fund managers write:
The typical hedge ratio for the fund is 67%, which is designed to produce a portfolio that, inclusive of leverage, has a beta of one to broad market indices. The hedge ratio, however, may be adjusted depending on the investment team's view of the market and GPIM's macroeconomic views. Changing the hedge ratio will impact the beta of the portfolio resulting in a portfolio that is either over- or underexposed to broad market equities.
So how would I execute the pairs trade? The simplest would be to short an equal amount of dollars in both GPM and PBP. However, because GPM is 32% leveraged, it would be reasonable to increase the long position in PBP by that amount such that the notional value of the position is zero. Furthermore, because GPM typically has 67% option coverage, it might be prudent to replace part of the long PBP position with SPY. Therefore, we might consider a trade consisting of short GPM with $1,000, long PBP with $880, long SPY with $440.
The long position should mimic the beta of GPM, which means that we are essentially only harvesting the alpha that arises from premium/discount reversion and are not taking a particular view of the markets. Of course, the PBP:SPY ratio can be adjusted if one has a firm conviction on whether markets are going up or down in the near future.
What kind of gains are we looking for? If GPM falls to its 1-year average premium/discount value of -10.22%, this would give us about a 7% gain on the short side, all other things being equal. Of course, to any readers who are currently holding GPM, my recommendation is simply to sell it and replace it with other funds.
[Nov. 17th update]
A few days ago, GPM's discount hit -9.23%, capping off another successful mean reversion trade.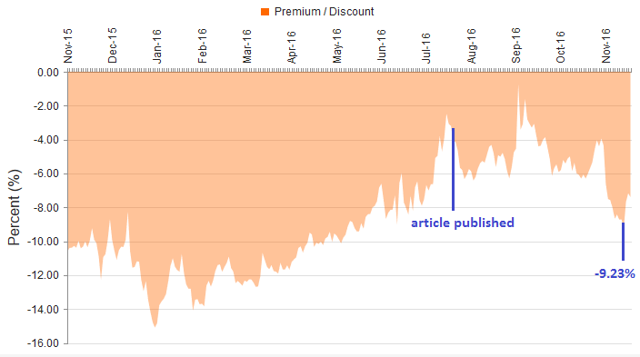 Click to enlarge
(Source: CEFConnect)
Over this time frame GPM and PBP have both had positive returns, whereas GPM's was negative.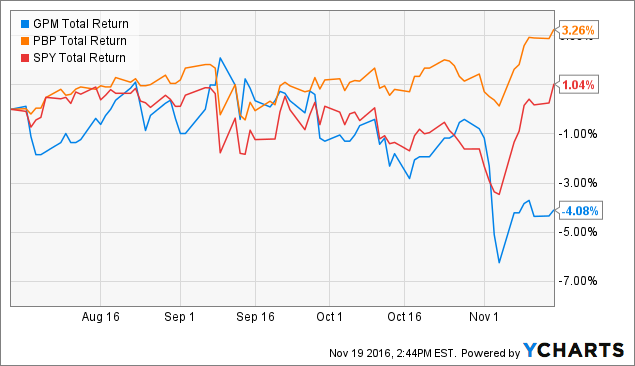 GPM Total Return Price data by YCharts
The average profit gained from this trade was 3.2%, which when annualized comes out to 11.0%. Obviously, the gain here isn't going to fund an early retirement, but adding a few percentage points of outperformance here and there per year can make a big difference over the long run. Importantly, the arbitraged nature of this strategy means the risk of this trade is much lower than a long or short position, and this risk-reward profile should be taken into account when evaluating the success of arbitrage trades.
For those not confident with arbitrage strategies, a simpler message might have been to swap an existing holding of GPM for PBP. Doing so would have improved performance of the position by 7.34% over the time frame.
In hindsight, waiting until Sep. 9th might have been an even better time to initiate this trade, when GPM's premium/discount hit a high of -0.72%. Gains of +4.4% (annualized 24%) for the arbitrage strategy were available.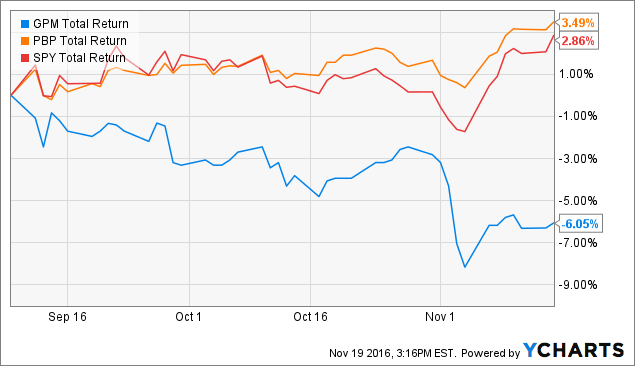 GPM Total Return Price data by YCharts
GPM's current discount of -7.40% is still narrower than its 1-year average of -8.78% (1-year z-score = +0.40), suggesting that this trade might still have a small amount of further room to run.
If you have enjoyed my article, please consider clicking the "Follow" button next to my name to be alerted to new content! Also, subscribers to the Cambridge Income Laboratory receive my best trade ideas in advance, have access to my personal ETF/CEF income portfolio, and can request specific ETF/CEF analysis.
Disclosure: I/we have no positions in any stocks mentioned, and no plans to initiate any positions within the next 72 hours.
I wrote this article myself, and it expresses my own opinions. I am not receiving compensation for it (other than from Seeking Alpha). I have no business relationship with any company whose stock is mentioned in this article.