To state the obvious, the equity markets have reacted rather counterintuitively following the elections. Like many other participants out there, I had positioned for a Clinton victory and somehow still ended up coming out the other side smelling like roses. Whew!
What has been quite interesting in the market post election has not been the quantum of move we have had, but rather, the quality of move we have had. I say this because the quantum of move post election has been rather muted for the large cap indices such as the S&P 500 (NYSEARCA:SPY), Nasdaq (NASDAQ:QQQ) and the Dow (NYSEARCA:DIA) which are up ~1%, -0.3%, and 1.3% respectively. This makes it important to consider the driving force behind these moves. By simply looking at how the tech heavy Nasdaq has underperformed versus the S&P and the Dow, it becomes clear that sectors such as technology and health care have not been leading the move. Using the same measure, it also becomes obvious that with the Dow up 1.3%, outperforming the S&P, the move may have been led by industrial stocks.
All this is indeed true as the leading sectors post elections have been industrials (NYSEARCA:XLI) and Financials (NYSEARCA:XLF). The chart below shows how various large sectors of the S&P 500 have performed post elections. Financials, retail, industrials and insurance stocks have been clear standouts.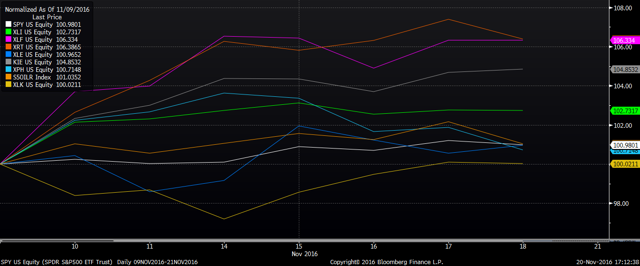 Click to enlarge
It is common sense that certain sectors in the market will be strong at any given time versus others. However, if you step back, one realizes that the broader markets are currently at or near their all-time highs.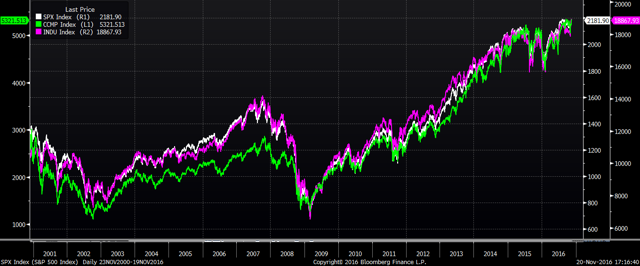 Click to enlarge
When stocks are attempting to make and sustain all time highs, the market requires a majority of its constituents to be making new highs and showing good technicals as well. After all, this is why breadth is so important. And this brings us back to the quality of move we have seen in the markets lately. With the markets attempting to make and sustain new highs, participation is key for a healthy move higher and thus far, the participation has been lacking.
For example, with the S&P sitting merely a few points away from making new highs, less than 60% of its constituents are sitting above their 150 day moving average: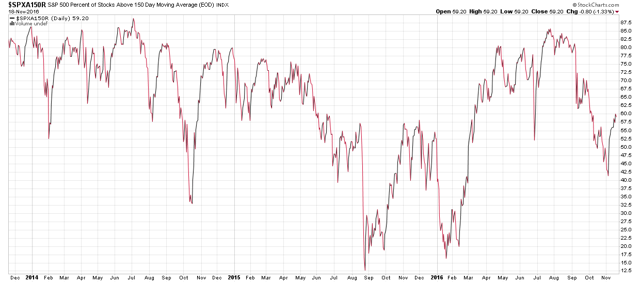 Click to enlarge
With the Nasdaq in a similar position, we have the same case with just under 62% of its constituents sitting above their 150dma.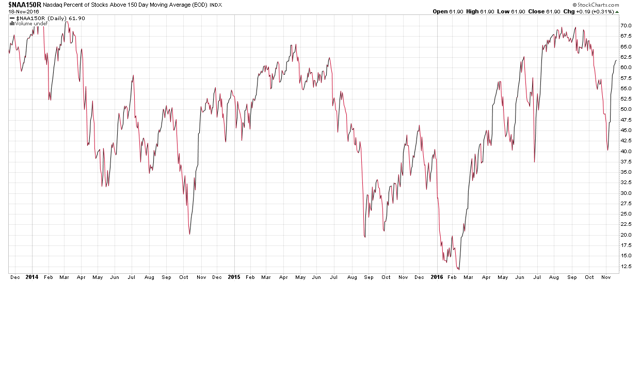 Click to enlarge
I suppose that many technicians would look at the divergence in the breadth versus the recent price action and say that this is an unhealthy market, which is due for a move lower. I am currently taking the opposite bet.
Why you may ask? Simply puts, I think we have a potential for a Goldilocks scenario. For the first time in over a year, in my estimation we have given the markets a real kick in the butt and changed some of the old variables with new ones. The yield curve is steeper, there is chatter of fiscal stimulus and at the same time, we have an economy which appears to be heading in the right direction. With this backdrop, I can visualize a path where certain sectors power the market higher and the rest of the constituents play catch up over time. Technology has been a big laggard, but it is an important component of all major indices. Technology will benefit from an improving economy as people buy more computers, phones and software companies can sell more product to corporations, which in turn should help the technology stocks regain their moxie.
Can the current leadership simply fizzle out in the financials and industrials taking the market lower? Yes it can. However, the moves we have seen in bonds have been decisive and unlikely to move back to their old trends and for this reason, I am hopeful that as the markets make new highs, market breadth will pick up, leading to sustained new highs.
Disclosure: I/we have no positions in any stocks mentioned, and no plans to initiate any positions within the next 72 hours.
I wrote this article myself, and it expresses my own opinions. I am not receiving compensation for it (other than from Seeking Alpha). I have no business relationship with any company whose stock is mentioned in this article.