Investing in cyclical businesses is tricky. Not only are cyclical investments sensitive to the irregular economic cycle, but prices will rise higher than any investor can imagine in good times and fall lower than anyone thinks possible in bad times. Cyclical investments are not buy-and-hold investments, but they should not be looked at as if they were timing investments either. All good cyclical investments are cigar butts; they are good for one puff per cycle when purchased at a point of maximum pessimism and industry pain. And, just as cigar butts are best purchased at levels such that even in bankruptcy the possibility of being made whole still exists, cyclical investments should be too, making credit analysis and the balance sheet the principal areas of focus for a cyclical investor.
Coal, during the 2014 and 2015 period and especially towards the end of 2015, represented a perfect opportunity to apply this understanding of cyclical investing. A precipitous price decline, companies trading at statistically cheap levels, unloved, underfollowed and an industry primarily populated by businesses with weak balance sheets, presenting the detail-oriented credit analyst an opportunity to differentiate via analysis. Two coal investments we have written about previously, CNX Coal (NYSE:CNXC) and Hallador Energy (NASDAQ:HNRG), fit the model described above of good potential cyclical investment.
Since our initial write-ups, both companies have returned more than 100%. An investor in either should now be thinking about their exit strategy. The still significant unit distribution offered by CNXC makes the sell decision more complicated for investors, but we believe the situation with HNRG is very clear, the time to exit the position has come.
In our initial write up of HNRG, we suggested the company had an intrinsic value of as much as $10 a share. The company has now reached that level, and in revisiting our thesis are content with the soundness of our previous valuation conclusions. For those who imagine that a Trump administration will bring a new era of growth to the coal industry, exiting now may seem strange.
We believe this assertion is beyond our ability to evaluate and is only an appropriate variable for consideration by speculators. Furthermore, it seems apparent that while HNRG may benefit from some helpful Washington tailwinds, most of the price gains that can be attributed to underlying business fundamentals have already occurred.
We will review our valuation below, and while it may appear that there is still a gap between the company's potential maximum intrinsic value and its current share price, it is likely that this last bit of value will be not only the slowest realized but also the most difficult to judge. Determining intrinsic value is a challenge for any company, let alone for a cyclical business in a declining industry. Although our analysis may underestimate the intrinsic value of HNRG, it seems likely the question of the remaining value at this point is one of the precision of one's estimates rather than the general accuracy.
We don't believe in attempting to achieve 100% of the possible returns on any individual investment, especially an investment in a cyclical business. The opportunity and time cost incurred while pursuing 100% of returns is too high, especially given the necessity of focusing on the impossible task of attempting to understand the logic of short-term price movement. With a cyclical investment, it seems best to aim at achieving the juiciest and easiest 60% to 80% of potential returns and then begin exiting the position.
Current Valuation Scenarios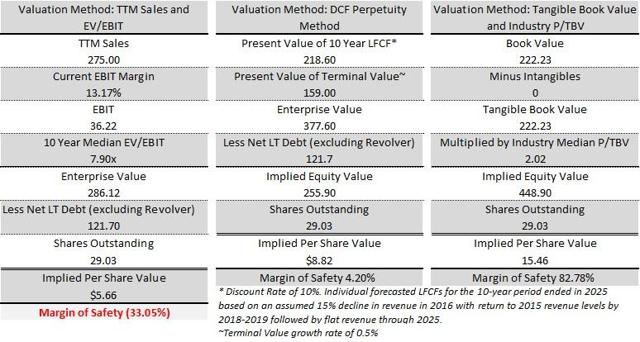 Click to enlarge
Our initial thesis suggested that HNRG management were both accomplished operators and successful capital allocators, we believe both assertions remain true, and at a significantly low price point both assertions formed part of a reason to own the company. The sell or hold decision is different though. At this point, it hinges on the possibility of future intrinsic value growth because the operating business, absent growth, is currently worth the current trading price, as is demonstrated by our base case presented in the table above.
In our base case, HNRG is valued as an ongoing entity, with only marginal growth for the next ten years and a terminal growth rate of 0.5%, an assumption we believe, even in its modesty, to be generous. Assuming this growthless future, HNRG is worth about $9.00 a share.
For existing investors, the question of whether to hold or sell thus hinges on the possibility of returns likely to grow business value at a quicker pace than our 10% discount rate. This factor, more than any other, is what makes cyclical investing cigar butt style investing. We do not believe such growth prospects exist.
The best route to growth for HNRG would be organic growth but organic growth opportunities for cyclical businesses are limited. Revenue usually increases with the price of the underlying commodity being sold but rarely grows via new untapped demand, and only one type of growth should be understood as producing true intrinsic value growth. As such there is a cap on the value potential of a cyclical business tied to what that business can produce given normalized commodity prices (the average price through a cycle).
This organic growth limitation can only be overcome via capturing market share from competitors, typically through lower prices (margin erosion). Price wars are fraught with problems in cyclical businesses and rarely end well for any participants (look to recent events in iron ore mining as a case study).
HNRG does possess additional untapped coal assets that could be monetized given increased demand, and thus organic growth potential is technically possible. It is difficult to see where the demand would come from though. Competition to fill the needs of existing coal-burning utilities is significant and stealing market share, given the commoditized nature of coal, will be difficult, and unlikely to produce a timely much less significant change in the intrinsic value of the business.
While a potentially friendly regulatory environment may make it easier for utilities to burn coal, it is unlikely that any of the lost capacity over the last few years will return. Betting on the possibility of utilities restarting idled coal plants is a long shot at best. Given these factors, organic growth seems improbable.
Our initial thesis also highlighted the company's strong balance sheet, which given management's capital allocation skill is a potentially lucrative combination. The issue is that a strong balance sheet is different from a balance sheet that can be levered up, HNRG's capital structure could not handle the additional debt which would be necessary for growth via acquisition without significantly impairing management ability to maneuver a downturn, a well-documented recipe for disaster in mining (see our previous HNRG write up which covered the debt fueled indiscipline of coal company management in the post 2008 period).
Not only does the Altman Z-Score (currently 1.64) suggest the company has existing balance sheet stress (which we believe is less severe than the Altman Z score suggests but is nevertheless real), but several negative covenants under the credit agreement are tight enough to preclude any additional debt without breaking them, and thus forcing a technical default.
The fundamental growth limitations that HNRG is subject to cannot be ignored. As a result, it is our belief that taking HNRG profits now, when the clear majority of returns have been made, rather than later, is the best decision for investors.
Disclaimer: Opinions expressed herein by the author are not an investment recommendation and are not meant to be relied upon in investment decisions. The author's opinions expressed herein address only select aspects of potential investment in securities of the companies mentioned and cannot be a substitute for comprehensive investment analysis. Any analysis presented herein is limited in scope, based on an incomplete set of information, and has limitations to its accuracy. The author recommends that potential and existing investors conduct thorough investment research of their own, including detailed review of the companies' SEC filings, public statements and competitors. Consulting a qualified investment adviser may be prudent. The information upon which this material is based was obtained from sources believed to be reliable, but has not been independently verified. Therefore, the author cannot guarantee its accuracy. Any opinions or estimates constitute the author's best judgment as of the date of publication, and are subject to change without notice. The author explicitly disclaims any liability that may arise from the use of this material.
Disclosure: I/we have no positions in any stocks mentioned, and no plans to initiate any positions within the next 72 hours.
I wrote this article myself, and it expresses my own opinions. I am not receiving compensation for it (other than from Seeking Alpha). I have no business relationship with any company whose stock is mentioned in this article.