Click to enlarge
Animal spirits returned to the oil patch in Q3. The average rig count rose by 14%. Shale oil plays turned on the spigot as oil prices tested $50. Smaller oil services firms were expected to experience a rebound. While Oil States International (NYSE:OIS) saw a 14% sequential rebound in Wellsite Services revenue, the rebound eluded Core Labs (NYSE:CLB). Its Q3 revenue actually fell 3% essentially and 27% Y/Y.
Q3 results proved that all small, nimble oil services firms were not created equal. 70% of the company's revenue comes from Reservoir Description - projects related to long-term crude oil and natural gas projects with an emphasis on deepwater. Many deepwater projects are not economical at today's oil prices, and the segment is expected to be the last to rebound. Its Production Enhancement segment (26% of total revenue), which helps drillers complete wells, also fell 4% Q/Q. I found this disconcerting.
Core Labs Is Worth $15
Based on a bottoms-up analysis, CLB is worth $15 or 85% less than its $106 share price.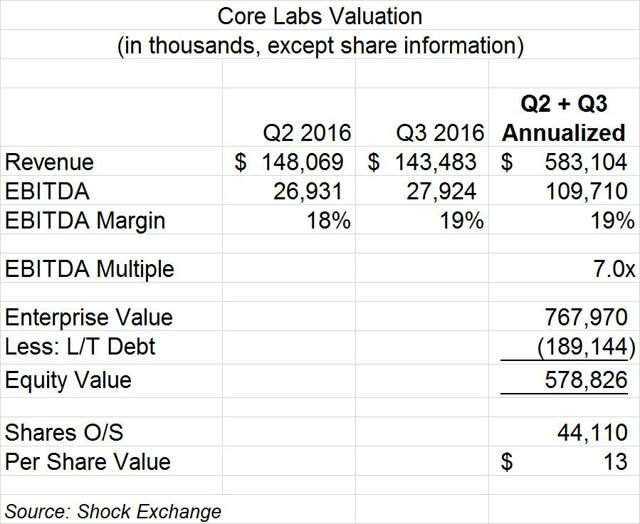 Click to enlarge
Revenue
The company's annualized revenue for the last two quarters was $583 million. This is the starting point for the valuation. Revenue could continue to slide given Core Labs' exposure to deep water.
EBITDA
EBITDA is the last two quarters combined and annualized. It equates to an EBITDA margin of 19%. Margins could come under pressure if the company's top line deteriorates further.
Enterprise Value
The company's enterprise value (equity and debt) is $768 million at a 7x EBITDA multiple, which is appropriate for cyclical names.
Equity Value
After subtracting net debt (debt less cash and equivalents) of $189 million, I derived an equity value of $579 million. The company's low debt levels should allow it to survive a protracted downturn in the oil patch.
Per Share Price
I assumed 44 million shares outstanding, which was sourced from Yahoo.
Conclusion
CLB is worth $15 per share. Its $4.9 billion enterprise value equates to 44x run-rate EBITDA, which is grossly overvalued. CLB is thinly traded - average trading volume is about 527,000. This could partially explain its valuation and $106 share price. Nonetheless, CLB is overvalued by 85%. Avoid the stock.
Disclosure: I/we have no positions in any stocks mentioned, and no plans to initiate any positions within the next 72 hours.
I wrote this article myself, and it expresses my own opinions. I am not receiving compensation for it. I have no business relationship with any company whose stock is mentioned in this article.