There has been a lot of discussion regarding Apple's (NASDAQ:AAPL) situation with Donald Trump as President-Elect of the United States. With the potential for a tax holiday to bring home foreign funds at a low rate, the company that has well over $200 billion in cash outside the US would likely benefit most. Last week, a fellow SA contributor suggested that Apple would enact a large buyback, and while I agree a buyback would occur, I don't think we'd see one to this extent.
Apple's capital return plan started in fiscal 2012, and the current program is aimed to return $250 billion to shareholders, of which $186.23 billion had been returned at the end of fiscal 2016. Apple has bought back $133 billion worth of shares under the current $175 billion buyback program, which has reduced the share count by nearly 19% over the past four fiscal years as seen below.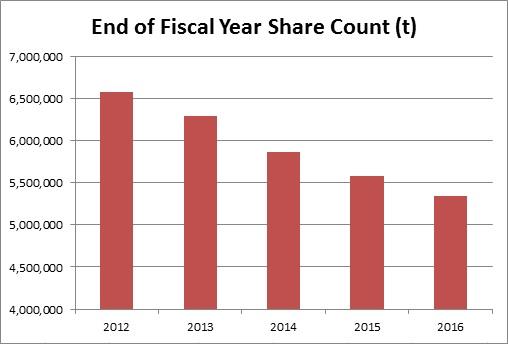 (Source: Apple 10-K filings page)
Should the company be able to repatriate more than $175 billion as the author above suggested, I don't see the company coming out and instantly announcing a massive buyback. If that were the case, it is likely that Apple shares would jump on the news, forcing the company to pay more for shares and making the program less successful. It's likely that the stock could jump as soon as any positive tax news is announced, because investors would speculate on Apple bringing its money home.
If Apple were to go the buyback route, I think the company would use the same strategy as it has all along, mostly being slow and steady. You wouldn't want the company to buy back $50 billion of shares and then we get a US recession that takes down the stock. That would look quite foolish, just like when Apple spent $120 plus on shares a few quarters ago. With tens of billions of cash available, Apple could use the money to provide a line in the sand, say stepping in to support the stock when it hits a certain level (for example $100 a share).
One area where I think Apple would look to use some of this repatriated cash is the dividend. I don't see a big one-time payout, but I could see the company hiking the dividend by a sizable amount and keeping a large chunk of cash in reserve to maintain this payout and further increases. From fiscal 2013 to 2016, total dividend cash payouts only increased from $10.56 billion to $12.15 billion per year. The dividend itself rose a lot faster, but a good chunk of that was due to the reduced share count.
A key reason why I think Apple would want to increase the dividend by a decent amount can be seen in the chart below, and that's the US 10-Year Treasury Bond. We've seen interest rates jump quite significantly over the last few months, and the 10-Year now earns about 2.33% annually. With Apple's dividend yielding about 2.06% currently, the stock is now more than 25 basis points below the 10-Year, while it was well above this fixed income instrument just a few months ago.
Rising interest rates make dividend stocks less attractive, and I think Apple would want to reverse that. I could see a 25-50% dividend increase happening to get Apple back above the 10-Year, as well as putting the annual yield closer to other tech giants that are around 3.00% yields.

(Source: CNBC.com)
Finally, while I don't see Apple throwing tens of billions behind an acquisition like a Tesla Motors (NASDAQ:TSLA) or Netflix (NASDAQ:NFLX), I could see the company making smaller more targeted acquisitions. Management is on record saying it would consider larger purchases than in the past if they seem like a good fit. For $50 billion, Apple could make ten $5 billion purchases for instance. I could also see the company creating a "technology fund" that makes targeted equity investments in early or middle stage companies, kinda like the Didi deal we saw a few months ago.
Personally, I'd rather see Apple use money for acquisitions at this point than buybacks. This is because one of the key concerns with the company right now is revenue growth. Buying a company like Pandora (NYSE:P) for about $3 billion to strengthen Apple Music would seem like a much better strategy than another $3 billion in share repurchases, for example.
While I understand that most acquisitions would likely result in lower overall margins for Apple, the company needs to get its top line growing first, then it can worry about cutting costs. Earnings per share have a tailwind coming thanks to the ongoing buyback, so Apple can actually see EPS grow even if net income decreases slightly.
With Donald Trump becoming President-Elect, there are many out there wondering what Apple will do with its massive foreign cash hoard should a repatriation holiday come. The company has already reduced its share count quite nicely thanks to the buyback, so I don't think rushing out and instantly buying another $50 billion or so is really needed.
Personally, I'd rather see the company target its dividend, especially with rising fixed income yields, as well as make small acquisitions that can help grow revenues. That's probably the best idea for long-term corporate success, which would be better for the stock rather than a one-time boost.
Disclosure: I/we have no positions in any stocks mentioned, and no plans to initiate any positions within the next 72 hours.
I wrote this article myself, and it expresses my own opinions. I am not receiving compensation for it (other than from Seeking Alpha). I have no business relationship with any company whose stock is mentioned in this article.
Additional disclosure: Investors are always reminded that before making any investment, you should do your own proper due diligence on any name directly or indirectly mentioned in this article. Investors should also consider seeking advice from a broker or financial adviser before making any investment decisions. Any material in this article should be considered general information, and not relied on as a formal investment recommendation.