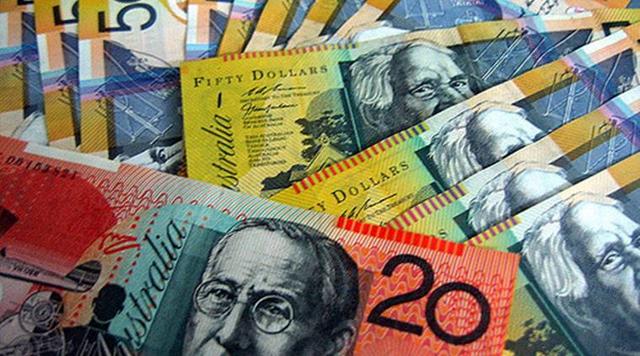 Click to enlarge
A quick look at CME Group's 30-Day Fed Fund futures prices reveals that a December rate rise is as close to a certainty as it could get. Following Janet Yellen's speech last week, the market has priced in a 95.4 percent chance of a hike at the FOMC meeting on December 14. This has caused the U.S. dollar (NYSEARCA:UUP) to surge and sent many of the world's major currencies on a steep decline. The one which we are focusing on today is the Australian dollar (NYSEARCA:FXA). Our long-time short target is at long last heading in the right direction. It finished the week at 73.3 U.S. cents, down 2.56 percent from 75.5 U.S. cents a week earlier.
Last week's decline brought the Australian dollar's post-Donald Trump U.S. election victory decline to a staggering a 5.8 percent. As you can see on the chart below from DailyFX, the Australian dollar rallied up to 77.74 U.S. cents in the run up to the election, but has sunk like a stone since.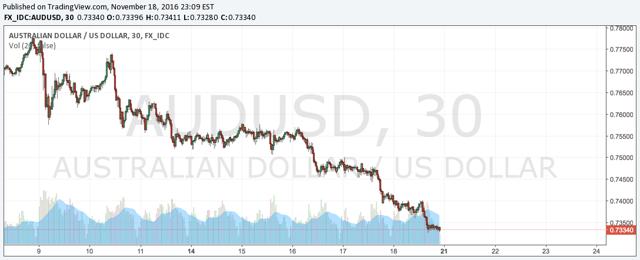 Click to enlarge
Sourced from DailyFX
The good news for short sellers is that we see this run continuing in the months ahead. A Trump presidency in our eyes is nothing but good for the U.S. dollar, especially with the proposed tax amnesty. Although not everyone agrees, with speculation that some of the estimated $2.6 trillion of international earnings is already denominated in U.S. dollars, we see the potential one-time tax amnesty as being a key catalyst to strengthening the U.S. dollar even further over the next 12 months.
In 2004, a similar initiative led to the repatriation of $300 billion of international earnings. The year after the amnesty the U.S. dollar went on to strengthen by 13 percent. Though, it is important to note that the Federal Reserve did raise rates that year and JPMorgan believes that the rate rises were the key to the strengthening that year. We would argue that it was the combination of the two events that led to the rise.
Although it is unclear how much of the $2.6 billion will be repatriated and how much is not in U.S. dollars already, we feel confident that it will be significantly more than last time around. Considering corporate profits have tripled since 2000, we fully expect to see this reflected in the amount of repatriated funds. Like in 2004, another boost to the U.S. dollar will be the promise of further rate rises. One is enough to give it a lift and the Australian dollar a hit, but unless the market is convinced that more are on the way, it is likely to give back those gains as quickly as it makes them.
But rather positively the market has started to price in a further rate rise in June. The current probability of a rise to between 75 and 100 bps in June stands at 43.1 percent, up slightly on the previous day.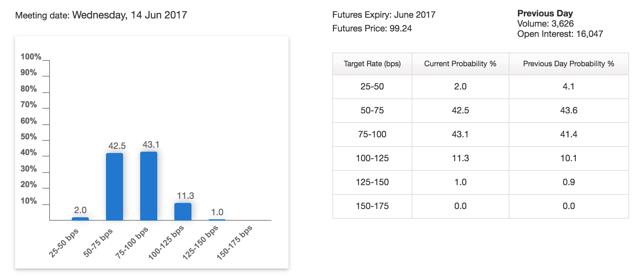 Click to enlarge
Sourced from CME Group
By September the probability of rates increasing to between 100 and 125 basis points stands at 24.4 percent. We personally believe that rates will rise much quicker than the market is pricing in and optimistically predict a minimum of three rate rises in 2017, on top of a hike in December. So all in all we believe the U.S. dollar is in a very strong position moving forward.
Which gives the little old Australian dollar very little chance of keeping its head above 70 U.S. cents in 2017 in our view. Especially with rates at the record low of 1.5 percent. Our fair value for the Australian dollar is around 70 U.S. cents at this point due to the iron ore price surging in recent weeks. But as that rally appears unsustainable and is showing signs of weakness now, we don't believe it will be long before it comes crashing down again. Especially as supply increases from Australian and Brazilian producers. Once iron ore drops to the more reasonable level of US$60 a tonne or under, our fair value for the Australian dollar will drop to around 65 U.S. cents.
So despite the steep drop in the Australian dollar since Trump was elected, we don't believe short sellers have missed out fully. Some of the gains may have gone now, but if the currency drops to 65 U.S. cents over the next 12 months as we predict, then traders will still see strong returns on their investment. At the current price, this equates to a return of more than 11 percent.
For the brave, there is the option of using the ProShares UltraShort Australian Dollar (NYSEARCA:CROC). This provides double the leverage of the FXA ETF, which would mean a return in excess of 22 percent should things go as planned. But please remember that double the gains also means double the losses should things go awry. So use leverage responsibly and with caution would be our advice.
Thanks for reading. Good luck with your trades!
Disclosure: I am/we are short FXA.
I wrote this article myself, and it expresses my own opinions. I am not receiving compensation for it (other than from Seeking Alpha). I have no business relationship with any company whose stock is mentioned in this article.
Additional disclosure: Long UUP