Everybody has their own take on markets. Us too. That said markets (NYSEARCA:SPY) (NASDAQ:QQQ) have a mind of their own as we all know. We want to know if the market agrees with us or not. We're going to give a key nearby price level that can help confirm if we're headed lower.
Quick History
On August 31st, we gave the following chart which helped get in front of the September 9th drop from the highs.
Here's the chart we showed at the time.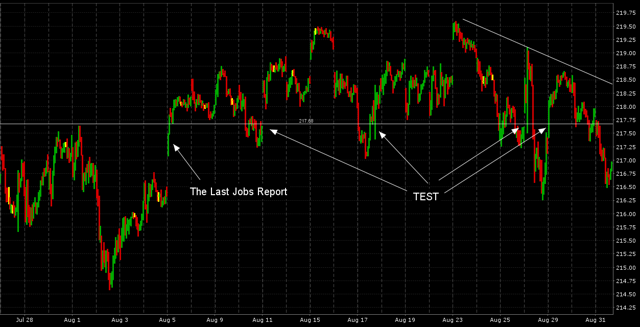 Click to enlarge
Source: Seeking Alpha August 31st.
Here's the view 9 days later.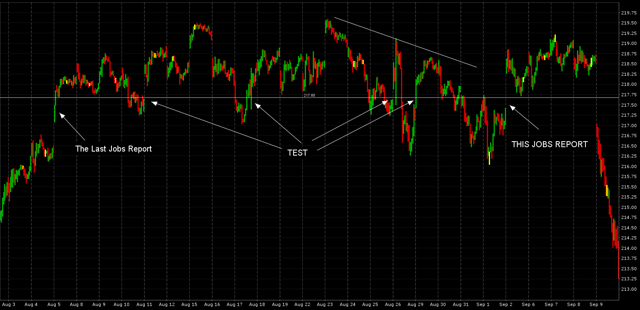 Click to enlarge
Source: Seeking Alpha September 11th
We were bearish but we wanted the market to agree. When we saw it breaking a key level, we found we took it to mean risk. The levels we choose typically have a lot of break-out and break-down history ("Key Action"). That's where people have traded. When the market picks a side, it can sometimes show you its early leaning using these points.
That's what we want to do for today's market.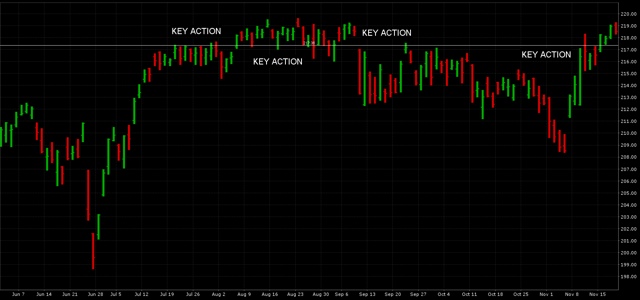 Click to enlarge
Source: Interactive Brokers
You can see above that the SPY price of about 217.50 was a key level. That's where the market either broke out, held, or broke down. Breaking through that level can confirm a bearish stance.
If you are bullish and want to wait, this is the level we'd watch. If you are bearish, this is the level we'd consider entering in a bigger way.
Fundamentals Matching Technicals
We think the market can break that key level. We think the combination of the bond market breaking down along with near-term US policy uncertainty are reasons enough to imagine a break of 217.50.
When the market agrees with the fundamental thought process, we can have confidence in our trade. A break of our line would mean to us that fundamentals and technicals are pointing down together.
Conclusion
We all have our own fundamental take. We want to see the market confirm that fundamental take. We think it will, but still, we want to see it. If we break 217.50, we'd guess there is further to go.
PRO TRADER: Price Rise December 1st. Free Two-week Trial
Get in before we raise rates 15% on December 1st.

Directional calls on stock market, stocks, gold, oil, bonds, currencies, indexes and more.

Click here for a free trial or send us a direct message to find out more.
If you want Elazar's analysis on Seeking Alpha, scroll to the top of the article and hit "Follow." Elazar also writes real-time pieces as news is reported. If you want to be among the first updated check the box for "Real-time alerts on this author" under "Follow."
Disclaimer: All investments have many risks and can lose principal in the short and long term. This article is for information purposes only. By reading this you agree, understand and accept that you take upon yourself all responsibility for all of your investment decisions and to do your own work and hold Elazar Advisors, LLC and their related parties harmless. Any trading strategy can lose money and any investor should understand the risks.
Disclosure: I/we have no positions in any stocks mentioned, and no plans to initiate any positions within the next 72 hours.
I wrote this article myself, and it expresses my own opinions. I am not receiving compensation for it (other than from Seeking Alpha). I have no business relationship with any company whose stock is mentioned in this article.