By Margarita Fernandez
"There is one day that is ours. Thanksgiving Day is the one day that is purely American." - O. Henry (author)
With the election thankfully behind us and the Standard & Poor's 500 Index up over 2% since then, investors are possibly at an even more challenging risk/reward crossroads than before. The resolution of a highly contentious election and rhetoric regarding possible pro-growth initiatives have proliferated in the media adding to stock market appreciation and rising bond market yields. Unknowns abound as we wait to see what actually transpires after the president-elect takes office; however, third-quarter earnings have taken place and "the results are in the can". The third quarter did mark the return to positive earnings growth on a year-over-year basis for the aggregate index since the first quarter of 2015 with a 2.9% increase. Below is a FactSet chart showing the economic sector breakdown of earnings growth rates as of last week: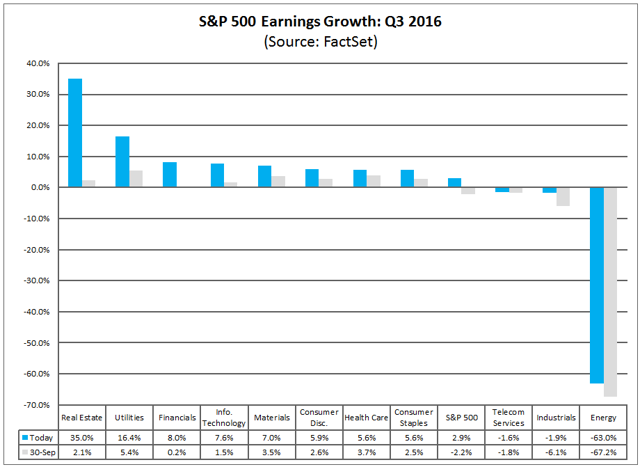 Real Estate and Utilities had the highest growth in earnings for the third quarter although overall stock prices moved in the opposite direction. Bond yields, which had been inching up in the second half of the year, took a sizeable leap once the election concluded and "bond proxy" stocks fell out of favor. Energy continued as the main detractor for earnings growth in the index, albeit at a reduced rate. If you consider, however, that the stock market is anticipatory, the current S&P 500 earnings growth estimate is for an 11.4% earnings expansion for 2017 - with Energy leading the pack on easy comparisons, and Real Estate and Utilities bringing up the rear. As we know, the earnings growth estimate will undoubtedly change over time - at the end of September, that number was +13% (FactSet), a downward adjustment even before we got to sing the Auld Lang Syne song!
One thing we do know with some certainty is that there are policy changes on the way in 2017. How much of an effect these are having on current analysts' estimates is difficult to determine, but it seems unlikely that any uninitiated policies have been baked into forecasts as yet. Although there has been much conjecture on what initial changes will be enacted and their timing, at this stage, it is all supposition as Joe Calhoun pointed out in his recent writings. Historically, we have seen that candidates often make statements during the pre-election period that cannot be executed once elected. So, at this juncture, we may only speculate on which of president-elect Trump's programs will take fruit and what the final effects on the country - and on U.S. corporate profitability, will be.
When it comes to profits, however, the lines between speculation and forecasting can sometimes become blurred since investors should pay attention to forward earnings expectations. In this light, some of the incoming administration's stated policies do appear favorable for domestic enterprises. The possibility of regulatory relaxation may benefit small business formation and financial firms, but currently these are just that - possibilities. Infrastructure and defense spending should benefit some economic sectors, most specifically Industrials, but there is usually an offset either in a higher deficit or at the expense of other programs. Simplifying the tax code by reducing the rate to a competitive global level and eliminating most loopholes should be favorable on net income for most companies across capitalization sectors.
Allowing for a one-time repatriation rate of 10% on funds held abroad would permit some multinationals to implement additional shareholder-friendly strategies in the form of increased dividend rates, one-time special dividends or buybacks. Importantly, some may choose to invest those funds in their businesses. Estimates on profits held abroad are for over $2 trillion. Furthermore, research and development business credits would not be eliminated under the current plan. In the last few years, we have seen a dearth of capital investment from many industries and a turnaround in that trend should benefit earnings growth - all else being equal (which it seldom is). Protectionist policies if implemented could act as a countermeasure as the flow of people, goods and capital across boundaries is usually pro-growth. Will making our tax rate environment more attractive to companies be offset by trade tariffs which will most likely be reciprocated? Too early to tell on any of these issues or whether they will even become issues.
In the meanwhile, I am grateful for positive earnings growth - finally.
Enjoy our upcoming American Holiday (which embraces all political divides) and Happy Thanksgiving wishes from all of us at Alhambra!
Disclosure: None