A few days ago, the Russian central bank released its gold reserve data and it raised our eyebrows.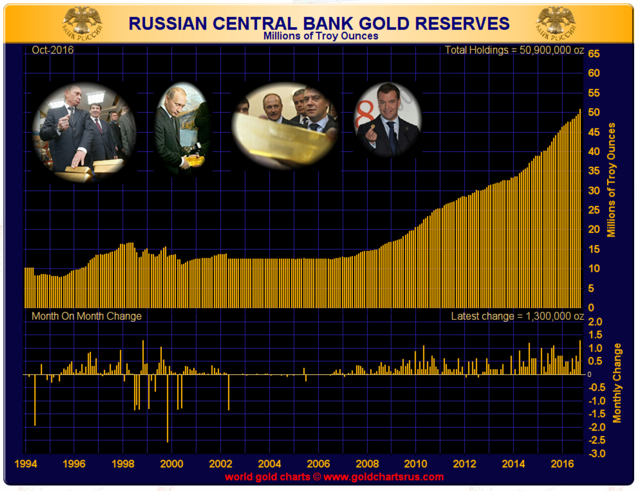 Source: Gold Chartsrus
During the month of October, Russia added 1.4 million ounces of gold to its reserves or around 48 tonnes of gold. According to the World Gold Council, the world mines around 3,200 tonnes of gold per year, these 48 tonnes were around 1.5% of total newly mined gold. That is a significant amount to purchase for ONE country in ONE month.
The second thing that stands out about this purchase is the comparative size based on prior purchases by the Russian central bank. These 1.4 million ounces where the largest purchase since … 1998! That is saying quite a bit considering that Russia has been a significant gold buyer since 2008 - we would have expected larger purchases before during the last eight years of gold buying.
Why the Large Purchase Now?
We would remind investors that this large purchase was made last month and the biggest geo-political event was the US presidential campaigning. Not only was this a big geopolitical event, but Russia was front and center stage quite a bit leading up to the elections as barbs from both candidates were hurled and Russia was demonized primarily from the Clinton side.
What we believe was going on with these large purchases of gold was that the Russian government wanted to hedge a Clinton victory (which would be negative for Russian-US relations) by selling US dollars and purchasing gold. Gold has always been a competitor to the US dollar, and if the US-Russian relationship would sour further under the Clinton administration, then Russia probably didn't want to hold extra dollars and indirectly support the financial hegemony of the United States.
Takeaways for Gold Investors
If we are correct in our analysis of the reasoning behind this massive Russian purchase, then we would Russia to dial back its gold purchases significantly in November because the Trump administration has said that it wants to have a positive relationship with Russia. For gold investors that would mean this is a one-off gold buying event, and while we expect Russia to continue buying gold we do not expect it to be in this volume. That is if we are right.
If Russia is doing this not to weaken an aggressive US presidency, then we would guess that their reasoning in purchasing so much gold so fast is to hedge/replace their bond holdings. It would be a logical move as bond yields rising lower the value of existing bond-holdings - and Russia holds a lot of bonds. With the massive rise in bond yields in November, we would expect Russia to purchase even MORE gold in November.
So we think next month's report on Russian gold holdings will be much more important than many of these past reports as it will give us some insight into what the Russian mindset it towards gold and the financial in general. If they purchase much less gold in November despite lower gold prices then it means that this was all a political move based on a Hilary Clinton administration taking power, and thus this event would signal less purchases by Russia moving forward (assuming Trump warms US-Russian relations) and thus is slightly gold negative.
But if we continue to see this large buying from Russia moving forward, then this was about putting central bank assets into gold as an alternative to bonds and to avoid some of the bloodbath that bond investors are seeing right now as yields are rising. If that is the case, then this event is extremely positive for gold, the gold ETFs (NYSEARCA:GLD), and gold miners as a buyer buying 48 tonnes per month of gold would soak a little over 500 tonnes per year or almost 20% of all newly mined gold. From one buyer…
This could also signal buying from other central banks as Russia is a large enough central bank to warrant other central banks following in their footsteps. Additionally, the move is quite logical as it does protect against rising bond yields and provides an asset that protects against inflation.
We wish we had a crystal ball to see into next month's report but unfortunately we do not. One thing is for certain, next month's report of Russian gold holdings will be extremely important and we advise gold investors to pay particularly close attention to it.
Disclosure: I am/we are long SGOL.
I wrote this article myself, and it expresses my own opinions. I am not receiving compensation for it (other than from Seeking Alpha). I have no business relationship with any company whose stock is mentioned in this article.