Eldorado Gold Corporation (NYSE:EGO)
This article follows my preceding article on Eldorado Gold published on November 1, 2015.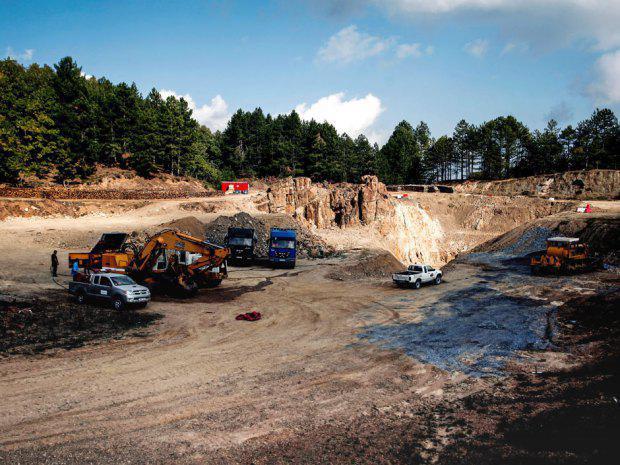 Image: The Skouries mine in Northern Greece, from Reuters.
The Skouries project is one of the most important investments in Greece, involving roughly 2,000 employees and numerous local companies. The Skouries mine.
[I] News last week.
On November 18, 2016, we learned from Reuters the following:
A source at the energy ministry said that Greece approved Eldorado's amended plan to build an enrichment plant in Skouries earlier this month.

Asked about suggestions that the government has changed its stance towards the investment, the source said: "Nothing has changed in our policy".

"If we hadn't approved this license, the company would have taken the case to the (country's top administrative court) Council of State."

Eldorado still needs a town planning permit for the Skouries plant, the source added.
[II] A little history of the case.
On August 20, 2015, Eldorado Gold confirms that it has been aware of the notification from Greece's Ministry of Energy suspending the technical studies pertaining to the Skouries and Olympias projects in Halkidiki, Northern Greece.
M. Paul Wright, CEO, said:
...We will once more take legal action against a decision of the Ministry in order to safeguard the rights of Eldorado , Hellas Gold, our Greek employees and the communities and stakeholders that support our projects in Halkidiki. At this time, work at all our Halkidiki operations and projects continues as normal; however, Hellas Gold may be forced to suspend all its mining and development activities in Halkidiki due to this rash decision by the Ministry of Energy.
On September 1, 2015, EGO had to stop temporarily its mining activities at Skouries and part of its operations in Olympiada, Greece.
Eldorado has suspended its operations at the mine and put most of its 1,300 workers on temporary redundancy.
On September 25, 2015, Greece's newly appointed government will meet Canada's Eldorado Gold next week to discuss the closure of its Greek gold mine, Energy Minister Panos Skourletis said. EGO is still hopeful a new agreement will be signed and the mine will resume its work.
On October 5, 2015, Eldorado Gold announced:
The Greece's Council of State - the country's Supreme Court on administrative and environmental matters - has issued an injunction relief #299/2015 in favour of the Labour Center of Halkidiki and the Labour Unions representing the workers of Hellas Gold S.A . - a subsidiary of Eldorado in Greece .

The injunction relief temporarily revokes the decisions of Greece's Ministry of Energy and Environment, which forced Hellas Gold to suspend its activities in Halkidiki in August (as described in Eldorado's press releases dated August 19 and August 20, 2015 ).
Paul N. Wright , Chief Executive Officer of Eldorado , commented:
We will resume our mining and construction activities in Halkidiki and bring our employees and contractors back to work, effective immediately. Furthermore, we will continue to engage in constructive dialogue with the Ministry of Energy with a view to addressing any concerns the Ministry might have.
Finally, January 11, 2016, M. Paul N. Wright released the following:
A building permit, that would allow Hellas Gold to complete the construction of the Skouries processing plant, has been delayed for over three years. Hellas Gold is presently unable to complete its development plans in Halkidiki as a result of the actions and/or inactions of the Ministry and other agencies regarding the timely issuance of routine permits and licenses, which is not only a legal responsibility, but also a contractual obligation of the Greek State.
On February 25, 2016, Eldorado announced that:
confirms that as a result of ruling #219/2016 from the Council of State, Greece's Supreme Court on administrative and environmental matters, Hellas Gold, a Greek subsidiary of Eldorado, has received the building permit for the Skouries processing plant (see Eldorado news release dated March 2, 2015). This permit was issued by the Planning Office of the Aristotle Municipality in Halkidiki, Northern Greece. The Skouries Project, however, remains on care and maintenance as the Company awaits the timely issuance of pending routine permits and licenses, which are necessary for the project to recommence.
On September 7, 2016, Eldorado gold released an update about Skouries:
Greece: Skouries

Decision to develop Skouries in a two phased approach.
[III] A little about the mine:
The Skouries Cu/Au mine, requires a total of $1.17 billion in CapEx, with production expected in 2019.
Skourie has Proven and Probable reserves of 3.7 Moz of gold and 767 KT Cu.
The development of Skouries mine will be done in two phases (see above).
Phase 1: (2019-2027) Combination of open pit and underground mining over 9 years, producing a total of 1.4 million ounces of gold and 620 million pounds of copper at average cash operating costs of -$225 per ounce of gold due to copper by-product credits. Development capital over the Phase 1 is budgeted at $710 million and includes all mine development and process facilities.
Phase 2: (2028-2042) Involves underground mining for a 15-year period once Phase 1 is complete. Total production during this phase is expected to be 1.7 million ounces of gold and 850 million pounds of copper at average cash operating costs of $165 per ounce of gold due to copper by-product credits. Development capital during Phase 2 is budgeted at approximately $460 million.
Commentary:
This is a significant milestone in this Greek drama, and judging by the comment we can still notice some negativity on the Greek government side.
Eldorado Gold has been struggling the new Greek government since last year, and was almost ready to drop the whole project last year.
With this permit, the company is now a step closer to completion which has been pushed to 2019, unfortunately. The work now at Skouries is well in progress and recently, M. Paul Skayman, COO, said in the 3Q'16 conference call:
At Skouries, we continue to work on earthworks, building erection and site clearing. This includes preparation works for the stockpile embankment and preparations for the - tile thickening area retaining well.
On the one hand, M. Paul Wright, CEO, said in the 3Q'16 conference call that EGO will receive a cash proceeds of $823 million and will have a liquidity of over $1.2 billion, after the Chinese assets sale will be completed at the end of 2016. EGO received proceeds of $296 million from the sale of Jinfeng mine on 3Q'16, already.
Paul Wright said in the conference call:
It leads me to the question of where we're going to spend these funds, to bring on our next phase of growth. We did present our plans for our assets with the emphasis on Olympias Phase II, Skouries development, Kişladağ expansion and Tocantinzinho project during our inaugural Investor and Analyst Day in September.
Looking at the Gold production per mine in 3Q'16, it is obvious that gold production will go down significantly, when the three Chinese producing mines will be removed. See for yourself.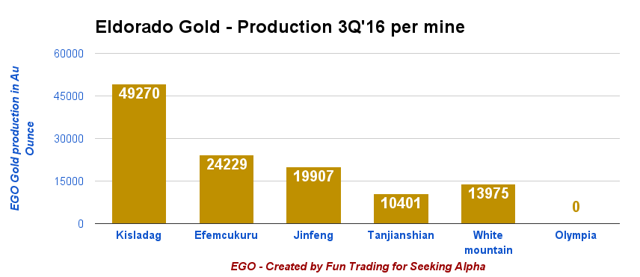 Click to enlarge
Country
Mine

3Q'16 Oz

2Q'16 Oz

1Q'16 Oz

4Q'15 Oz

3Q'15 Oz

2Q'15 Oz

1Q'15 Oz

4Q'14

Oz

Turkey
Kişladağ
49,270
49,924
52,376
64,574
69,672
67,778
79,256
-
Efemcukuru
24,229
23,406
27,516
24,434
27,123
27,705
21,220
-
China
Tanjianshan
10,401
13,900
14,053
16,808
29,055
25,074
26,626
-
Jinfeng Mine
19,907
22,353
25,935
36,707
38,028
38,234
36,686
-
White mountain
13,975
14,527
18,335
22,231
16,359
18,683
20,883
-
Greece
Olympias
0
0
2,774
4,978
2,989
3,686
4,743
-
TOTAL
117,782
124,110
140,989
169,732
183,226
181,160
189,414
199,572
Note: M. Paul Wright, CEO, said in the conference call that the company expects a higher production at Kişladağ mine to the level of 4Q'15, which was 64,574 Oz, this is almost 25% increase in production. The forecast for the 4Q'16 is even higher with 75k Oz. This is important because the company will be left with only two producing mines in Turkey until Olympia starts to kick in. However, I doubt these numbers will be reached because the mine clearly underperformed in 3Q'16.
Conclusion:
This EGO gold production "transition period," coupled with the actual weakness in the gold price, is certainly not making my task easier about a good investment strategy in this gold miner for the future.
The company will have a solid cash position and no net debt, which is impressive. However, production will be dismal and limited to the Turkey assets which is risky.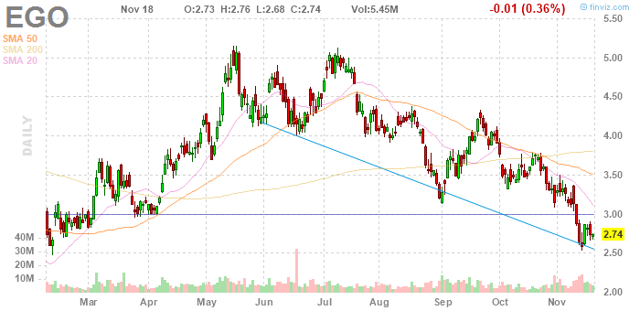 Click to enlarge
The recent drop in the gold price due to Trump's effect will probably continue in December, especially, if the Fed raises the interest rates, which will boost the dollar and weaken gold below $1,200.
This situation had already a substantial negative effect on the stock price, and I believe it is time to look seriously at EGO, as a long investment again.
I find the valuation attractive right now. Thus, I recommend a slow accumulation between $2.25 and $2.75.
Important note: Do not forget to follow me on the gold miners. Thank you for your support.
Disclosure: I/we have no positions in any stocks mentioned, but may initiate a long position in EGO over the next 72 hours.
I wrote this article myself, and it expresses my own opinions. I am not receiving compensation for it (other than from Seeking Alpha). I have no business relationship with any company whose stock is mentioned in this article.