In my unrelenting search for great dividend opportunities, I discard dozens of companies that don't have the financial wherewithal or economic strength to support their scheduled distributions. But every once in a while, my research turns up an opportunity I just have to share with you. Today, it's ONEOK Partners, L.P. (NYSE:OKS).
In this article, we're going to cover the fundamentals of the opportunity's business, the history of their performance, and what a few insiders and smart money are doing in the marketplace for this trading issue.
This is an ideal opportunity to lock-in a 7.6% yield for the long term.
Oklahoma: Shale Oil Heavyweight
ONEOK Partners, L.P.'s pipeline assets are circled in red.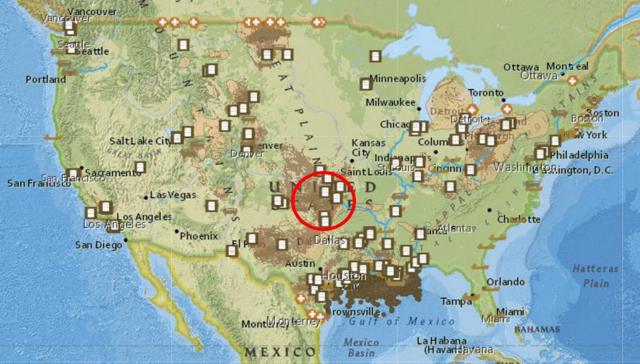 Click to enlarge
This map displays the nation's tight and shale oil plays. Besides the oil, these formations tend to contain large volumes of natural gas. Circled in red is the area where ONEOK Partners, LP owns natural gas and natural gas liquids pipelines and storage facilities. Natural gas liquid is more valuable than dry gas, not least because it can be more efficiently transported.
ONEOK Partners L.P.'s Profit Stream & Moat
The following is a map of the company's pipeline assets: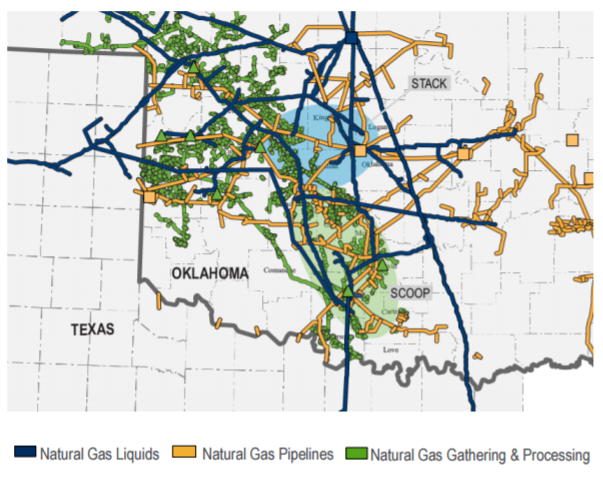 Source: ONEOK Partners L.P. Q3 2016 Presentation
ONEOK Partners L.P. overwhelmingly earns money as a toll collector for the transport of natural gas liquids. Over 100 third-party plant connections between the pipeline and natural gas producers mean the company assets are in good operating position.
ONEOK Partners L.P.'s long history of operations in the area span over 20 years of service and represent a great form of branding. The long-established relationships with processors and outlets, not to mention the costly and difficult to duplicate infrastructure, form a powerful economic moat for the company.
For the investor, ONEOK Partners L.P. has paid a dividend each and every quarter since 1994, which is as far back as my data goes.
Today, the quarterly distribution is $.79 making for an expected yield of 7.6% at today's unit price of $41.17. Being a partnership, this company's dividend will be taxed partly as long-term capital gains and otherwise as ordinary income. Unitholders of the company will receive a K-1 for tax purposes.
A brief note. ONEOK Partners, L.P. has a general partner with a similar market capitalization called ONEOK Inc. (NYSE:OKE). I'm spotlighting the limited partnership today because the unit price has historically shown less fearful declines in trading price than the general partner's share price, and, the yield is higher at the L.P.
Investors in the top tax brackets may prefer to invest in the general partnership.
The following graphic displays the % drop from recent 5-year highs each company hit: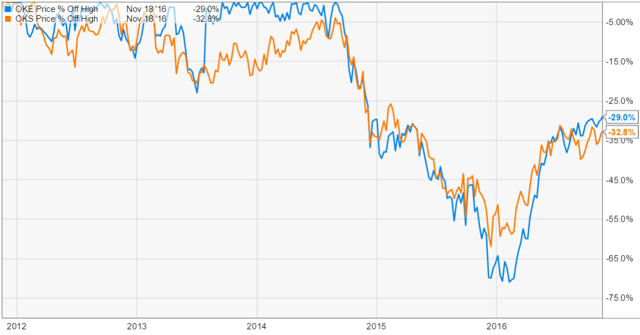 Click to enlarge
Source: Faloh Investment
Who's Doing What With These Pipes?
Two insiders have been active in the company's units market this year. During March of this year, VP & Chief Accounting Officer Sheppard F. Miers, III picked up 6,400 shares at a cost of $201k, expanding his position nearly fourfold. Policy Committee Member John William Gibson picked up 5,000 shares in September. Mr. Gibson now directly owns 105,000 shares.
In a recent report of transactions taking place during the third quarter, it was revealed a certain smart money player, you may recognize the name of one Mr. T. Boone Pickens, established a 144,305 share position at an average unit price of $39.95.
Mr. Pickens has long been renowned for making a large fortune in the oil business. He also spends a lot of time in Oklahoma where he can keep a close eye on the energy industry there. ONEOK Partners L.P. is among the larger positions he has established during the trailing twelve months, indicating his strong confidence in this investment's prospects.
Takeaway
When it comes to natural gas production, Oklahoma is a very active place. The state hosts producing wells, ample geological features yet to be tapped, along with many gathering and processing hubs for the product.
ONEOK Partners, L.P.'s long history of successful operations and stable dividends are a valuable track record of success. The long enduring operations and difficult to duplicate assets form branding and economic moats for the company.
Importantly, there is room for growth, and in the 4th quarter report, a significant amount of additional profitable revenues will become evident as a new, OKS pipeline-connected natural gas processing plant Bear Creek in Dunn County, Wisconsin has just come online. This plant is especially valuable as new natural gas production in the Bakken Fields of the Williston Basin flows south and through ONEOK pipeline facilities.
In my opinion, ONEOK Partners, L.P. is a long-term survivor and a great buy for income investors. At today's price, its reliable yield offers a 7.6% annual return on invested capital.
Additional Disclosure: This article represents the opinion of the author as of the date of this article. This article is based upon information reasonably available to the author and obtained from public sources that the author believes are reliable. However, the author does not guarantee the accuracy or completeness of this article. It is merely the author's interpretation of the information contained in the article. The author may close his investment position at any point in time without providing notice. The author encourages all readers to do their own due diligence. This is not a recommendation to buy or sell a security.
Please click the + icon next to my user name and follow me, Faloh Investment, as I work to keep you informed on further developments in the world of dividend stocks.
Disclosure: I/we have no positions in any stocks mentioned, but may initiate a long position in OKS over the next 72 hours.
I wrote this article myself, and it expresses my own opinions. I am not receiving compensation for it (other than from Seeking Alpha). I have no business relationship with any company whose stock is mentioned in this article.