It finally seems highly likely that the Fed will raise interest rates next month. News outlets are reporting that the markets are pricing in above a 90% chance of a December 14 rate hike of 25 basis points. A rate hike next month seems so likely that speculation is now turning to how many rate hikes will occur in 2017, particularly since the new administration is widely expected to push economic growth.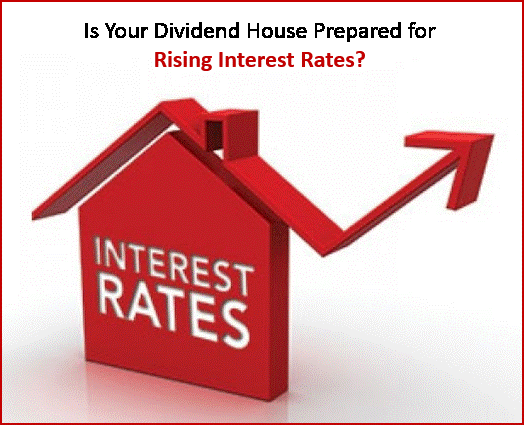 While I am certainly aware of this macroeconomic backdrop, I was blissfully following my DGI retirement plan without a second thought. Lucky for me, Paper_stax - a commenter on my last article - jolted me out of my reverie with the below comment (You can find our entire conversation starting here).
I noticed that at least 45% of your portfolio is in interest rate sensitive sectors and no financials to counter it. Do you have any concerns with future interest rate hikes? I'm currently around 18% and I'm somewhat concerned.
Good question! My DGI retirement portfolio was constructed in the context of a falling interest rate environment. Now that this is changing, should I be thinking about revising the Dividend House portfolio's construction guidelines?
This article describes more fully how I am currently thinking about interest rate sensitivity and DGI portfolio construction. I also share what this means for my own portfolio.
When Is A Sector Considered To Be Interest Rate Sensitive?
Just what does it mean when we say that a sector is interest rate sensitive? On the negative side, it means that when interest rates go up, the price of stocks in a specific sector tend to go down. To determine which sectors have this inverse relationship, analysts typically chart the yield of 10-year U.S. Treasury notes against the P/E ratios of stocks in a specific sector.
Let's take the utility sector as an example. Below is a chart that illustrates the inverse relationship between 10-year U.S. Treasury Notes and utilities sector P/E ratios: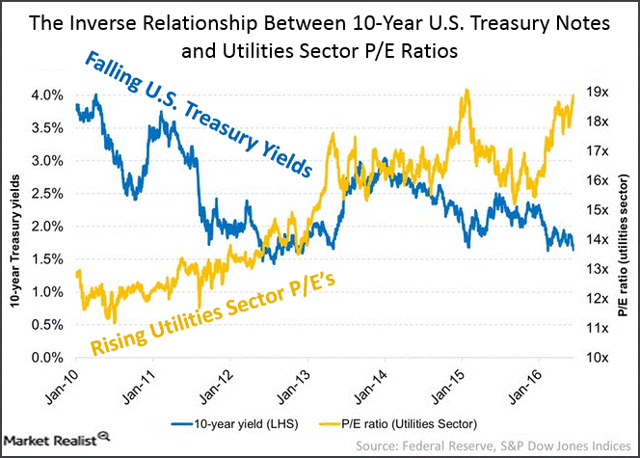 As the chart shows, from January 2010 to January 2016, as 10-year U.S. Treasury yields (the blue line) went down, utilities sector P/E ratios (the yellow line) went up. According to this analyst (whose article is found here), since the financial crisis, the movement in 10-year Treasury Notes explains 65% of the price movement in the utilities sector. Since December 2015, the same analyst says that the correlation has increased to 80%.
Uh oh. If 10-year U.S. Treasury yields explain between 65% and 80% of utilities stock prices, then as their yields go up, we can expect utilities stock prices to go down. In fact, we are already seeing prices for utilities stocks drop as the market anticipates the expected December Fed rate hike.
Which Sectors Are Interest Rate Sensitive?
As we discussed above, the poster child for an interest rate sensitive sector is utilities. But what other sectors are negatively impacted by rising interest rates? Using similar methodologies, most analysts agree that utilities, REITs, telcos, MLPs, and high-yielding blue chips in consumer staples and healthcare tend to be hardest hit when rates rise (Although the chart below doesn't break out telcos, REITs or MLPs, much is written about their negative correlation with interest rates).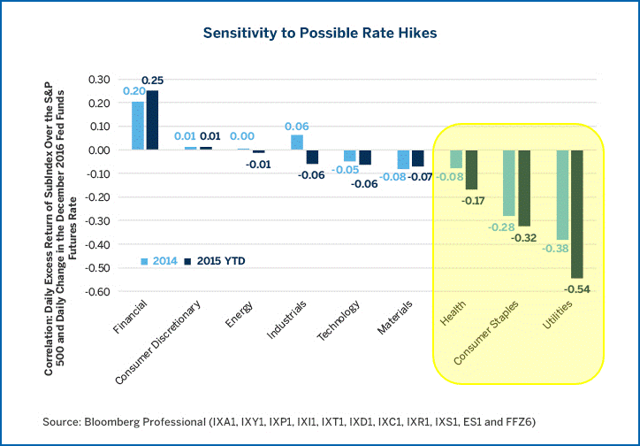 But why are these sectors negatively impacted by interest rates? Investors tend to invest in higher-paying dividend stocks for income. As interest rates rise, bonds are viewed as a safer income-producing investment. This places bonds in competition with dividend-paying stocks for investors' funds. This competition for investor money tends to drive down the price of dividend-paying stocks, particularly among utilities, telcos, REITs, MLPs, and blue chip dividend payers, such as consumer staples and healthcare.
When Should I Care About Interest Rate Sensitive Sectors?
So, what does all this mean for my portfolio? Below is a table of my investments in each sector. Since I view investing in biotech stocks as speculative, I break them out from traditional healthcare companies. And, since MLPs are particularly interest rate sensitive, for this article, I have broken them out from my other energy holdings.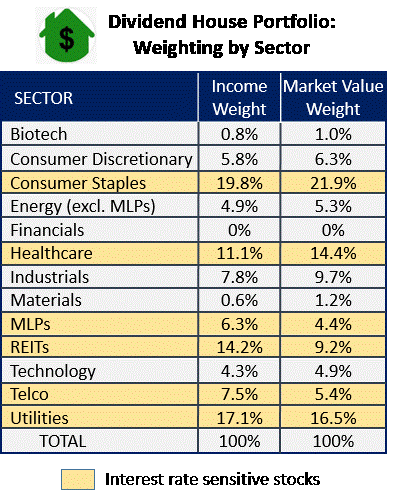 The potentially disturbing news is that Paper_stax had a point. If you add up my positions in utilities, telcos, REITs, MLPs, consumer staples and healthcare, you find that these stocks represent 72% of my portfolio's market value and generate 76% of my portfolio's income! But how much should this worry me?
After all, the better part of my portfolio's investment in interest rate sensitive stocks is actually by design! You see, I have a portfolio goal that my investment in defensive sectors (i.e., utilities, telcos, consumer staples and healthcare) comprise at least 50% of my portfolio's market value and income (In fact, I am contemplating moving that target closer to 60%!). But all of these defensive sectors also happen to be interest rate sensitive sectors.
Is my portfolio construction guideline to invest so heavily in defensive sectors misguided?
For our portfolio, I don't think so. Let me explain why. My husband and I plan to never sell a single share of stock to fund our retirement. Instead, we plan to rely on our Dividend House retirement portfolio to provide us with a stable and growing income year after year that covers all of our expenses.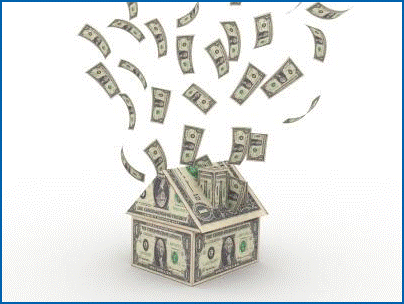 Sure, it will be nice if capital appreciation occurs. But we aren't planning to rely on it to fund our retirement because we are only planning to use the income cast off by our Dividend House portfolio. So, in some sense, as long as our dividend income stream grows continuously, it really doesn't matter at what prices our stocks are trading.
Which of my interest rate sensitive dividend streams are most at risk in a rising interest rate environment?
But what about the fact that when interest rates go up, it costs companies more to borrow funds to run their operations? Could this impair company performance to the point that a dividend income stream is at risk?
Frankly, I'm not worried about my high-quality stocks in utilities, telcos, consumer staples and healthcare on that score. I have hand-selected companies like Consolidated Edison (NYSE:ED), AT&T (NYSE:T), Kimberly-Clark (NYSE:KMB), Coca-Cola (NYSE:KO), and Johnson & Johnson (NYSE:JNJ) because they have proven they can succeed in good times and bad.
But my investments in REITs and MLPs are a different story. Unlike "regular" corporations, REITs and MLPs return almost all of their income to their investors every year. As a result, when they need to fund business growth, REITs and MLPs don't have any funds held in reserve!
Instead, they must go to the debt and equity markets in order to fund their capital projects. As an income-oriented investor, I want my REITs and MLPs growing their businesses and, thus, their income streams. So, in theory, I want them going to the debt and equity markets on a regular basis. But, in a rising interest rate environment, this isn't always easy.
Here's what Valuentum has to say about REITs:
"Though a REIT's operating cash flow may be robust, the lack of a cash cushion on the balance sheet and the massive debt required to purchase and develop new properties result in a precarious financial position relative to a corporate, for example, with a significant balance-sheet net cash position and minimum capital obligations."
In other words, REIT financial models are inherently riskier than "regular" corporations. This reality already had me capping my investment in REITs at 15% or less (Today, REITs generate 14.2% of my portfolio's income and comprise 9.2% of my portfolio's market value).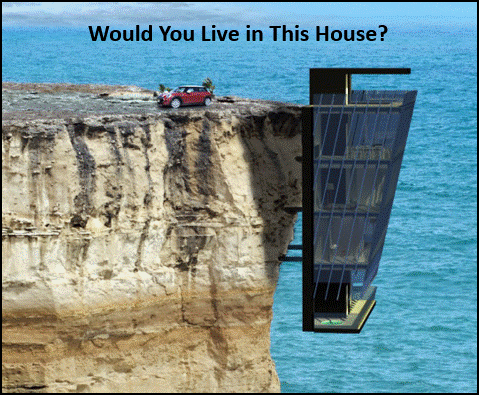 If my foray into "precarious" financial models ended there, I would probably be comfortable. However, I also own energy MLPs - a different type of "risky" financial model. Valuentum does not invest in individual MLPs in its portfolios, deeming them too perilous. Here's its explanation:
"We're sticking with companies that have organically-derived dividends, ones that are actually paid out of traditional measures of free cash flow, not the MLP industry's measure of distributable cash flow, which we believe is in part funded through equity and debt issuance."
Uh oh. That's even worse than the REIT model! According to Valuentum, too many MLPs need access to debt and equity markets just to maintain their distributions, much less grow them. At least REITs typically need access to capital markets only to grow their payouts!
Right now, MLPs generate 6.3% of my portfolio's income and comprise 4.4% of my portfolio's market value. Together, MLPs and REITs generate 20.5% of my portfolio's income and comprise 13.6% of my portfolio's market value. I certainly don't want to go higher than this!
Conclusion
As a result of this analysis, I've decided to cap the combined REIT and MLP portion of my portfolio at 20%. I'm keeping my REIT cap at 15% and adding an MLP cap of 5%. I don't plan to add investments in either area in the short term.
Since my husband and I are both still working and adding to our DGI retirement portfolio, my goal will be to grow our portfolio around our REITs and MLPs so that they comprise a smaller percentage of our portfolio over time. Concurrently, I will continue to evaluate whether a 20% level is still too high for my comfort and if I need to actively sell MLP and/or REIT positions in order to lower it.
Conversely, even though they are also deemed to be interest rate sensitive, I intend to focus on adding to my defensive sectors, including consumer staples, utilities, telco, and healthcare on price weakness.
Finally, even with their positive correlation with interest rate hikes, I have no plans to get back into financials. I have decided that it's ok not to be invested in every sector of the S&P (I plan to get out of materials one day as well!).
I hope this article helps you think about the role interest rate sensitivity plays in your retirement portfolio and what this may mean for your future investing approach.
I would love to hear from you! Have you considered capping the amount of interest rate sensitive stocks in your portfolio? Which interest rate sensitive sectors are you the most concerned about? Or, are you diving more heavily into financials now that interest rates will likely be rising? What do you think about my decision to continue to add to my defensive sectors? What do you think about my caps on investing in REITs and MLPs?
Disclosure: I am/we are long ABBV, ABT, AMGN, AVA, BBL, BMY, CAH, CBRL, CCP, CLX, CMCSA, COP, CVX, D, DEO, DLR, DUK, ED, EMR, EPD, GE, GILD, GIS, HCP, IBM, JNJ, KHC, KMB, KMI, KO, LMT, LNT, MCD, MMM, MMP, MO, MRK, MSFT, NEE, NOK, O, OHI, OMI, PEP, PFE, PG, PM, SCG, SEP, SO, SYY, T, TUP, UL, UPS, VTR, VZ, WEC, WMT, WPC, XEL, XOM, ZBH.
I wrote this article myself, and it expresses my own opinions. I am not receiving compensation for it (other than from Seeking Alpha). I have no business relationship with any company whose stock is mentioned in this article.