In a previous article, I recommended that investors avoid Intel Corporation (NASDAQ:INTC) as a potential investment due to a lack of growth in free cash flow.
Over the past two months, we have seen the stock continue to oscillate at around its fair value of $36: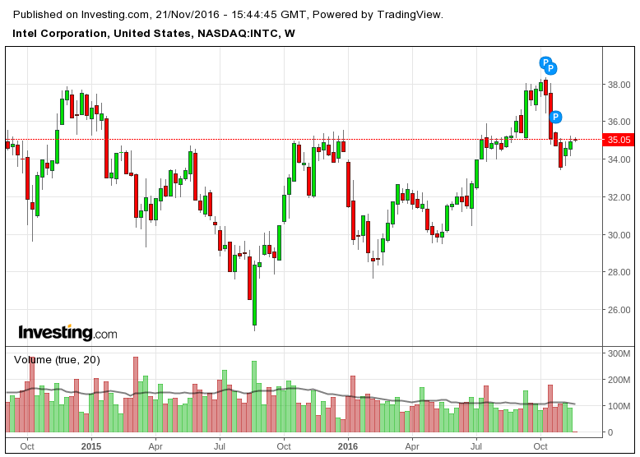 Click to enlarge
The most fundamental thing about Intel is that it is a prime example of a company who has seen its glory days - and is now trying to reinvent itself. As a result, the company is entering uncharted waters in terms of its product line. For instance, Intel's investment of $250m into developing self-driving car technology is somewhat of a gamble on the company's part. While there will be demand by car companies for such intelligence and connectivity services as they seek to advance self-driving vehicles, this can only flourish long-term if self-driving cars can indeed be commercialized.
As another example, when we look more broadly at Intel's Data Center segment, the company's attempts to grow its capabilities in AI and cloud computing has been met with optimism but also skepticism.
For instance, while Intel's development of chip-scale silicon photonics is expected to greatly increase the speed of cloud data centers through increasing rate of communications between silicon chips, such technology is unlikely to be commercialized until five years' time.
Moreover, there is speculation that Intel could be late to the game since Nvidia (NASDAQ:NVDA) is regarded as a leader in graphics processing chips for machine learning tasks - with sales having increased by 54 percent to $2 billion year on year.
Given the investment required by Intel to compete effectively on such initiatives, it is natural to expect that free cash flow growth will remain somewhat stunted as capital expenditure continues to rise. For instance, we see that additions to property, plant and equipment is up by double that of Q3 2015: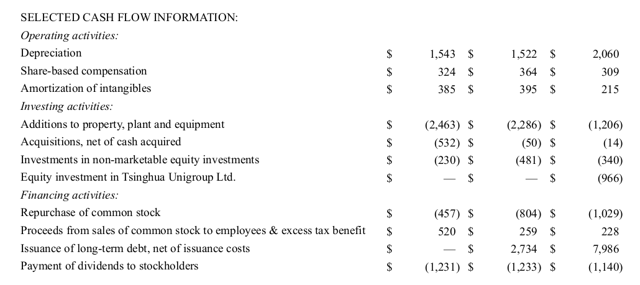 Click to enlarge
Source: Intel Earnings Release Q3 2016
Therefore, would it be wise for an Intel bull to jump in at this point? I would say not. The fact remains that much of Intel's technology remains unproven at this point in time. While the company certainly shows promise, Intel is not cheap by any means, with its P/E ratio and P/FCF ratio trading significantly above its five-year lows: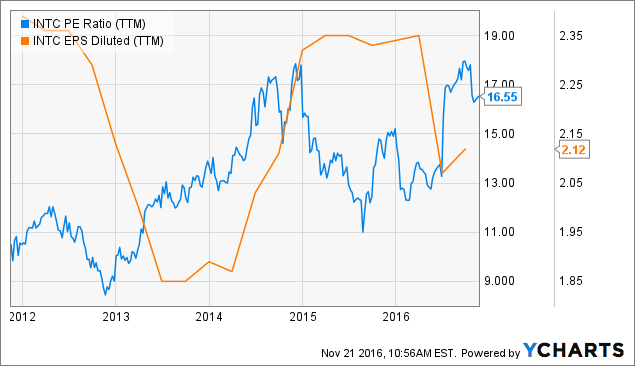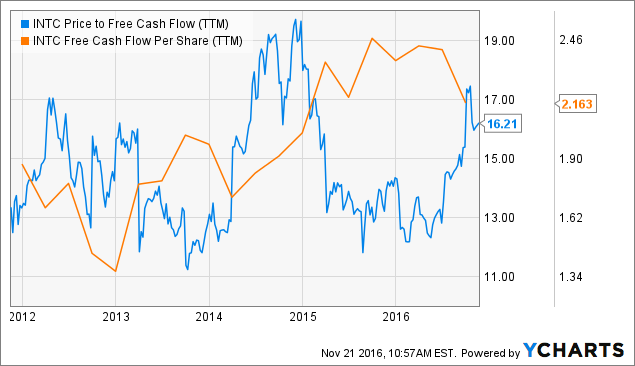 Ultimately, Intel is a work in progress. While the company is investing significantly to reinvent itself, this is likely to be a long process. Therefore, I would only be inclined to invest in this company once the company's efforts are beginning to bear fruit commercially and we see an uptick in earnings and free cash flow.
Disclosure: I/we have no positions in any stocks mentioned, and no plans to initiate any positions within the next 72 hours.
I wrote this article myself, and it expresses my own opinions. I am not receiving compensation for it (other than from Seeking Alpha). I have no business relationship with any company whose stock is mentioned in this article.