It was just announced today that Sunoco Logistics Partners (NYSE:SXL) and Energy Transfer Partners (NYSE:ETP) have entered into a merger agreement providing for the acquisition of ETP by SXL in a share-for-share transaction. The transaction was approved by the boards of directors of both companies and is expected to close in the first quarter of 2017 subject to receipt of ETP's shareholder approval and other customary closing conditions.
Under the terms of the transaction, ETP shareholders will receive 1.5 share of SXL for each share of ETP they own. Effectively, ETP shareholders are not receiving any premium based on the closing prices of the prior day.
It is worth to note that both SXL and ETP are sister companies and part of the same family, the Energy Transfer Equity, L.P. (NYSE:ETE) family. The parent company ETE has agreed to continue to provide all the incentive distribution right subsidies that are currently in effect with respect to both ETP and SXL.
Why the merger is positive to SXL?
The transaction is expected to be immediately accretive to SXL's distributable cash flow per common unit and is also expected to allow the combined partnership to be in position to achieve near-term distribution increases in the low double digits and a more than 1.0x distribution coverage ratio.
The combined entity will have increased scale and diversification across multiple producing basins and will have greater opportunities to integrate SXL's natural gas liquids business with ETP's natural gas gathering, processing and transportation business.
The merger will achieve cost savings while enhancing the service capabilities for their customers. SXL and ETP expect that the transaction will allow for commercial synergies and cost savings in excess of $200 million annually by 2019.
The transaction is also expected to strengthen the balance sheet of the combined organization by utilizing cash distribution savings to reduce debt and to fund a portion of the growth capital expenditure programs of the two partnerships.
More about SXL
SXL currently yields 7.8%.
SXL recently reported its Q3 results, which showed a 10% increase in earnings and distributable cash flow, based on the same period last year.
The company declared its 46th consecutive quarterly dividend increase.
The Q3 2016 distributions were 11% higher compared Q3 2015 distributions.
Dividend coverage ratio is close to 1 times.

SXL is undertaking a series of growth projects which I expect it will keep pushing its distributable cash flow streams higher, enabling continued dividend growth, which is the most attractive feature for this company. Looking ahead, it appears the company's DCF should move higher over the next quarters and throughout 2017.
Following the news of the merger, both SXL and ETP are selling off. SXL is currently down by 7.9% and ETP is down by 8.4%. I attribute the selloff to the fact that ETP shareholders will see a dividend cut by about 30%. ETP currently yields 10.7%; and once they convert into SXL shares, the effective dividend yield will become 7.8% - which is the yield paid by SXL - since there is no premium involved in the transaction. This is a significant dividend cut for ETP shareholders. We should note, however, that this is positive for the combined entity as it will allow to significantly reduce its debt in the future.
The way it looks, SXL shareholders are at an advantage here because they are likely to see their dividend grow at a faster pace going forward. ETP shareholders are at a disadvantage as they will see a dividend cut. I expect that the merger will go through anyway, because the ETE, the parent company of both SXL and ETP, is likely to be controlling the votes.
I view the current selloff in SXL shares as a buying opportunity.
If you enjoyed this article, scroll up and click on the "Follow" button next to my name to see updates on my future articles in your feed.
About "High Dividend Opportunities"
High Dividend Opportunities, is a leading dividend service ranked #1 in dividends on Seeking Alpha and is dedicated to bringing investors the best high-yield securities trading at bargain valuations. It includes a managed portfolio targeting 7-9% overall yield - and a selection of the best high yield Master Limited Partnerships, BDCs, U.S. Property REITs, Preferred Shares, and closed-end funds (CEFs). We are currently re-positioning our portfolio to maximize profits following Mr. Trump becoming president. I invite readers for a two-week free trial currently offered by Seeking Alpha to have a closer look at our investment strategy and our Top Buy list. For more info, please click here.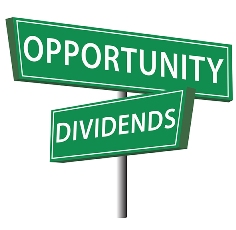 Disclaimer: "High Dividend Opportunities" service is impersonal and does not provide individualized advice or recommendations for any specific subscriber or portfolio, as I have no knowledge of the investor's individual circumstances. Subscribers/readers should not make any investment decision without conducting their own research and due diligence, and consulting their financial advisor about their specific situation.
Disclosure: I am/we are long SXL, ETE, SUN.
I wrote this article myself, and it expresses my own opinions. I am not receiving compensation for it (other than from Seeking Alpha). I have no business relationship with any company whose stock is mentioned in this article.