Harold Hamm has been a leader in America's shale oil revolution. As a result, he is a highly successful, multi-billionaire oilman.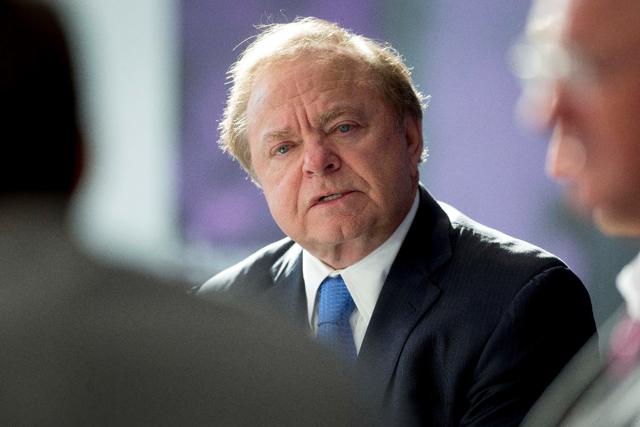 Click to enlarge
Harold Hamm. Photography credit: Andrew Harrer
And he has the ear of President-elect Trump as an energy advisor. He said he was flattered to be named as a potential Secretary of Energy, but the oil tycoon explained that he is too busy running his company, and other people could do that job.
However, what he knows about building his oil company has not made him a sage when it comes to calling oil market prices. Given his track record of price calls, I was not the least bit surprised to hear him recently predict oil prices would soon be in the $55 to $65 range.
But he ended the interview with a surprising statement that would not pass a polygraph test, his bluff was so palpable. My immediate reaction was that he was taking a page out of OPEC's playbook and trying to bluff them into supporting a price rise for his company's benefit.
Track Record
In mid-2015, I wrote about Harold Hamm's billion dollar blunder:
Last October, Continental Resources (NYSE: CLR) CEO Harold Hamm called OPEC a "toothless tiger," but then ended up eating his words. Oil prices cratered after the November OPEC meeting, wreaking havoc on CLR's oil exploration program in 2015. Its budget was slashed by 50%. It could have been different. The "Sheik of Bakken" literally snatched defeat out of the jaws of victory.
In October 2014, Hamm had elected to monetize (close) nearly all of his crude oil hedges because crude prices had dropped to $80 per barrel. And he was sure OPEC would cut production to lift prices.
In his November 2014 earnings call, he stated:
We're at the bottom rung here on prices and we'll see them recover pretty drastically pretty quick. Given our belief the recent pullback in oil prices will be short-lived, we made changes to our existing hedge book by monetizing practically all of our oil contracts."
His subsequent market calls did not improve. In March 2015, he stated in a Forbes Magazine interview:
Once you get by about a year here it's going to open back up again…worldwide demand is going to catch up with supply. And this thing solves itself. We could be sitting here a year from now talking about an undersupply. It's very short term."
About a year later, February 2016, crude prices broke through the $30 barrier into the $20s. But his confidence in his oil price prediction capabilities remained unshaken.
In mid-September 2015, Mr. Hamm once again predicted the oil and natural gas industry is set over the next year to benefit from recovering prices and industry activity. "I think we're at the bottom of this pricing situation," he said.
Now, more than a year later, Mr. Hamm was interviewed about the upcoming OPEC meeting. He expects OPEC to make a deal. He said that if Iran and Iraq do not cooperate, "the Saudis will torture them." By that, he explained, flood the market and drive down the price.
Mr. Hamm believes that OPEC will put a one million barrel per day cut into place. He thinks that will support the $55 to $65 crude oil price range that OPEC is looking for. And he thinks that OPEC will "regulate" production volumes in the future to keep prices in that band.
The Stunning Ending Comment
In the final seconds of the published interview, Mr. Hamm addressed the U.S. market's response to that price range. He said it would take the U.S. 18 months to bring back production by "any significant amount." He said that if it looks like U.S. output is gathering too much steam, all OPEC has to do is open up the taps.
In closing, he said that "we have no intention of employing a lot more rigs at $60 oil." That's when the published part of the video ended.
Conclusions
Baker-Hughes reported the largest rise in U.S. active rig counts last week since 2015, as drilling has rebounded. U.S. crude oil hedges reached their highest level in over five years.
Mr. Hamm has previously said that he would consider hedging again at $60. I think he is egging OPEC on to cut production. And if oil prices rise, and his company hedges for years forward, it won't matter at that point if OPEC once again floods the market. He will have his revenues locked in.
Disclosure: I/we have no positions in any stocks mentioned, and no plans to initiate any positions within the next 72 hours.
I wrote this article myself, and it expresses my own opinions. I am not receiving compensation for it (other than from Seeking Alpha). I have no business relationship with any company whose stock is mentioned in this article.