Important Note: This article is not an investment recommendation and should not to be relied upon when making investment decisions - investors should conduct their own comprehensive research. Please read the disclaimer at the end of this article.
As expected, Whiting Petroleum (NYSE:WLL) announced a deleveraging-driven sale of its Bakken midstream assets. The divestitures includes Whiting's 50% share in two natural gas processing plants and crude oil, natural gas and produced water gathering systems. The price received, $375 million, represents a ~6.4x-7.0x multiple of estimated 2017 EBITDA, using the acquirer's estimate, and will likely be perceived as disappointing. However, the news is likely to have neutral or even modestly positive implications for the stock, as the announcement eliminates uncertainties with regard to the much anticipated divestiture that has been underway for some time.
The sale will obviously result in a drop in Whiting's operating cash flow. However, the trade-off in the form of leverage reduction is favorable, in my view. The company currently finds itself under operational constraints due to its elevated leverage and the need to preserve cash for approaching debt maturities. The stock continues to be perceived as over-levered and risky (and investors' memory of the near-distress experience earlier this year is still very fresh). In this context, debt reduction remains an urgent priority and some sacrifices are inevitable.
The Transaction
Whiting is selling:
its 50% interest in its Robinson Lake natural gas processing plant and associated natural gas gathering system located in Mountrail County, and
its 50% interest in its Belfield natural gas processing plant and associated natural gas, crude oil and water gathering systems located in Stark, Billings and Dunn Counties.
Whiting's partners in the midstream assets, GBK Investments, LLC and WBI Energy Midstream, LLC, are also selling their shares.
The acquirer is an affiliate of Tesoro Logistics Rockies, LLC, which will pay total consideration of $700 million and will own 100% of the assets once the sale closes in Q1 2017.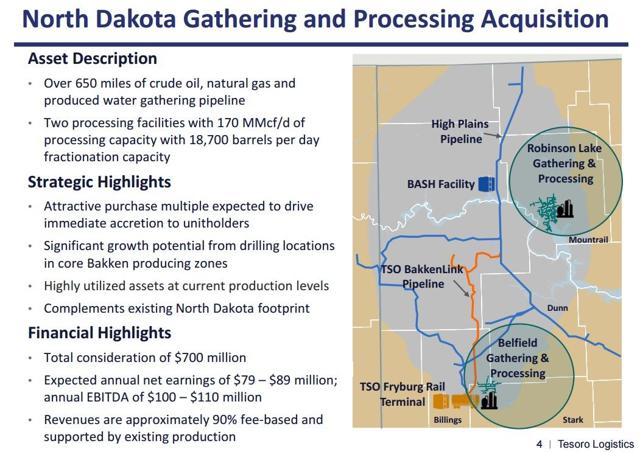 Click to enlarge
(Source: Tesoro Logistics, November 21, 2016)
On the gathering side, the assets include over 650 miles of crude oil, natural gas, and produced water gathering pipelines. The two natural gas processing plants have 170 MMcf per day of natural gas processing capacity and 18,700 barrels per day of fractionation capacity in the Sanish and Pronghorn fields. From April through September 2016, these plants had average daily throughput of 132 MMcf per day.
The revenue from the assets being divested is currently approximately 90% fee-based and backed by acreage dedications from ten producers. The assets provide organic expansion opportunities that support continued drilling on existing well pads.
Tesoro Logistics expects the acquisition to contribute $79-$89 million of annual net earnings and $100-$110 million of annual EBITDA in 2017. Tesoro Logistics commented that substantially all of the volume forecasted in 2017 is based on current well production. The projections could have some upside, as there are presently two rigs working on the dedicated acreage and there is a significant inventory of drilled but uncompleted wells.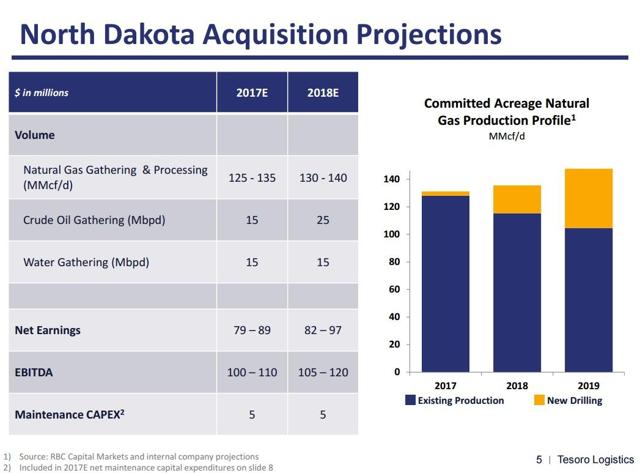 Click to enlarge
(Source: Tesoro Logistics, November 21, 2016)
Balance Sheet Impact
Assuming full conversion of the $721 million of convertible debt that remained outstanding at the time of Whiting's Q3 report, the company's pro forma debt as of September 30, 2016 was $3.7 billion, of which $650 million was bank debt. $275 million of notes mature in 2018 and $961 million mature in 2019.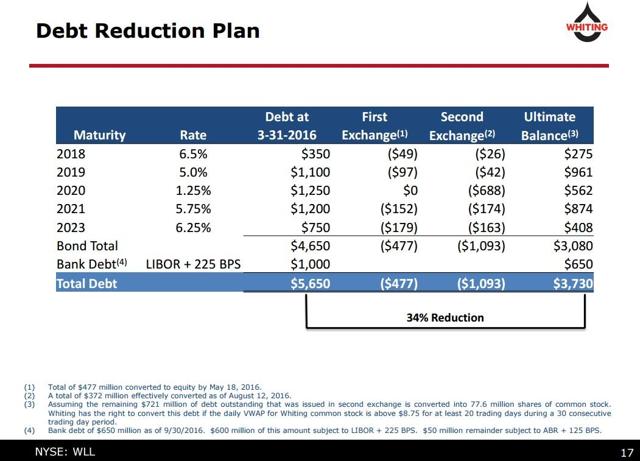 Click to enlarge
(Source: Whiting Petroleum, November 2016)
Whiting has been able to generate some free cash flow from operations during recent quarters and apply it to reduce borrowings under the credit facility. However, the free cash flow has come at the expense of steep production declines while the debt repayments have had only modest impact on the company's overall credit situation. In this context, the midstream asset sale has a greater, immediate impact on credit metrics and does not cannibalize the borrowing base to the same degree as debt repayments from free cash flow do.
The divestiture is credit-accretive based on the leverage metric. The assets are being sold at a 6.4x-7.0x multiple of 2017E EBITDA, whereas the company's current leverage ratio, pro forma for the debt conversion, is ~4.5x. Assuming current strip pricing, the leverage ratio should decline significantly in 2017, making the divestiture even more credit-accretive.
However, assuming the entire proceeds amount is used to reduce debt, Whiting would still have $275 million outstanding under its credit facility on a pro forma basis.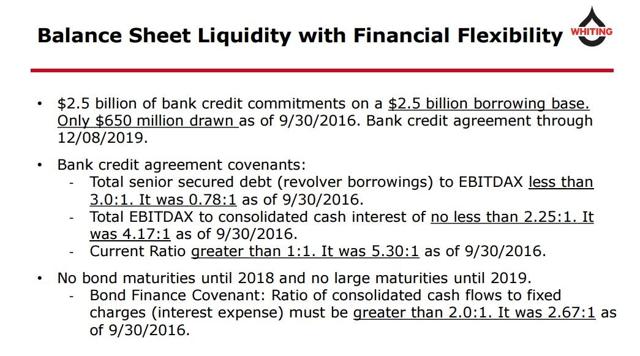 Click to enlarge
(Source: Whiting Petroleum, November 2016)
Transaction Valuation Drivers
The price received in the sale is quite low relative to certain other midstream transactions. To put the implied multiple in Whiting's transaction in perspective, Hess Corporation (NYSE:HES) was able to sell its midstream assets in the Bakken a year ago at an implied forward-looking multiple of EBITDA of ~18x.
The relatively low valuation received by Whiting can be explained, at least in part, by three fundamental factors.
First, the current downturn in oil has vividly demonstrated that continued volumetric growth from shale assets cannot be taken for granted. The Bakken competes on cost of supply against conventional fields around the world, including those in the Middle East and Russia, and for capital with multiple other shale plays across North America. A case can be made that the Bakken needs an oil price environment of $60+ per barrel in order to deliver sustained growth in oil volumes. Moreover, production growth would be driven by a relatively small number of areas that include the most prolific sweet spots.
Second, the acquirer in the transaction is significantly exposed to Whiting's credit. This credit exposure cannot be reduced and is a major risk factor under a scenario where oil prices take another leg down (which cannot be fully ruled out).
Finally, the larger of the two midstream assets being sold by Whiting, the Robinson Lake natural gas processing plant and the related gas gathering system, is located in the maturing Sanish Field. While significant potential exists in the area for infill drilling and recompletions, future volume growth potential from the dedicated acreage may be perceived as less robust than in less mature areas in the deep basin.
In Conclusion…
The price received by Whiting in the divestiture appears low. However, the discount to comparable transactions can be in part explained by the assets' fundamentals, and possibly, the structure and term of the underlying contracts (details not disclosed). Of note, the price received is the best that Whiting could obtain by running an auction.
Given the low transaction multiple and upside potential from infill drilling on the committed acreage in the event oil prices recover, the valuation appears skewed in favor of the acquirer, Tesoro Logistics.
That said, the divestiture improves the credit profile and is a step in the right direction. Investors should have greater confidence that the approaching debt maturities will be termed out in a normal course of business. That said, additional debt reduction is still required to bring leverage to a comfortable level of 2.0x-2.5x.
For in-depth data and analysis of industry and commodity fundamentals, please consider subscribing to Zeits OIL ANALYTICS that provides analysis of the crude oil and natural markets.
Disclaimer: Opinions expressed herein by the author are not an investment recommendation and are not meant to be relied upon in investment decisions. The author is not acting in an investment, tax, legal or any other advisory capacity. This is not an investment research report. The author's opinions expressed herein address only select aspects of potential investment in securities of the companies mentioned and cannot be a substitute for comprehensive investment analysis. Any analysis presented herein is illustrative in nature, limited in scope, based on an incomplete set of information, and has limitations to its accuracy. The author recommends that potential and existing investors conduct thorough investment research of their own, including detailed review of the companies' SEC filings, and consult a qualified investment advisor. The information upon which this material is based was obtained from sources believed to be reliable, but has not been independently verified. Therefore, the author cannot guarantee its accuracy. Any opinions or estimates constitute the author's best judgment as of the date of publication, and are subject to change without notice. The author explicitly disclaims any liability that may arise from the use of this material.
Disclosure: I/we have no positions in any stocks mentioned, and no plans to initiate any positions within the next 72 hours.
I wrote this article myself, and it expresses my own opinions. I am not receiving compensation for it (other than from Seeking Alpha). I have no business relationship with any company whose stock is mentioned in this article.