Invitae Corp. (NYSE:NVTA) is involved in genetic testing as a diagnostic method, a business which I like a lot. Since the cost of genetic testing has been drastically reduced due to better technology, Invitae has now set itself up to take advantage of this huge trend. The company will send a client a kit to take a simple genetic sample. The client sends back the kit to the company, and the company runs its DNA through over 2,000 tests. Sales have been increasing each quarter. The Baker Brothers are the top holders of Invitae and just added another large position in the most recent offering.
NVTA's business objective is to make aggregated genetic testing better quality and quicker, so doctors don't have to wait for a diagnosis. It is also inexpensive and more affordable than single gene tests. Prices of DNA sequencing are declining over the years, bringing down dollar costs of genetic information. According to research, there are more than 4,000 inherited genetic conditions which can be diagnosed through aggregated genetic testing.
Invitae has performed very well, making it cash flow positive by 2018 according to company guidance. It has reduced COGS (cost of goods sold) from $500 to $450 per sample this quarter. It now has capabilities to test 1,000 genes or more. In the last one-year period, it has doubled its growth, with approximately 15,000 billable reports per quarter, at an annual run rate of around $70M. Its cancer business has kept pace with overall performance while other segments have grown even more.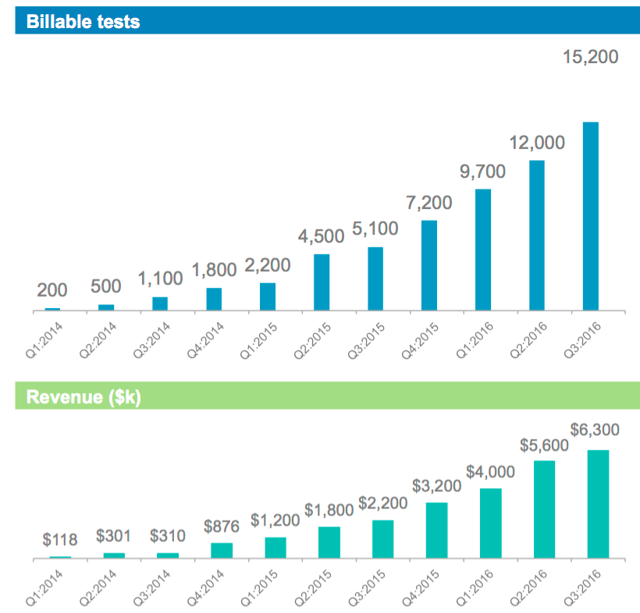 Click to enlarge
Source - Investor Presentation
The company has a market cap less than $300M and cash in hand of approximately $71M. The company just recently completed a $40M secondary offering at $6 a share, so more dilution should not be necessary for a long time.
NVTA's business is spread across segments while it generates the highest revenue from oncology. Its network of payers include UnitedHealth Group (NYSE:UNH), CMS, Aetna (NYSE:AET), Humana (NYSE:HUM) and others. It also has collaborations with AstraZeneca (NYSE:AZN), Bristol-Myers Squibb (NYSE:BMY) and a bunch of other major players. Most important, it has tie-ups with a huge network of advocacy organizations that help spread the news.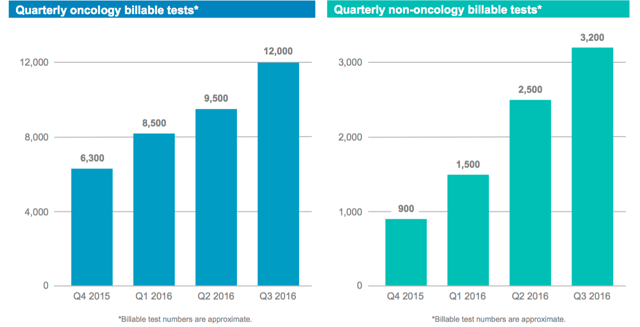 Click to enlarge
Source - Investor Presentation
NVTA began in November 2013 with a spread of just 200 genes. In two years, it had over 600 genes in production, offering tests in 120 disorders, including cardiovascular, hereditary cancer, neurology, pediatrics and other rare diseases.
In another important metric, NVTA charges $1,500 per sample to third-party payers out of contract, which we can take to be its standard top-line pricing. In early 2015, the COGS used to be $1,200 per sample, but today it has managed to bring it down to $700.
Genetic testing is a rapidly growing market, and a 2010 estimate by UnitedHealth puts it at $3B, roughly 60% of the total U.S. genetic testing and molecular diagnostics market. The company estimates this to grow to $9B by 2021. There are over 40,000 genetic tests from more than 650 labs. What gives NVTA an edge is that it is trying hard to reduce the cost of testing, which is a primary barrier to more rapid commercialization of genetic testing. One reason for this is longer turnaround time, which too is a target for NVTA to resolve. Standard retesting processes are time consuming and expensive, and sequential retesting patients may wait more than a month for results, which is hardly an option in diseases like cancer.
These are areas where NVTA is working rapidly to improve its offering. With a third of its market cap in cash, an efficiency-driven operation, and clear business goals, this is a top stock on my watchlist.
Disclosure: I am/we are long NVTA.
I wrote this article myself, and it expresses my own opinions. I am not receiving compensation for it (other than from Seeking Alpha). I have no business relationship with any company whose stock is mentioned in this article.